ABOUT WHALES OF ICELAND
– LARGER THAN LIFE
Whales of Iceland is the largest whale exhibition in Europe (and perhaps even the world), where guests can learn about the giants of the sea in a calm and modern environment. The permanent exhibition features whales like guests have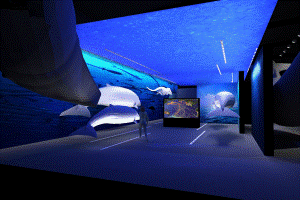 never seen them before. It is truly a giant experience.
The exhibition space was designed by interior architect Halli Friðgeirs, and lighting was designed by Þórður Orri. The result is a stunning exhibition space where whales are in the forefront and the atmosphere is like no other.
All interactive material is designed by Gagarín and Örvar Halldórsson, director of design.
Whales of Iceland emphasizes working with other local establishments that provide guests with whale watching tours and other
activities related to marine life. Guests can purchase tickets for whale watching tours at the exhibition, and a list of departing tours is accessible in the lobby.
We care for whales and do not support whaling in any way. We see whales for what they are: gentle giants from whom we can learn a lot.
opening mid-February 2015
Whales of Iceland – Fiskislóð 23-25 – Tel: (+354) 571 0077 – [email protected]