The Iceland-based company offers technical and engineering services
Aero Design Global (ADG) is a dynamic, Iceland-based company that provides technical management and engineering services to airlines, aircraft financiers, aircraft lessors and aircraft owners. ADG, which is in a partnership with EFLA, the largest engineering firm in Iceland, aims to be a one-stop-shop when it comes to engineering, technical and maintenance support of aircraft.
Offering multiple services
ADG services include upholding and updating, on a daily basis, the continuous airworthiness condition of the owners' or operators' aircraft fleet in accordance with EASA Part-M regulations and within the scope of ADG's CAMO approval. "We have been approved by the Icelandic aviation authorities to maintain aircraft and schedule maintenance work", said Ægir Thorberg Jónsson, CEO, Head of Design & Chief Technical Officer. "We also hold a DOA Part 21J approval from EASA in Cologne, Germany, where we can now perform numerous modifications and changes under this approval on all types of large aircraft and large helicopters. We have completed modifications on aircraft and helicopters, including painting the exterior of the aircraft, seat configuration, emergency equipment layout, flight deck interiors and other minor modifications."
A major part of ADG's business is working on end of lease delivery of aircraft. "We take the delivery back after a lease is up, and we do that work for multiple airlines", said Ægir. "To explain: let's say SAS has had an aircraft for 6 years and Norwegian wants to lease it. We come in and take the aircraft from SAS and make sure all the requirements are taken care of before the plane is delivered to Norwegian."
Another part of ADG's service offering includes maintenance and consultancy services. Clients have access to physical inspections and record reviews, prepurchase condition surveys, delivery for airlines and leasing companies, heavy maintenance supervision and document control reviews, among other services.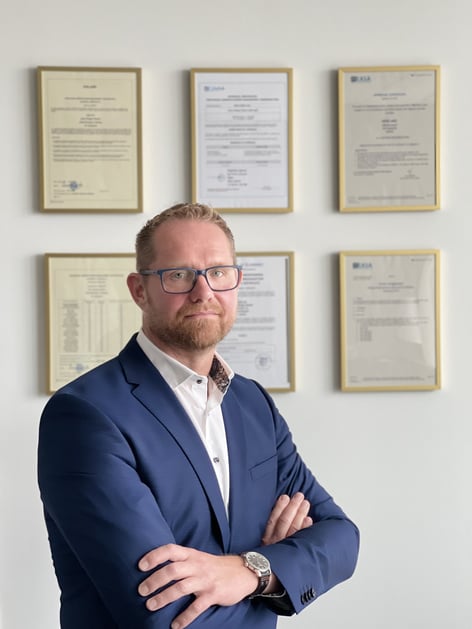 Aviation in Iceland
ADG is currently supporting Iceland's newest airline, PLAY. "We are importing new aircraft and doing all the design work and technical support", said Ægir. Indeed, PLAY airlines was formed in 2019 and is scheduled to begin flying to eight destinations in June 2021. From Keflavik International Airport, PLAY flies to Alicante, Barcelona, Berlin, Copenhagen, London, Paris, Salzburg and Tenerife. The first plane was delivered in June and two additional aircraft are scheduled to arrive in July.
Meet the founder
Ægir has been working in the aviation industry for more than 20 years. "When I was living in Indonesia in 2012, I wanted to start this company", said Ægir. "But I got a phone call at that time to start setting up a start-up airline called WOW Air. So, I put my own company plans on hold and worked with the founder. I was the Technical Director for the WOW Air Technical and Maintenance Department." In 2016, Ægir left WOW to pursue building ADG. The company started small but is growing quickly. "I started with a couple of people and now we are at 14 employees", said Ægir. "We will be around 20-25 employees by the end of the year."
We are now in the process of signing a technical support agreement for over 20 aircraft, for both CAMO and DOA support, with an aircraft lessor for aircraft with a couple of Asian operators, to be registered both with ICETRA and Bermuda CAA authorities.
Global operations
ADG is based in Iceland but has a global reach with employees working in numerous places in Europe, the Americas, Asia, Africa, the Middle East and more. "We are mainly dealing with companies outside of Iceland", said Ægir. "Most of the leasing companies are based in Dublin, which is conveniently only two hours away from Iceland by plane." Being based in Iceland is not a hindrance. "During the Covid pandemic, we moved to do all our meetings via Teams and Zoom, working with video conference and scanned documents", he said. "We can do most of our work remotely and it has been a smooth transition. Ten years ago, we had to be there." By working remotely, this saves a lot of time and money. "There are no boundaries being based in Iceland", he said. ADG has grown quickly and continues to do so, aiming to bring simplicity to aviation in multiple markets. -JG