Grindavík
The Perfect Start to Your Trip
All too many of Iceland's visitors miss out on one of the country's most interesting geological locations even though it's right under their noses. Many are content glimpsing the moonlike landscapes of moss covered lava fields on the way from the airport to Reykjavik city from a bus window, failing to realise that the Reykjanes peninsula itself is the perfect start – or end – to the trip.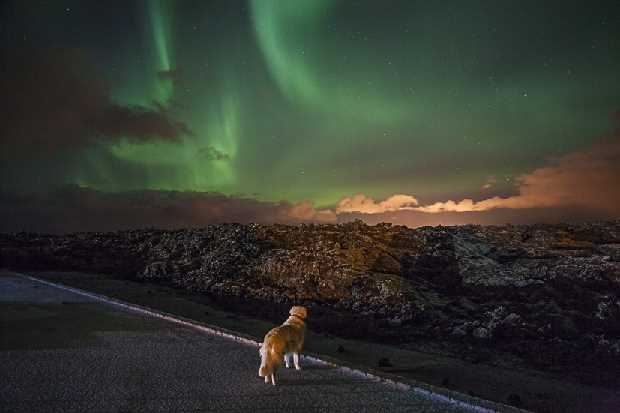 The peninsula has numerous interesting geological, cultural and historical phenomena and it requires at least a few days to take in all the sights and its atmosphere. The perfect place to set up base is the charming village of Grindavík on the southern coastline of the peninsula.
Grindavík boasts many attractions and activities; the most famous of which is undoubtedly the ever popular Blue Lagoon. The town is like so many Icelandic coastal towns centered around fishing and a visit to the harbour area is where you'll find the spirit of the town. Seeing the local fishermen bustling about bringing in the catch of the day is always exciting; you'll even see retired fishermen snooping around when the boats come in, and getting to enjoy the fish at one of Grindavík's exquisite restaurants in the evening is all the more rewarding.
You'll find all the basic amenities in Grindavík; varied quality accommodation, recently renovated geothermal swimming pool, assorted superb restaurants and reliable tour operators.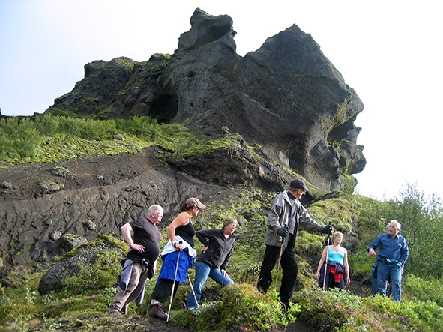 A visit to the Magma house of culture and natural resources is an excellent way to get a deeper understanding of what makes the area so interesting. The Saltfish Museum exhibition tells the story of how salted cod drastically affected Iceland's history, while the Earth Energy exhibition gives insight into the fascinating formation of the peninsula and its constant geological activity.
Despite Grindavík's proximity to the capital you'll find you won't have to venture far or need special equipment or vehicles to find yourself in the wilderness. Reykjanes is actually the only place in the world where the Mid-Atlantic ridge comes ashore and thus has great diversity in volcanic and geothermal activity.
The Reykjanes Geopark is thusly home to countless interesting geological formations, some of which are utterly unique, including numerous types of volcanoes in at least four separate volcanic zones, with hundreds of open fissures and faults.
Bryggjan Café
The Heart of the Town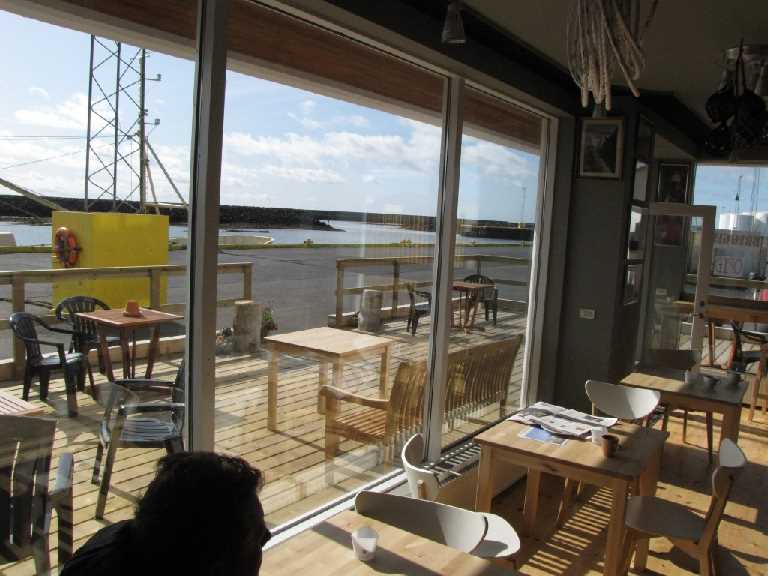 The harbour is the heart of Grindavík and the heart of the harbour is Bryggjan Café, with its phenomenal view of the harbour and ever-popular specialty soups.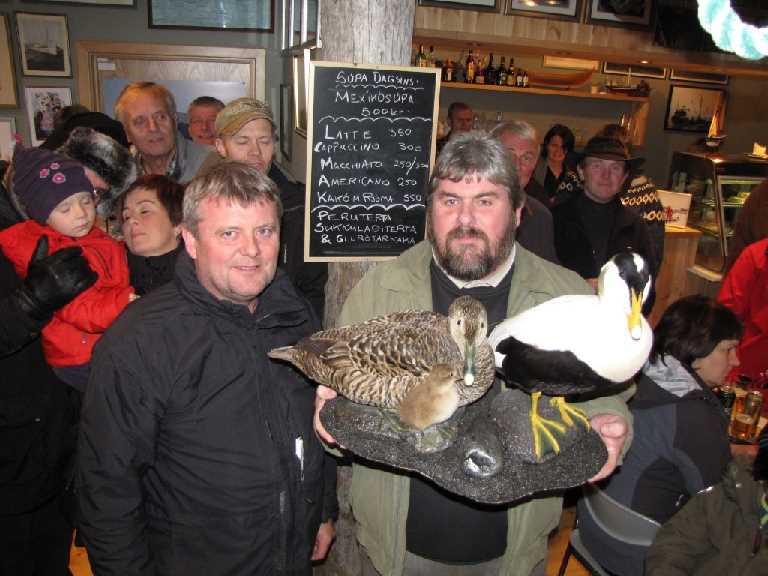 Bryggjan is a fisherman's café at its core and has been servicing fishermen from the outset, without pretension or affectation —though, with the growing number of visitors from all over the world finding it, it is quickly becoming the café of choice in the area. Little wonder, as the help and friendliness of the owners is only matched by the delicious food they offer.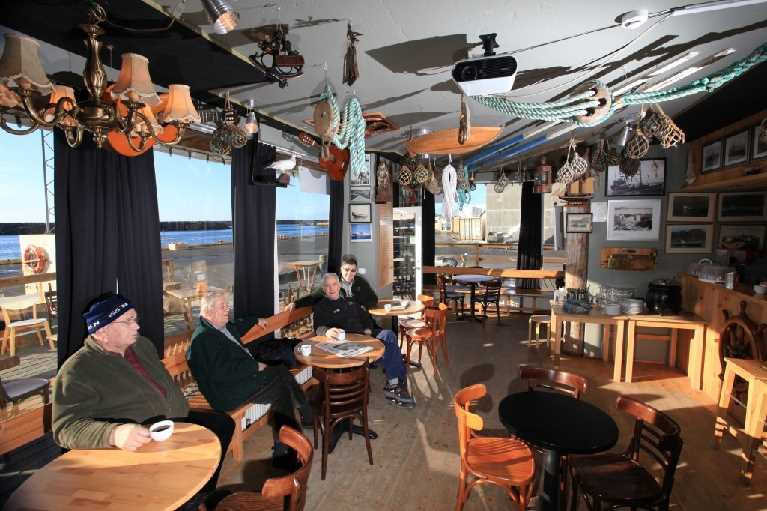 It's a small place, but packed with character and really takes off in the evenings and on the weekends. A piano in the corner is often pressed into use, making it a fun and inspiring evening. Whether you are a local or just visiting, you'll surely feel at home.
Bryggjan Café
Opening hours: 8 a.m. – 10 p.m.
Volcano Tours
Standing Inside the Volcano
Seeing Iceland's unique geological phenomena is one thing but actually standing inside them is an experience not soon forgotten. Volcano Tours in Grindavík offer unique excursions that explore the multitude of craters, caves, lava fields, hot springs and geothermal areas found on the Reykjanes peninsula, as well as action packed tours to staples such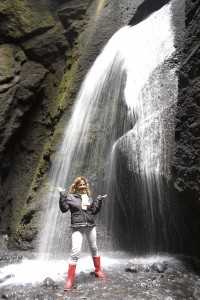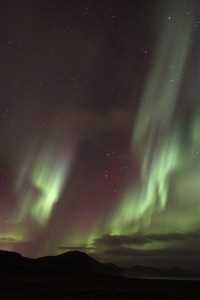 as the Golden Circle and the south shore and the now world famous Eyjafjallajökull volcano.
When some of the volcanoes became inactive hundreds of years ago they suddenly emptied themselves and are now hollowed out, which gives visitors the unique chance to explore them from the inside. The experienced staff of Volcano Tours have come to know all the peninsula's secrets, so their tours are extremely varied and frequently include around 20 to 25 different stops at various geological and historical locations, depending on the customers' field of interest.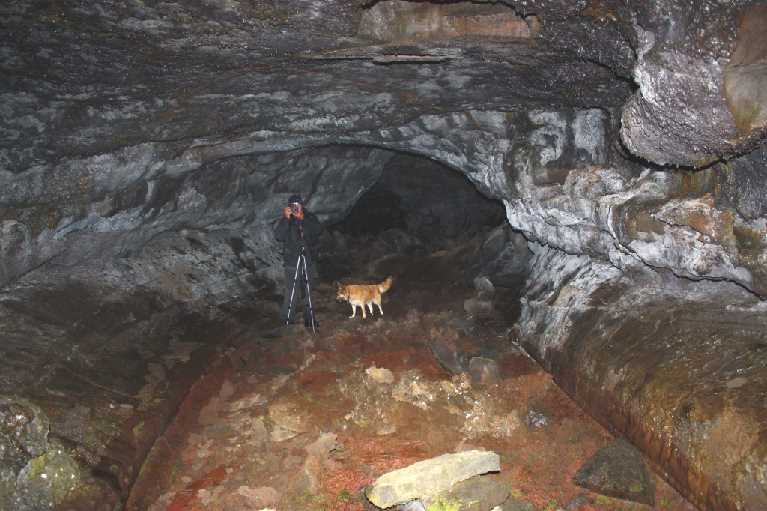 For those waiting for the Northern Lights, conditions will be right from October 1st and Volcano Tour's experienced guides are sure to find the perfect spot to catch them.
www.volcanotours.is
[email protected]
+354 426 8822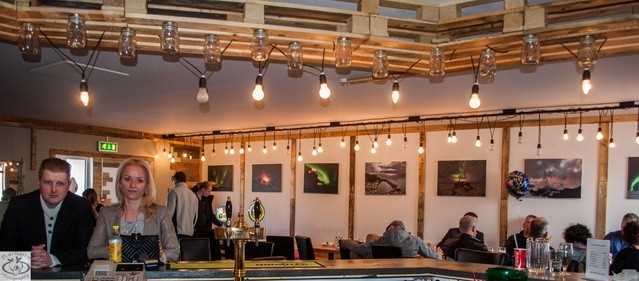 Papa's Pizza
The Best Fish and Chips in Town
Going to Grindavík without trying some fish dishes would be something like going to Italy and not having pizza and many claim the best fish and chips in town are to be found down by the harbour at Papa's Pizza.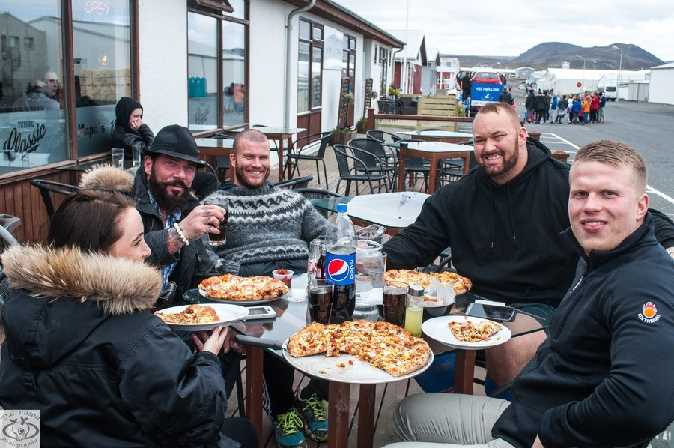 Don't let the Italian sounding name throw you off; Papa's Pizza is as local and authentic as they come. Their fish and chips dish comes with either delicious deep-fried or pan fried cod – always fresh of course – and keeps satisfied customers coming back. Papa's pride themselves in their gourmet burgers, made of course with all-Icelandic quality beef as well as authentic lamb dishes. As the name would imply, Papa's Pizza also make some seriously delicious pizzas.
The restaurant offers a pleasant, cleanly, relaxed atmosphere with friendly staff. You can take a break for a quick lunch or relax there in the afternoon for a full meal and mingle with the locals at the bar in the evening.
Opening hours:
Weekdays:
11:30 a.m. – 3:00 p.m. & 5:00 p.m. – 9:00 p.m.
Weekends:
12:00 noon – 9:00 p.m.
www.papas.is
[email protected]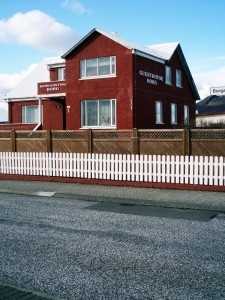 Guesthouse Borg
Family Hospitality and Small Town Flavour
Those looking for a friendly, economic and snug place to stay while exploring the Grindavík area, need look no further than Guesthouse Borg – a guesthouse based on family hospitality with a small town flavour.
It caters to individuals, couples, families and groups of up to 16 people in a clean, modestly priced homestay accommodation. You'll find a full kitchen where you can cook your own meals, a laundry and a computer to go online. Breakfast is provided on a self-service basis.
Owners Björk and Magnús are always open to conversation and recommendations on how to make the most of your trip and are sure to make this a comfortable home from which to launch out to explore the area. Guesthouse Borg is thus an ideal place to stay, meet interesting people and enjoy the facilities and fun the town has to offer.
Guesthouse Borg
Borgarhraun 2 • 240 Grindavík
+354 895 8686
www.guesthouseborg.com
Max's Restaurant
Just a Stone's Throw Away
After a busy day of soaking in the wonders of the Blue Lagoon many will have worked up a healthy appetite and the no-nonsense Nordic cuisine of Max's Restaurant is just what the doctor ordered.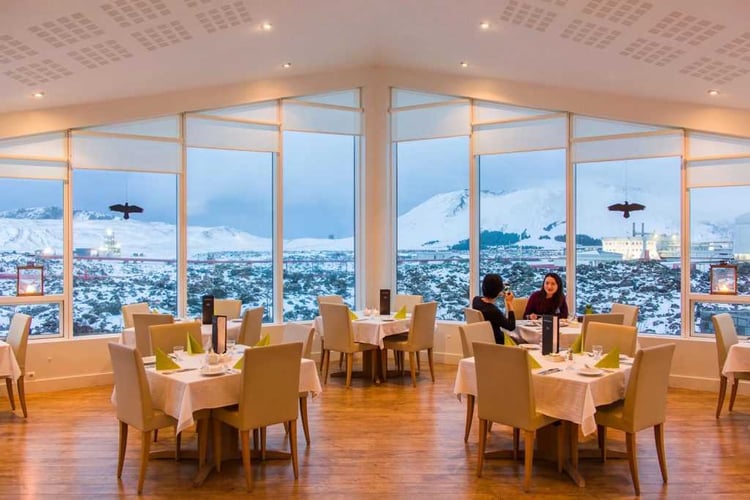 Right next to the geothermal wonders that created the Blue Lagoon, you'll find this charming restaurant with panoramic views of the lava fields. Max's Restaurant places special emphasis on using fresh prime ingredients and takes slow food's principles of "good, clean and fair food" close to heart.
The fish is usually caught the morning of the day it's cooked and the meat is always local. The chefs at Max's are well aware of the quality of their ingredients and are not afraid to let them speak for themselves with minimal extravagance – but always with elegance.
Dropping by for a light lunch after a soak in the Blue Lagoon is always a good idea as well as for a snack in the afternoon, as Max's offers some tasty homemade pastries to go along with a hot beverage.
Breakfast is served between 07:00 a.m. and 10:00 a.m.
Á La Carte Menu from 12:00 noon – 2:30 p.m.
Homemade pastries from 2:30 p.m. – 5:30 p.m.
Á La Carte Menu from 5:30 p.m. – 9:30 p.m.
Max's Restaurant
+354 426 8650
www.nli.is/restaurant
As Authentic as It Gets
The perfect local authentic experience in a foreign place often turns out to be elusive and fleeting, but you're in luck as local artist and guide Anna and Sólveig have decided to open the doors to their unique scenic home on the coastline at Þórkötlustaðir, just outside of Grindavík.
They have both worked as guides and from time to time stopped by their house with groups and both parties enjoyed it so much that they've decided to offer other interested visitors the chance to stop by. Having lived there for over a decade they have come to know the area – its history, geology and culture – so well that Sólveig says almost every rock and cranny has a story to tell.
The landscapes are also a constant inspiration as Anna can attest to. Her workshop is on the premises where she welcomes visitors and shares how these influences show up in her work as a sculptor.
Getting coffee, going for a walk, sharing stories, inspiration and experiences is indeed as local as it gets.
They can accommodate small groups of up to 25 persons.
Anna gsm: +354 866 4567
Sólveig  gsm: +354 898 6162