Hofsstaðir Historic Park Viking Longhouse
An impressive Viking-age longhouse stood at Hofsstaðir from the Settlement period (AD 870-930) until the twelfth century.
This historic park aims to give an impression of Hofsstaðir at the time of settlement: turf walls show the outer limits of the longhouse during its final phase, and remains of a large enclosure have been left untouched. There are no written records of a farm at this site until the late fourteenth century, and the site was discovered by chance due to construction work in 1986. Excavations under the supervision of the National Museum and the Town of Garðabær were carried out at Hofsstaðir in 1994-2000. Interactive multimedia technology shows what it was like to live in the longhouse, which includes a 3D computer-reconstruction of the building. Facts and findings of archaeological research are reported using pictures, drawings, etc. In 2004 Hofsstaðir received a Nordic award for the use of digital technology in museums.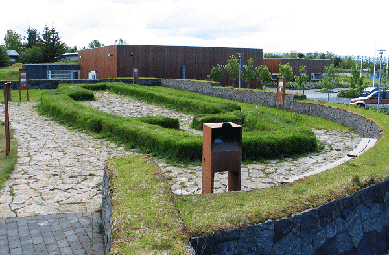 In 1994 important archaeological excavations commenced in Garðabær, southwest Iceland which unearthed the remains of a longhouse of the Viking Age, the second-largest ever found in Iceland. Dating from the late 9th century, the longhouse indicates the scale on which the first settlers lived. Research has thrown useful light on the life and work of the first Icelanders.
The longhouse at Hofsstaðir is about thirty metres by eight metres on the outside, and the floor area is about 170 m². This was the household of a farmer on a large scale. A total of about 300 items were unearthed at Hofsstaðir. Probably the most remarkable is a fine round bronze brooch in the Jelling style. About one-third of the finds are metal objects such as nails, slag from iron smelting, knives and scissors from the 9th, 10th and 11th centuries. The identity of those who built the longhouse is not known for sure, although it provides considerable information on its inhabitants. The size of the building indicates that it may have housed 20 to 30 people including slaves and labourers. Hofsstaðir is within the region originally claimed by Ingólfur Arnarson, Iceland's first settler, who arrived in Iceland around 874 AD.
At the new history park at Hofsstaðir, visitors can experience an interesting, extensive and entertaining multimedia presentation which includes three-dimensional reconstructions of the longhouse and items found during the excavations. A large variety of information is presented in audio-visual form. The presentation also includes comic strips which aim to provide insight into the lives of the residents of Hofsstaðir. The multimedia material is presented via touch screens which have been installed on the archaeological site.
It is not necessarily obvious that many important archaeological sites are likely to be found in or near urban areas, and this remarkable ancient longhouse is located in the heart of the capital area, just a short distance from Reykjavík.
Garðabær
210 Garðabær
Kirkjulundur
Telephone: +354 525 8500
www.gardabaer.is
[email protected]