The Icelandic town of Hafnarfjörður and the Chinese city of Baoding have been twinned in friendship since 1996. Tryggvi Harðarson, who was a town councillor in Hafnarfjörður at the time, and is now the district manager of Reykhólar in the Westfjords of Iceland, set up the arrangement and since then, several Icelandic companies have been working together with Chinese counterparts in Baoding.
Tryggvi Harðarson moved to China in 1975 and lived there for four years. "I first studied Chinese at the Beijing City Institute and then Chinese and History at Beijing University.
I decided to move to China because I thought it was an exciting country. At that time, the country was closed and there were many big upheavals taking place but when a scholarship was advertised for Icelanders to go to study there, I applied, got the grant, so decided to give it a shot and went out there. China was a very poor country at that time and different from what I was used to. However, China surprised me much more later when I saw all the changes and advancements that had occurred. At that time, there were few Western-style toilets, for instance. They were mostly just holes in the floor where you had to do your business. I thought it was scary at first but then I got used to them but I would have a difficult time using them today. There were no refrigerators or cooling in general so it was very hot during the summer time."
Hafnarfjörður and Baoding
Tryggvi has good Chinese friends whom he met during his academic years in China. One of them lives in Baoding and when the idea of establishing a twin town relationship with a town in Iceland arose, that friend contacted Tryggvi, who was then a town councillor in Hafnarfjörður. That resulted in Baoding and Hafnarfjörður establishing a twin town relationship, in spite of there being an enormous difference in population between these two places. Hafnarfjörður now numbers almost 30,000 inhabitants, while the population of Baoding is about 11 million!
"The idea was that people could learn from each other's cultures, even though they were living in different societies, always getting to know new things and attitudes by meeting other people. This did lead to some communication and business," says Tryggvi, "but otherwise, the idea of twin towns didn't really go very far, in reality. A number of Icelandic companies subsequently entered into business agreements with companies in Baoding, but there is not much formal communication between Hafnarfjörður and Baoding. I can cite an example of an Icelandic company that produces bedding and more that is manufactured in Baoding and also that Icelandic companies import, among other things, machines from companies in Baoding."
Education and Business
Tryggvi says that he personally was most interested in establishing more communication in connection with education. "Not much has happened in that regard. Residents of Baoding have gone to university in Iceland even though it has not been through a twin town and my daughter studied in the city for a year. I have found that people may not have fully taken advantage of the opportunities offered by this twin town partnership. Although it is easier today than 15-20 years ago to do business with China, it could have been important to have had someone who held the hands of those who were thinking of doing business with China. Now there is a free trade agreement between the countries which offers great opportunities."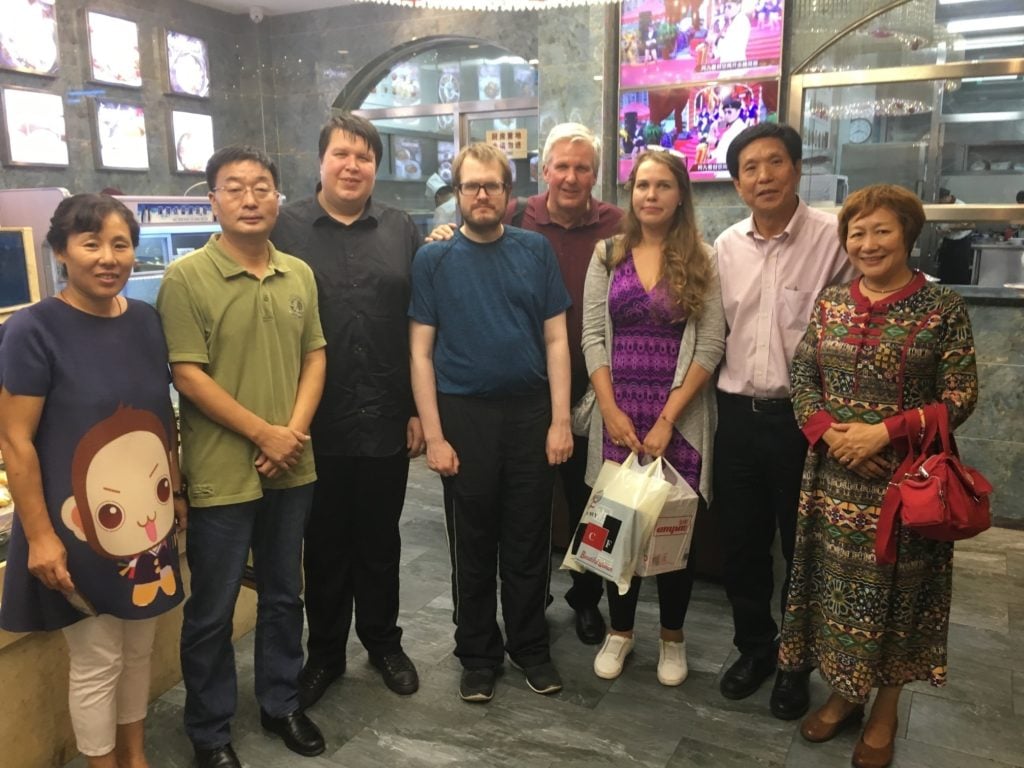 Geothermal Energy
Tryggvi also mentions geothermal cooperation, something Iceland and China have been working on together. "It has been over 20 years since I began discussing possible cooperation between the Icelanders and Chinese on geothermal energy, and since then many have come from China and there has been a strong connection between Icelanders and the Chinese people in geothermal development. For example, I was at a time associated with the Chinese who were studying at the United Nations University Geothermal Training Program in Iceland.
Baoding is, like Hafnarfjörður, a great sports town and many world champions came from there. I was very interested in establishing relationships in the sports field at the time but nothing came of it."
The trend is ahead
Tryggvi says that he really likes China because he knows the country very well and the same often happens to people who have studied in other countries. "I hope the peoples of the world can maintain good relationships. It's always very unfortunate when you enter into a trade war. Countries' methods of governing vary and there is a tendency for some of them to think they know better than others. The trend is moving forward and you feel things are improving and that is positive, no matter where you are in the world."