Trolling the Westfjords
Living Legends in Drangsnes
According to an old Icelandic folk tale, the Westfjords was nearly separated from Iceland by relentless trio of trolls furiously digging away at the narrow strip of soil fanning off to form the Westfjords.
One troll woman competing against her conspirators realised that her monumental task would not be accomplished and struck the spade of her shovel down in a rage breaking off a chunk of land with her ox on it, thus forming Grimsey, the small island near Drangsnes ́and home to the world's most concentrated puffin colony.
Though the trolls were unsuccessful in breaking off the Westfjords, the choppy coastline of a tiny fishing village called Drangsnes at the far end of Steingrímsfjörður bears marks of the troll woman's handiwork. Her grim profile, transformed into stone by the first rays of sunlight, watches over Grimsey.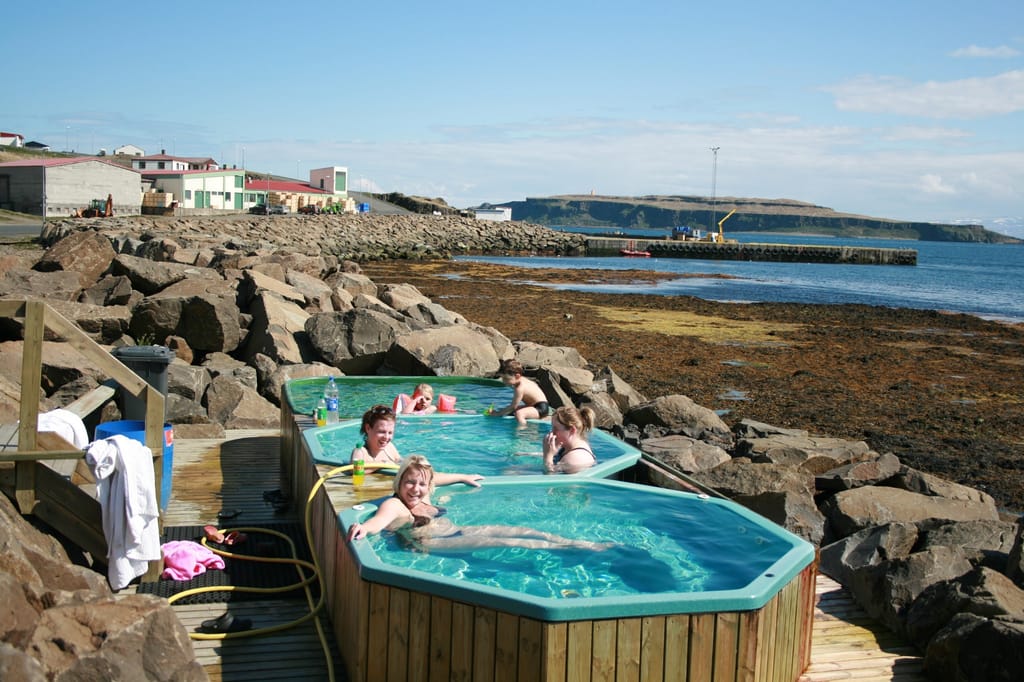 Geothermal Gold Strike
Happy accidents have helped Drangsnes both in legend and reality. A source of geothermal water was discovered when someone forgot to shut off the water supply feeding into the fish factory. When the town furiously sought water by boring holes, they struck geothermal gold: a hotwater source that now heats the entire village and provides free hot tubs on the beach from where visitors watch birdlife, seals, and occasionally whales. Large stones sheltering them from strong coastal winds have teardrops carved in them, created by artist Mireyja Samper.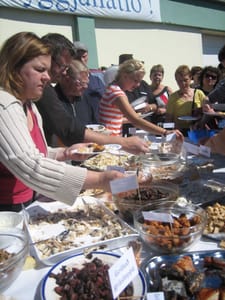 Life and fun through Co-operation
An annual festival, held in the middle of July, celebrates Drangsnes' livelihood by tickling the palette with tastes of minke whale, puffin, seal, and a wide variety of fish from the fjord. Kids and adults can try their hand at sea-angling, while braver visitors attempt to swim through strong currents to Grimsey. The festival has steadily expanded over sixteen years of celebration and has grown to host thousands of people. The festival is run entirely by volunteers who pour into Drangsnes to help the 65 townspeople prepare to receive guests.
Drangsnes has a long relationship with volunteers who have traveled to help not only with the festival, but with various projects such as building the community centre. "Cooperation is an important part of life here," says Jenny Jensdóttir, "without it we couldn't survive." Too bad the legendary trolls were too busy to realise this. Perhaps if they had adopted the spirit of Drangsnes' residents, they would be floating on an island called Westfjords rather than sitting in stony silence.
Kaldrananeshreppur
Holtagata • 520 Drangsnes
+354 451 3277
[email protected]
www.drangsnes.is