The Reindeer Centre and Guesthouse of East Iceland
At Skjöldólfsstaðir in Jökuldalur, East Iceland, in a building that used to be the schoolhouse for the area, Aðalsteinn Ingi Jónsson runs a guesthouse which is dedicated to the reindeer in Iceland. Besides the guesthouse, with its various memorabilia connected to reindeer, reindeer hunting and other things reindeer, Aðalsteinn runs a small zoo where the animals can be seen close up. During hunting season the Centre becomes a veritable hunting lodge.


The Guesthouse
The walls of the guesthouse are lined with antlers, skins, reindeer products, pictures and information. It can accommodate up to 37 people, in either made-up beds or sleeping bags. Breakfast is included and other meals are available on request. Included in the price is access to a small swimming pool and a jacuzzi. The Centre's kitchen can accommodate groups of up to 120 people for special occasions, where you may, of course, order reindeer steak, which is a real delicacy, as well as a host of other dishes, all made of reindeer meat.
Zoo and Crafts Store
At Klaustursel Farm, which is another 17 kilometres further up the valley, reindeer or 'hreindýr' as they are called in Icelandic, can be seen close up. The small reindeer family consists of one buck, a doe and a year-old calf. Locals say that the buck and calf are very friendly, but the female is very shy, so don't be offended if she seems aloof. There is also a craft store where you'll be able to purchase purses, hats and various trinkets, all made out of reindeer skin, hair and horns.
The Origin of the Reindeer in Iceland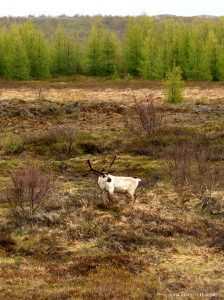 In 1771, the first group of reindeer to arrive in Iceland was brought from Norway and was put ashore in the Westman Islands and on the south coast of the country. A second group came in 1777 and was put ashore on Reykjanes Penninsula, and the third in Northern Iceland in 1784. All these groups died out however but a fourth group, which was put ashore in Vopnafjörður in 1787 survived. This is the basis of the present reindeer stock in Iceland. The stock is now around 5,000 animals and efforts are made to keep that size each year. Each year hunting quotas are issued according to both areas and gender. In this way, it is ensured that the population is spread equally and the ratio of males to females supports the breed's survival.
For further information visit: www.ahreindyraslodum.is