Here today, changed tomorrow
Reykjavik Excursions takes you to a Highland Paradise
The process of creation continues unabated in Iceland and what you see today, may be very different tomorrow. Those familiar with the Þórsmörk (Thorsmörk) nature reserve prior to the notorious eruptions would see a totally different landscape today. By next year, things will probably be different again in this constant war of creation and destruction, in which creation always wins out in the end.
In almost any country, I could buzz around in my little VW Golf. Even here in Iceland, I can drive over most of the country. But I'm told I can't take it to Þórsmörk – and I decided to find out why.
Driving down to the beautiful Seljalandsfoss waterfall would be no problem, but I took the Reykjavik Excursions tour bus there so I could enjoy the view. I got a lot more than I bargained for, as I was regaled with history, stories and anecdotes the whole way that made the countryside come alive as never before.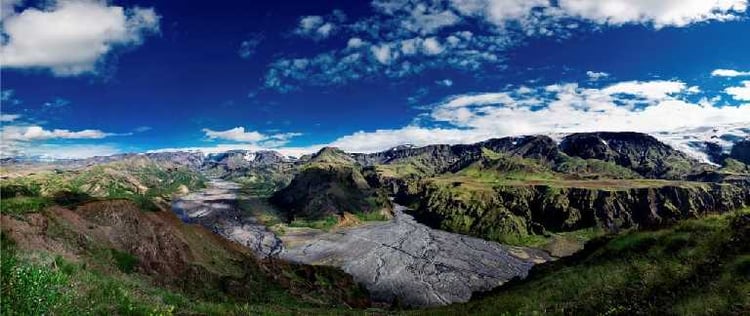 Then, from a distance, a clear white line down a high escarpment showed we were almost at the waterfall. This is the one you can walk behind and it's worth the spray, believe me. It's not the only waterfall here, though. There are a whole line of falls which make this a beautiful place to stop and even camp. But I was on a mission.
This year, a new monster bus has joined the RE fleet. I saw it at the bus station, fresh out of Customs, still with plastic on the seats. At first glance, it looked like a NATO rocket launcher with windows. Surely, this is overkill? The huge windows give a panoramic view and it's so high off the ground, you feel as if you're flying up to Þórsmörk. There are only two in the world – and both are in the south of Iceland! Its tyres alone would dwarf my car. It can pass through waters 2 m high that even jeeps cannot get through. I'd need diving gear in my car. A Super jeep would be taking me today, though. We drove in a convoy of 4 cars, carefully picking our way through the rocks.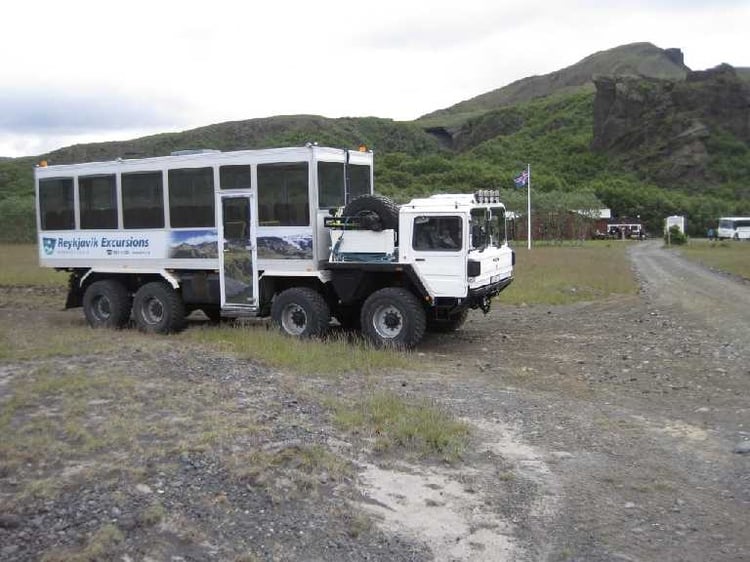 The first thing you see is desolation as you drive up the valley. The rugged beauty of the mountains; the multitude of rivers rushing to join the larger Markarfljót river, crossing the rock-strewn valley floor. Just the first river answered my question as we plunged down its steep bank and its waters splashed over the top of the jeep. I would be a drowned rat! – And this was only the first of many. No, you can't take your car on this route. I'm convinced.
At one point, the river current even started to sweep the heavy jeep ahead of us downstream as it crossed. We were up against powerful forces here. Now I see the need for the new monster bus.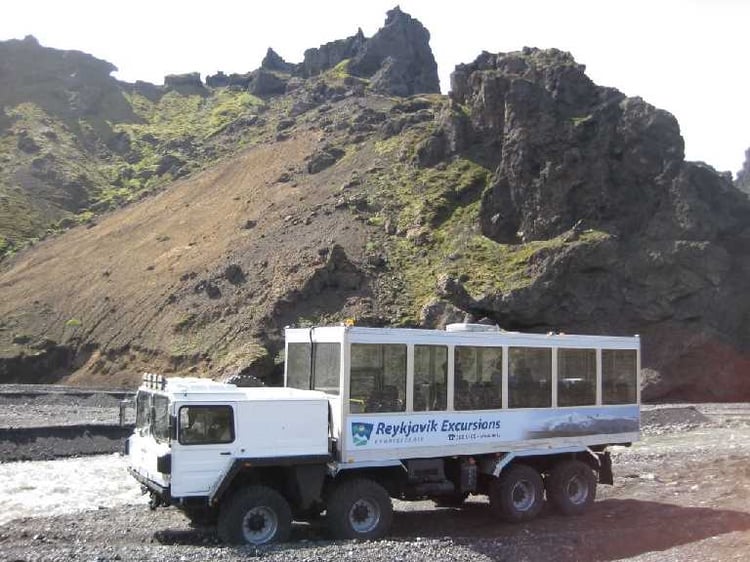 The mountains are covered with snow – but this year, the snow is covered with dark stains of ash. This is a rare sight, indeed. Then the GPS shows that we are in the middle of a lake! All I see is rough ground. There's a small pond barely big enough to float a child's boat in it. Our driver tells us that the ground here rose by 50 m during the eruption – that's the height of a 5-storey apartment block. This year, the Ljónið lake is but a memory – but next year, who knows?
Just as I am beginning to wonder why people come here, the vista opens up into the most beautiful, verdant scene at Valaknúkur. Woods and fields, caves and mountains. This is hiking territory at its best! From here on, there are paths of different difficulties, surrounded by greenery that is bursting through the ash. The trees and undergrowth thrive in this highland Shangri-La.
There is a small resort at nearby Húsadalur, with sleeping accommodation of all kinds, for those who can stay longer, and a log-style restaurant, whose staff work tirelessly to provide the kind of delicious meals hikers and visitors need. This food is good! A hot pot and showers top off this highland resort.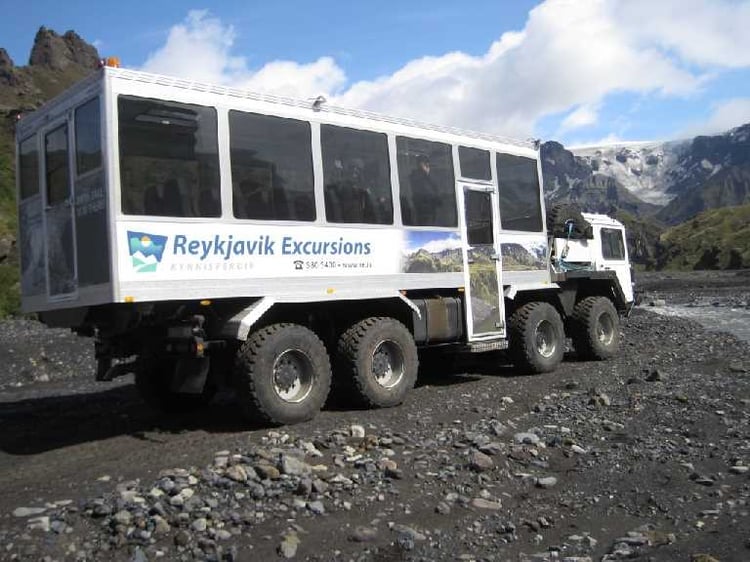 The tour is a 12 hour trip, with pick-ups from Reykjavik hotels around 7:30 am. GPS-guided commentary is provided en route and then you transfer to the new bus at Seljalandsfoss for the trip into the interior. This popular tour is worth every minute and will leave you with an amazing photo album and memories. Once you've been on one of these tours, all the others suddenly look very inviting!
Reykjavik Excursion
BSI Bus Terminal • 110 Reykjavik
+354 580 5400
[email protected]
www.re.is