Gray Line Iceland's Delicious Golden Circle Tour
The Perfect Tour for Food Lovers
If this is your first time visiting Iceland, then Gray Line Iceland's 'Delicious Golden Circle Tour' could well be your tour of choice. For me personally, I can't think of a better way to spend a day—pairing the magnificent scenic sites of the Golden Circle, Þingvellir, Gullfoss and Geysir  with visits to some surprising new food destinations.
All Aboard!
The tour departs from Gray Line Iceland's main office, just across the street from the Harpa concert hall. Our driver/guide Bjarni happens to be a guy who really knows his stuff, which he delivers in almost flawless English. On the drive out of the city, Bjarni fills us in on some historical facts and figures and in just a couple of minutes we are already passing the beautiful little town of Mosfellsbær with a snow covered Mt. Esja looming large in front of us.
First Stop – Þingvellir
We then turn towards the home of the world's first parliament at Þingvellir, where we get a chance to explore a bit on foot, walking right by the towering cliffs that form a part of the Mid-Atlantic Ridge and marvel at the expansive views across Iceland's largest lake, Lake Þingvallavatn. After a brief stop for a welcome coffee/tea br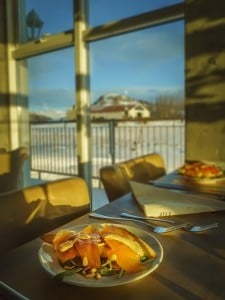 eak at the small Þingvellir café, we head out again, our little van taking us over the scenic routes of Þingvellir National Park, and onwards to our next stop, a leisurely sit-down lunch at Efstidalur farm.
Lunch at Efstidalur Farm
The family-run concern is a working dairy farm that has been operating for over a century, but the brand-new restaurant that overlooks the cow barn itself is the place to be for a wonderful 3-course meal. Presented and served by the farmer's daughter herself, the meal's highlights are hands down the delicious platter of grilled meats: trout fished from nearby lakes, succulent chicken from a local farm and farm-raised beef and lamb that were to die for.
A Look at Gullfoss and Geysir
After lunch we go onwards through the village of Laugarvatn. In the distance, the white plumes of steam from the oft-erupting Strokkur geyser come into view, just as we enter the Geysir geothermal area. But first, a look at the must-see Gullfoss waterfall, just 5 minutes away. In winter, Gullfoss takes on its robe of winter-white ice that makes it all the more impressive.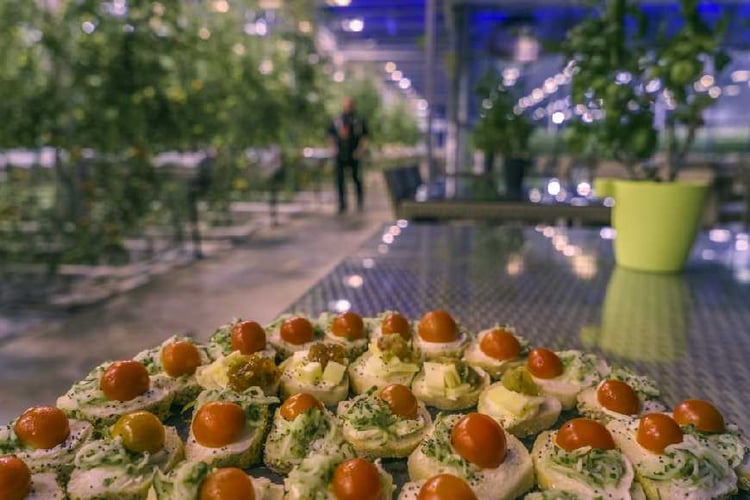 Fabulous Friðheimar – a Tomato Grower's Paradise
Turning south towards the village of Reykholt, our next destination is the warm and brightly lit greenhouses at Friðheimar. We are given a short yet interesting talk about the whys and wherefores of geothermal greenhouse horticulture, and then we get a chance to taste Friðheimar's own products. Have you ever heard of green tomato jam with cinnamon and lime? How about cucumber salsa or a dessert sauce made with cherry tomatoes and strawberries? No? Well now you have and all these products and more are available only at Friðheimar. Fabulous!
Turning Back the Clock at the Icelandic Farmhouse
We push onwards to the Icelandic Farmhouse in Selfoss—one of the last remaining and beautifully preserved turf farms in Iceland. It's a fascinating glimpse of the type of housing that most Icelanders lived in right up until the end of World War II. After a brief introduction, we gather round for a taste of Old Iceland—the daily fare that every Icelander remembers from their childhood and still enjoys today. Our samples are just the cutest bite-sized pieces—dried fish with butter and dulse (a type of iodine-rich dried seaweed), hangikjöt with laufabrauð (smoked lamb and 'leaf bread'—the traditional Christmas food is still a wildly popular dish), flatbrauð (flatbread) with sheep paté, and a sweet and healthy hot drink made from lichen called fjallagrös. It's all quite different to what you and I are used to, but very tasty! Finally, we visit the renovated turf house for an eye-opener into the cozy home life of Iceland's recent past.
An evolving cuisine with a bright future
The last rays of light linger in the western sky as we head over Hellisheiði heath and back to Reykjavík. It has been a day well spent, full of sights that only Iceland can deliver, but also an intriguing glimpse of Iceland's culinary past and its continuing evolution right into the present.
Well done, Gray Line Iceland!
[table caption="Contact Information – Gray Line Iceland" class="row-fluid"

border="5″

width="100%" colwidth="50% | 50% " colalign=" center | center"]
Hafnarstræti 20 ◦ 101 Reykjavík,
[email protected]

www.grayline.is,tel: +354 +354 540 1313
[/table]