Touring Snæfellsnes Peninsula And West Iceland With Gray Line Iceland
Everything Quintessential
If you are out for some sunshine in Iceland, you have to choose your spot, or rather sometimes the weather forecast will choose it for you. It just so happened that sunny days were forecast for West Iceland, and I had wanted to see Snæfellsnes peninsula for some time, so off I went with Gray Line Iceland's Snæfellsnes National Park early morning tour.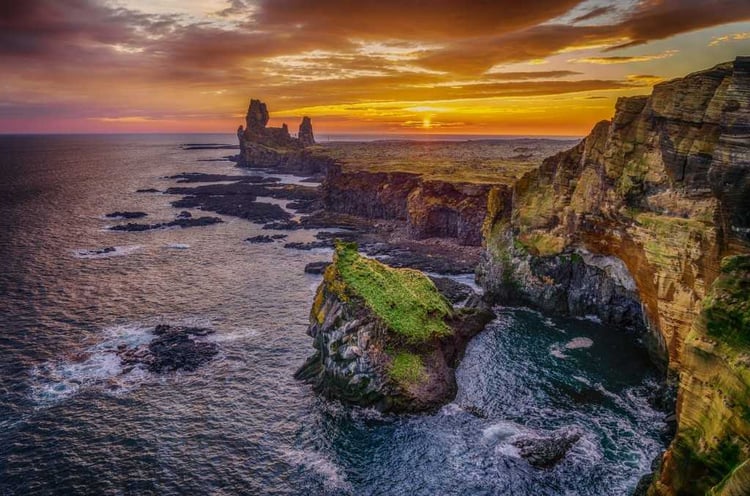 Oceans of Azure, Fields of Blue
Snæfellsnes peninsula is positioned some-what away from the well-trod tourist track, but is nonetheless enchanting with its unspoiled landscapes that contain just about every element of quintessential Icelandic countryside that you could hope for.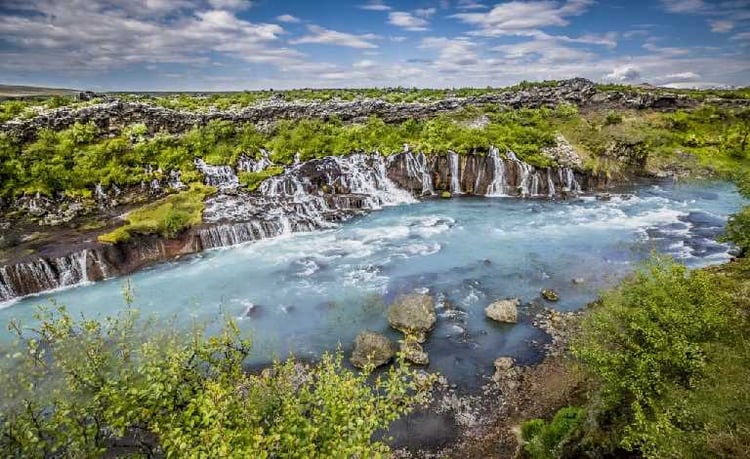 Westward Ho!
Driving north from Borgarnes, our coach passes ancient lava fields interspersed with waving patches of indigo blue Alaskan lupines. We follow the peninsula's coastline in a clockwise direction; the endless azure ocean always to our left; the mountainous spine of the peninsula, culminating with the mystical Snæfellsjökull glacier, on our right.
She Should See Seals on the Seashore
Seal spotting is first on the agenda at Ytri-tunga, the site of one of Iceland's rare golden sand beaches as opposed to the more ubiquitous black sand found elsewhere in Iceland. Alas, no seals could be seen this day, although it was fun exploring the beach and admiring the view over Faxaflói bay.
The Blow Holes of Arnarstapi
It is a very picturesque place – a lava-field-meets-sea kind of place resulting in some unusual architecture not found anywhere else in Iceland. Three small circular cliffs, known as blowholes, with the sea crashing inside them, are a very impressive sight indeed. Near the shore, a huge statue of the half-human, half-troll Bárður Snæfellsás, the guardian spirit of the area, keeps watch over the peninsula. Screeching arctic terns keep a wary eye on us, lest we get too close to their nests, during our refreshing walk from Arnastapi to Hellnar where we stop for a bite to eat at a traditional café.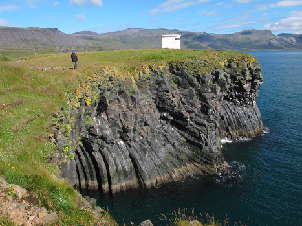 Magnificent Seascapes of Djúpalónssandur and Dritvík
The wild and windswept coast at Djúpalónssandur provides some striking visuals – the black stone beach, littered with rusting pieces of wreckage from a British fishing trawler that ran aground in 1948, for example. The once sprawling fishing station at Dritvík, is now a deserted, albeit remarkable beach, surrounded by high basalt cliffs.
Vatnshellir Cave
With helmets on and torches in hand, our professional guide takes us down a circular staircase and into the blackness of Vatnshellir lava tube cave, where fragile stalagmites, stalactites and other geological curiosities give this cave its designation as a protected site. Or is it because this is where Bárður Snæfellsás is believed to have hung out, back in the day? Just wondering.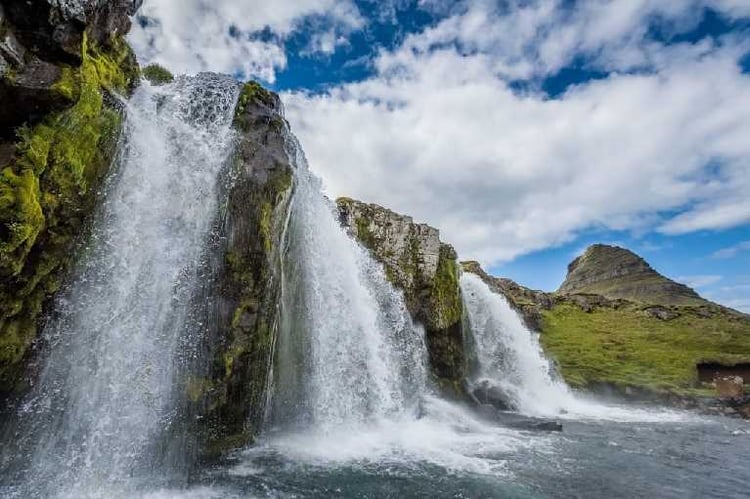 The Iconic Kirkjufell Mountain
Pushing onwards, we round the peninsula towards the village of Grundarfjörður. The unmistakable Kirkjufell Mountain (463m), Grundarfjörður's iconic landmark, sought after by today's throngs of photographers, is optimally situated right in the middle of the village. You can't miss it. Home Again, Home Again Our tour heads back to Reykjavik through the still warm Berserkjahraun lava fields to our final stop at the National Heritage Site at Gerðuberg. The stately basalt columns, lined up neatly in near perfect precision could possibly serve as some sort of elf fortress or perhaps elf castle of some kind. Just a guess. West Iceland Waterfalls and Glacier Tour This is a shorter, sweeter, all-round relaxing tour that takes you through some amazingly graceful landscapes here on Iceland's west side. If you don't happen to be a fan of outrageously monstrous waterfalls (like me) but prefer your waterfalls to be of the gentler, prettier sort, then this tour is for you.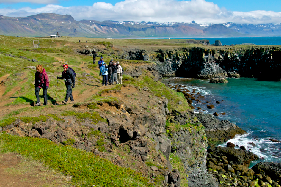 Deildartunguhver
As Europe's most powerful thermal spring and West Iceland's source of hot water, you might be expecting more. Be thankful that most of the action takes place underground, allowing you to get quite close to the steaming, bubbling 100C spring…just don't get too close! Snorrastofa Next up, we visit Snorrastofa in Reykholt for a taste of what those wild and wooly Vikings were up to in their hey day.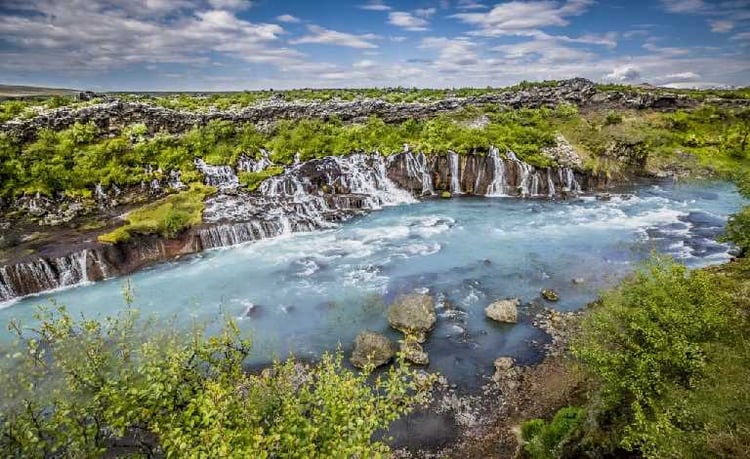 Two Waterfalls
The mystery of Hraunafoss, unlike the nearby river fed Barnafoss, is that the waterfall is unique in that the water seeps from under the lava and its source has never been found. Barnafoss gushes through a small canyon before it joins with Hraunafoss just 100m away. Kaldidalur Pass, Langjökull Glacier and Þingvellir Our route takes us over Iceland's second highest pass, the desolate Kaldidalur pass, giving us a feel for the famed Icelandic highlands. We get a chance to walk to the edge of Langjökull glacier before heading to Þingvellir National Park, home to Iceland's first and still running parliament. –EMV
[table caption="Contact Information – Gray Line Iceland" class="row-fluid"

border="5″

width="100%" colwidth="50% | 50% " colalign=" center | center"]Hafnarstræti 20 ◦ 101 Reykjavík,[email protected]

www.grayline.is

,tel: +354 +354 540 1313 [/table]