Kjarvalstaðir houses the works of one of Iceland's most influential and recognized artists, Jóhannes S. Kjarval (1885-1972). The building is a fine example of Nordic modernism, it features floor to ceiling windows that look onto the beautiful Klambratún Park a walk away from church Hallgrimskirkja.
Flókagata 24, 105 Reykjavík
Open daily 10-17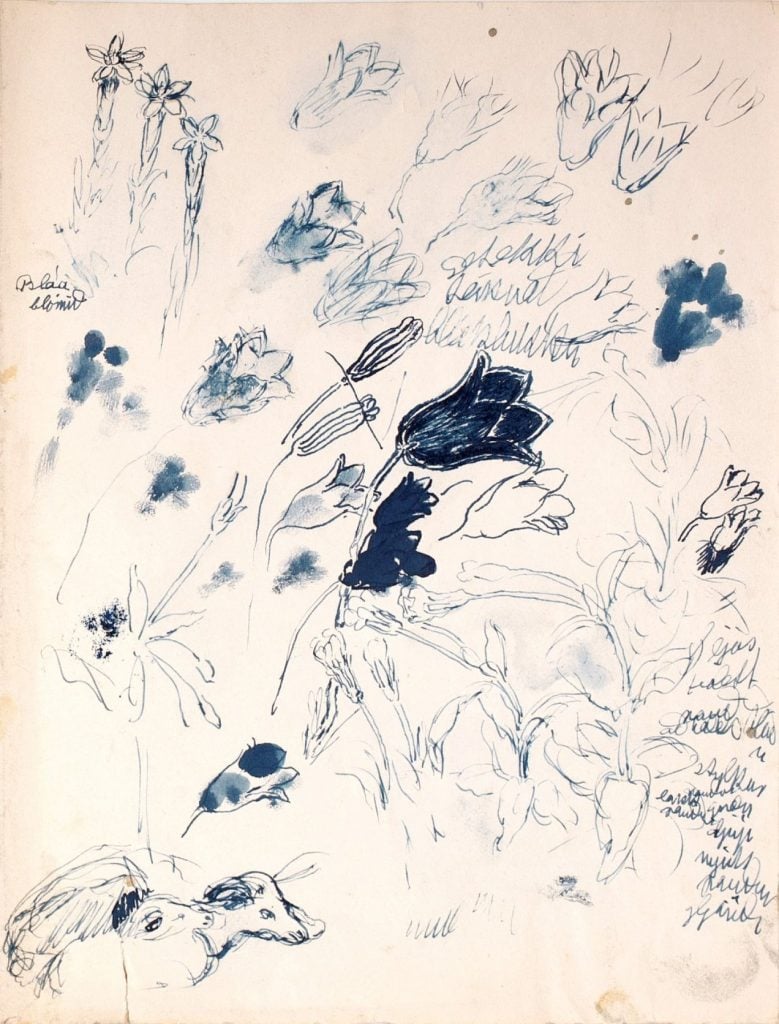 25.05.2019 – Opened
05.01.2020 – Closes
The artist Eggert Pétursson (b. 1956) has assembled an exhibition of the floral works of Jóhannes S. Kjarval. Upon undertaking this project for Reykjavík Art Museum, Eggert decided to examine the floral factor in Kjarval's work and approach it from an artistic viewpoint. According to Eggert, Kjarval's flower works are more extensive than his own. Kjarval traverses all over. He does not limit himself to botany but paints and sketches flowers around him, be they ornamental plants, potted plants or wildflowers, and last but not least, he paints the flora of the mind. Eggert resolved to categorize the works by their elements and figurative connection and display them as he would his own work. His selection is intended to create a coherent exhibition rather than as a historical overview of Kjarval's floral works. The artworks are divided into three main groups in the three exhibition halls. The center hall contains floral landscapes and images from wild Icelandic flora. This includes works where Kjarval first grapples with wildflowers, mainly heather. In his sketches, common plant species are often recognizable, and these kinds of sketches can be viewed in the display cases. Landscape and flowers are intertwined in Kjarval's works and, in his last years, he painted landscapes of the mind, a grey world, illuminated by flowers. The north hall contains what may be called festive flowers, i.e. cut flowers, potted plants and flower baskets, artwork which Kjarval created as gifts, both from himself and others. Lastly, the south hall is where we find his floral fantasies, where faces and creatures are interlaced with flowers in paintings and sketches.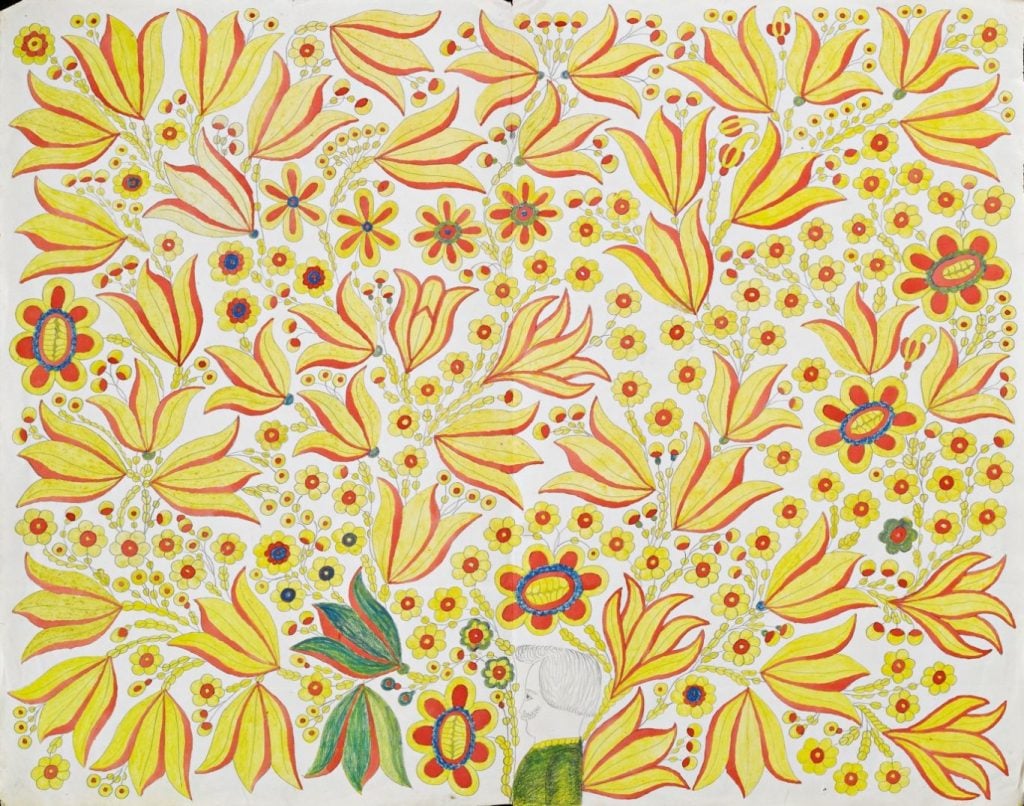 25.05.2019 Opened
06.10.2019 Closes
Sölvi Helgason (1820-1895), or Sólon Íslandus as he also called himself, is indisputably Iceland's most fascinating folk artist; a charismatic outsider both in his life and in his art. He was a rover, a scholar and an artist, but also a capricious eccentric who disobeyed the laws of men and was hence punished with imprisonment. Paper and pigment were rare commodities and hard to obtain in Sölvi's times. His resourcefulness in acquiring necessary materials and paint his images under inadequate conditions, as well as receiving little understanding from his contemporaries, is indeed admirable. Rich and colorful flower compositions characterize Sölvi's works and he repeatedly used the same floral patterns, either as the main subject of the image or as background for portraits.
Sölvi was also a vigorous writer of scholarly texts, as well as his own poetry and reflections, and the back of Sölvi's pictures is often covered in minuscule writings to the very margin. The spontaneous and persistent, passionate creativity of this destitute wanderer is truly laudable, and the artistic value and quality of his work indisputable. It is worth noting that the exhibition Floral Fantasy will have on display 18 previously unknown works by Sölvi Helgason, that have until now been preserved in Denmark. This significant cultural heritage is a generous benefaction to the Icelandic people from Ingrid Nielsen. Most of the works, however, are on loan from the National Museum of Iceland and the National Library of Iceland, apart from one key work which is preserved in Akureyri Museum. These museums receive sincere thanks for a rewarding collaboration and goodwill.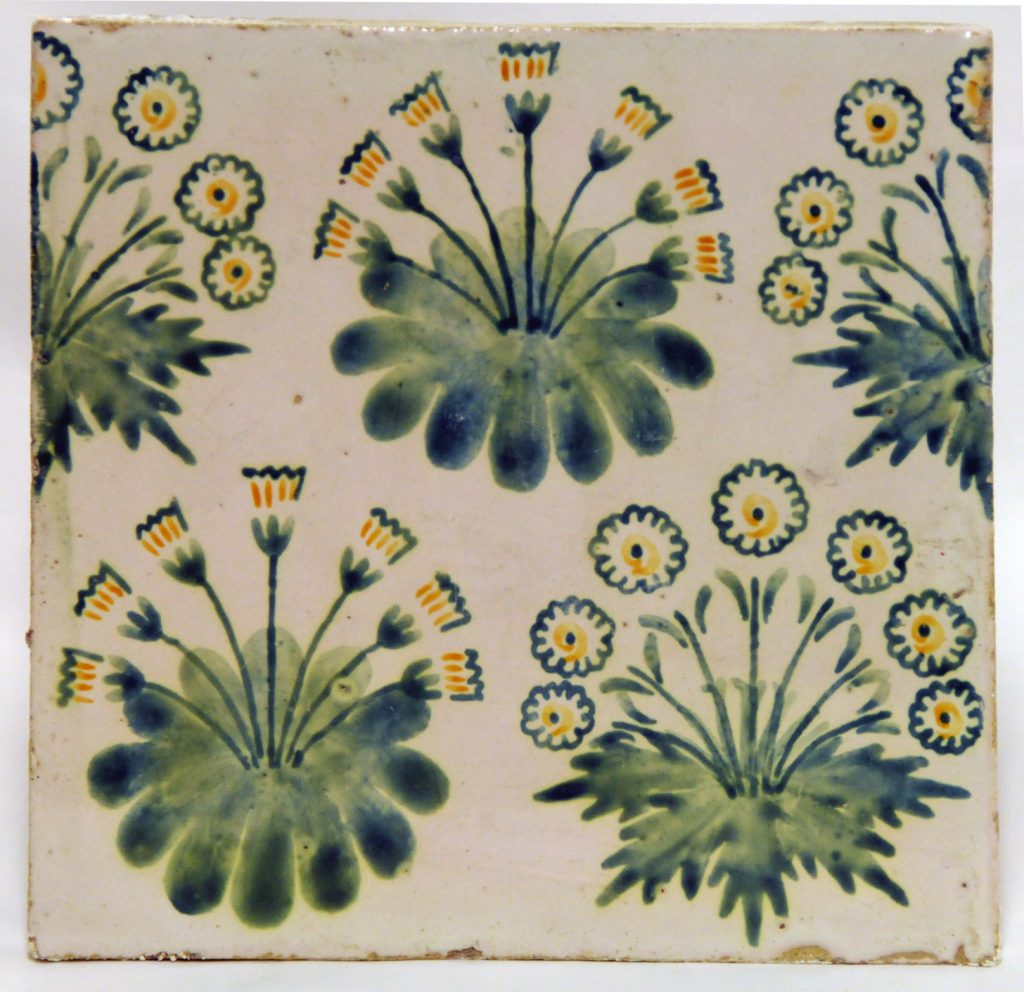 30.06.2019 Opened
06.10.2019 Closes
An exhibition on the work of British designer, William Morris. Morris (1834-1896) was an artist, thinker, author and social critic who greatly influenced his time and left a visual heritage and ideology which continue to influence us today. Morris' connection to Iceland is interesting; he visited the country twice during his career, in 1871 and 1873. Morris was greatly affected by his visits to Iceland, the landscape and the culture fascinated him. He is said to have considered himself a man of the north, as was evident in not only his incessant interest in Icelandic literature but also in his unpolished appearance.
This exhibition is a collaboration with the William Morris Gallery in London and Millesgården in Stockholm. It has also been installed in Denmark and Edinburgh. This is the first exhibition in Iceland to cover Morris' diverse career. In addition to previous installations of this exhibition, this one will include a special chapter on the Icelandic connection. The exhibition will be held at Kjarvalsstaðir between June – October 2019, and it opens with intensive communications to the public, school groups, experts and special interest groups. Among other things, the exhibition holds original drawings of Morris' patterns, wallpapers and work processes, paintings, drawings, stained glass windows, furniture and wall-hangings. The original edition of his translations of the Icelandic Sagas will also be on display. The Icelandic chapter of the exhibition will include artifacts, which Morris brought back from Iceland and that influenced his imagery, carved horns and national costumes for example.