1st October this year marks the 70th Anniversary of the founding of the People's Republic of China. In 1949, when the People's Republic was founded, the Chinese people faced a devastated country that needed to be rebuilt from scratch after decades of warfare and chaos.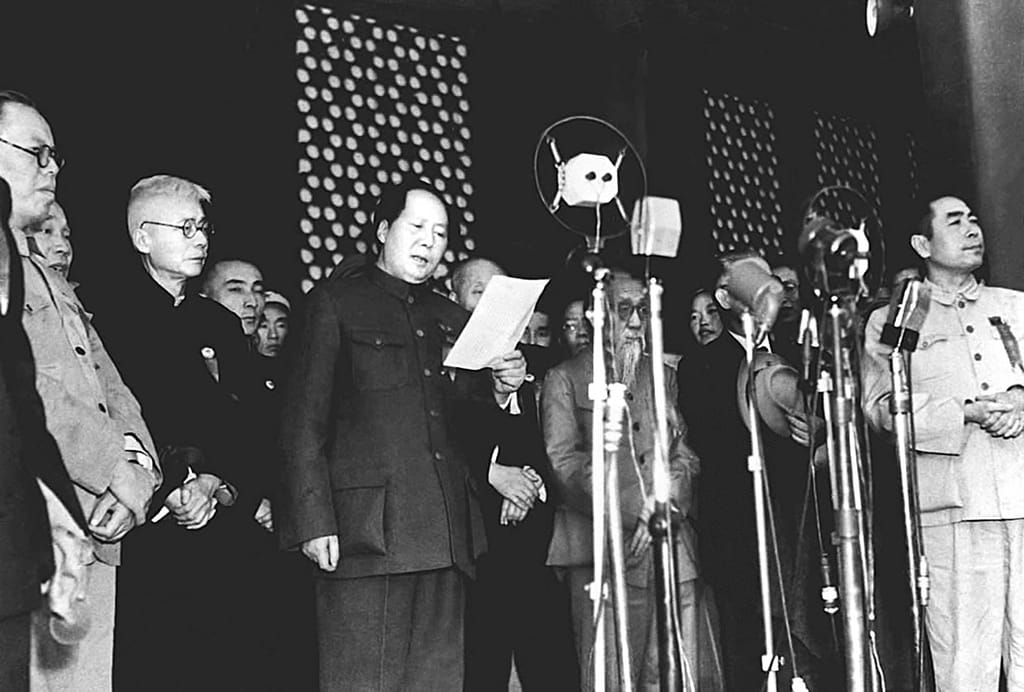 With Mao Zedong as their main representative, the Chinese Communists led the Chinese people to secure a victory in the new democratic revolution, founded the PRC and established the basic socialist system. The photo shows at 3pm on 1st October, 1949, Mao Zedong announcing the establishment of the PRC's central people's government during the founding ceremony.
After decades of unremitting endeavours and dedication, the Chinese people have forged ahead as one and made great strides that have truly impressed the world. The past seven decades have witnessed remarkable achievements in China's development. The nation has made a historical transformation in terms of social productivity and comprehensive national strength and delivered initial prosperity to its people, who were formerly struggling to meet their basic living needs.
From the founding and building of the People's Republic to the introduction of the reform and opening-up policy and the shifting of focus to economic development, China has moved away from revolution to reform, from a planned economy to a market economy and from isolation to all-round opening-up. Four to five generations of Chinese have, going through twists and turns, probed a way forward. Thanks to 70 years of hard work and dedication, China has turned from a weak and impoverished agrarian country with backward productivity into the world's second largest economy, the largest industrial manufacturer, and the largest trader of goods, creating bright prospects for the great renewal of the Chinese nation.
China has become the world's second largest economy from scratch.
Last year, China's GDP hit 90.03 trillion yuan (about 13.14 trillion U.S. dollars), accounting for 16 percent of the world's total, which was 175 times higher than that of 1952.The average annual growth of China's GDP stays at 8.1 percent over the past almost 70 years. Last year, the growth rate of GDP stayed at 6.6 percent, seemingly slower compared with its own record-breaking miracles over the years, yet it was worth noting that it was still well above those of the G7 economies, and the added value of China's GDP per year was worth more than Australia's whole economy. It is even more of a global significance to realise that China accounted for nearly 30 percent of the worldwide increase in gross domestic product over years, becoming truly the leading engine of world economic growth.
China's fiscal strength has improved remarkably during the past seven decades, leaping to 18.34 trillion yuan last year, compared with 6.2 billion yuan in 1950. China's foreign exchange reserves soared up to 3.07 trillion U.S. dollars at the end of 2018, topping the world for the 13th straight year.
China has become the world's largest industrial manufacturer
As early as in the 1940s, Chairman Mao Zedong began to emphasise the importance of developing industries, envisioned the transformation of a country with an underdeveloped agriculture-based economy into an advanced industrial country with an independent and complete industrial system. China began industrialisation in the 1950s. During the first three decades of the PRC, Chinese people tightened their belts to develop the industrial sector. But it wasn't until 1978, when China introduced a raft of economic reforms and restructured the industrial sector, that it began to shift the priority from heavy industry to light industry, and adopted a strategy aimed at improving people's livelihoods, seeking an overall development of industry, opening up to the outside world, and promoting the development of diverse economic sectors. China's entry into the WTO in 2001 ushered the country into the globalisation era with the second revolution in China's social productivity. Driven by exports, investment, and domestic consumption, China grew into an international manufacturing power. China today is facing the new challenge of upgrading its industrial structure, the ongoing supply-side structural reform, which could also serve as new opportunities for both China and the world.
China has been pushing forward the supply-side structural reform since 2015. This photo, taken in November 2016, shows the automatic floating glass production line at a glass factory in Shahe, "China's city of glass", in North China's Hebei Province. Through technical transformation, innovation and talent introduction, the factory has built a batch of production lines with advanced equipment.
Over the past 70 years, China's industrial added value has increased from 12 billion yuan in 1952 to 305.16 billion yuan in 2018, with an average annual growth rate of 11 percent, 970.6 times increase at constant prices. China's manufacturing industry exceeded that of the United States for the first time in 2010, becoming the world's largest manufacturing country since then. Currently, China is the only country in the world that enjoys a full coverage of all industrial categories listed in UN, and its output of over 200 industrial products ranks first in the world,
Meanwhile China is also constantly strengthening its agricultural bases and highlighting the service industry for a more balanced development in upgrading its industrial structure. China's total grain output has increased from 113 million tons in 1952 to 658 million tons now. It is a staggering accomplishment that China is able to feed 20 percent of the world's population with less than 9 percent of the world's arable land. China's ever-growing service industry has become the dominant driving force for national economic development and the top choice for foreign investors in China. In 2018, the service sector's contribution to China's economic growth approached 60 percent, and foreign direct investment in the service industry accounted for 68.1 per cent of the total FDI in China, up from 24.7 per cent in 2005.
China has vigorously implemented the rural vitalization strategy, renovating the rural environment and making villages take on a new look. Countryside tourism has become a new source of income. This photo, taken in June 2018 shows the scenery of Daimei Village of Dongyuan Township in Longhai City of Fujian Province.
China's infrastructure in transport, telecoms network and energy production sees significant improvement over 70 years.
The country's transport network saw notable expansion from 1949 to 2018. By the end of 2018, the total railway operation mileage reached 131,000km, five times higher than 1949, while the high-speed railway network exceeded 29,000km, accounting for more than 60 percent of the world's total. Civil aviation flight routes surged 734 times from 1950, to 8.38 million km in 2018.
The Beijing-Shanghai high-speed railway, stretching 1,318 km, is the world's first railway for commercial use with a designed speed of up to 350km per hour. The railway has cut the travel time between Beijing and Shanghai to roughly four hours. The photo taken in January 2019 shows the debut of the extended version of the "Fuxing" high-speed train.
This photo, taken in May 2017 shows the successful maiden flight of China's first independently developed passenger jet C919 at Shanghai Pudong International Airport.
Traditional telecoms networks and the modern communication network reported fast expansion. Postal service branches increased 9.4 times over the seven decades, reaching 275,000 across the country. China's mobile broadband network user base expanded to 1.31 billion in 2018, the world's largest mobile broadband network, and made it possible for China's 500 million tech-savvy consumers to buy almost everything from shampoo to cars online and, in most cases, by just using their smart phones. With the next-generation 5G network underway, Chinese consumers are expected to account for one-third of 5G-enabled handsets globally within five years. E-commerce is reshaping the retail industry through big data, cloud computing and the internet, and China is marching towards a technology-powered 'new economy' fuelled by deep integration between the real economy and advanced technologies.
The year of 2019 marks the beginning of the era of 5G licenses for commercial use in China. In the research centre of the China Automotive Engineering Research Institute in southwest China's Chongqing Municipality, a technical worker uses a 5G-based remote control system in a simulation room to operate a car on urban roads.
Robust growth has been registered in China's energy supply. The country's energy output totalled 3.77 billion tonnes of standard coal in 2018, increasing 158 times compared with 1949. China has taken a lead in renewable energy, which last year accounted for 38.3 percent of the country's total installed power capacity. China is now the world's largest producer, exporter and installer of solar panels, wind turbines, batteries and electric vehicles. China also has a clear lead in terms of the underlying technology, with over 150,000 renewable energy patents as of 2016, 29% of the global total. With the aim of generating 15 percent of its energy from non-fossil fuel sources by 2020 and 20 percent by 2030, the country plans to take proactive measures to further the expansion of facilities that can deliver high-quality renewable energy.
China has made great leaps in developing basic and higher education as well as scientific and technological development over the past 70 years.
In the early days, after the People's Republic of China was founded in 1949, the illiteracy rate in the country stood at 80 percent. Today the newly-added labour force has received, on average, over 13.3 years of education. Over the decades, compulsory education coverage in China has been expanded to the average level of high-income countries as the country has given strategic priority to education and included compulsory education in legislation. Today China has built the world's largest higher education system with the gross enrolment ratio in higher education rising to 48.1 percent from 0.26 percent in 1949.
Scientific and technological strength has been significantly enhanced. The period since 1979 has been a golden period for China's scientific and technological development with its atomic energy, space, high-energy physics, biology, and computer and information technologies reaching or approaching the international advanced levels. Investment in science and technology has been increasing ever since, and innovation output has been expanded. Expenditures in research and experimental development amounted to 1.97 trillion yuan last year, growing 138 times larger than in 1991. By the end of 2018, valid patents in China have reached 8.38 million and have ranked first in the world for 8 consecutive years. With the implementation of the strategy of rejuvenating the country through science and education, China has made a series of landmark achievements in science and technology, such as the launch of the Wukong dark matter probe satellite, the Tiangong-2 space lab, the Mozi quantum science satellite, the Five-hundred-metre Aperture Spherical Radio Telescope (FAST) and so on. The most recent is China's Chang'e-4 probe, making the first-ever soft landing on moon's far side.
In October 2003, China's first manned spacecraft "Shenzhou V" was launched into space, realising the millennium dream of space flight of the Chinese nation. This marked China becoming the third country in the world to master manned space technology.
On 3 January, 2019, China's Chang'e-4 probe made a soft-landing on the far side of the moon. The photo was taken by a camera on the lander of the Chang'e-4 probe, showing the lunar rover Yutu-2 travelling on the moon.
In October 2015, Tu Youyou, a researcher with the China Academy of Chinese Medical Sciences, won the 2015 Nobel Prize in Physiology or Medicine as she discovered artemisinin, a drug that could significantly reduce the mortality rates for patients suffering from malaria. The discovery of artemisinin has saved millions of lives in the world, especially in developing countries.
The photo to the right shows Tu Youyou, then a research intern, studying Chinese medicine with her teacher, Lou Zhicen, at the Institute of Chinese Materia Medica of the China Academy of Chinese Medical Sciences in the 1950s. On Dec. 10, 2015, Tu Youyou received the 2015 Nobel Prize in Physiology or Medicine.
China has seen huge social development and tremendous changes in people's lives.
The past 70 years witnessed, not only notable economic development, but also remarkable social progress in China. The vision of people-centred development has seen a whole raft of initiatives to benefit the people, whose sense of fulfilment has grown ever stronger.
The wellbeing of the people improves continuously. The urban employed population leapt from 15 million in 1949 to 434 million last year. Citizens' per-capita disposable income stood at 49.7 yuan in 1949, and topped 28,200 yuan ($4,030) in 2018, a growth of 59 times, factoring inflation. The consumption expenditures surged from 88.2 yuan in 1956 to 19,853 yuan in 2018, growing 28.5 times in real terms. Decisive progress has been made in the fight against poverty. By the end of 2018, China's poverty-stricken population was reduced to 16.6 million, lifting over 800 million people out of extreme poverty since 1978, contributing more than 70 percent to global poverty alleviation in the past four decades. China is determined to eliminate absolute poverty by 2020.
China has vigorously promoted the development of various social undertakings over the years. With an enhanced public cultural service in China, public libraries have reached 3,173 nationwide, nearly 57 times more than 1949, and television coverage has expanded to 99.3% of the whole population. The Chinese culture has attracted more and more overseas students, and by the end of 2018, there were already 548 Confucius Institutes and 1193 Confucius Classrooms in 154 states and regions worldwide.
The medical and health system improved markedly; the life expectancy of the Chinese people has increased from 35 years old in 1945 to 77 years old in 2018. The nation has built the world's largest social security system, with the basic old-age pension covering more than 90 million people and medical insurance covering 1.3 billion people.
The Chinese government has been strengthening the social security system in big strides, and has gradually established a multi-tiered social security system that covers the entire population in both urban and rural areas. The photo, taken in January 2010, shows senior citizens over 60 years old in Wuchuan County of the Inner Mongolia Autonomous Region receiving the first batch of pensions under the new rural pension scheme.
China has honoured its commitment to environmental protection. The government and whole community have realized that clean waters and lush mountains are invaluable assets and implemented the fundamental national policy of conserving resources and protecting the environment. China is pushing forward the 'Beautiful China' initiative to create good working and living environments for the people and playing their part in ensuring global ecological security. As an active participant in the global course for addressing climate change, China has played a key role in securing the Paris Agreement, and China's CO2 emissions per unit of GDP had declined by approximately 46% by the end of 2017 compared to 2005.
China attaches great importance to the development of ecological civilisation and is implementing a revised Environmental Protection Law of the People's Republic of China, which entered into force in January 2015. China firmly pursues a model of sustainable development, featuring increased production as well as healthy ecosystems, and follows a green production and consumption pattern that conserves resources and protects the environment. This is an aerial photo of the Yuanjiang Wind Farm in Xing'an, Guilin, Guangxi Zhuang Autonomous Region taken on July 3, 2017.
China has made notable progress in foreign trade and economic cooperation in the past 70 years.
Thanks to the reform and opening up, China has grasped the historic opportunity of rapid development of global trade and achieved leap-forward development ever since. Joining WTO in 2001 was another milestone in China's integration into economic globalisation. Since then, China has pressed ahead with reform and development by taking part in international economic cooperation and competition, unleashing market dynamics and effectively advancing the reform and opening-up process. In 2018, China's total goods imports and exports had reached 4.6 trillion U.S. dollars, expanding 223 times from those in 1978, and a huge jump from the 1.13 billion U.S. dollars recorded in 1950. As a champion of a multilateral trading system, China has been committed to the promotion of trade and investment liberalization and facilitation. Multilateral economic and trade relations and regional economic cooperation have seen rapid development, particularly in the joint construction of the Belt and Road Initiative. Since its inception over 6 years ago, the BRI has received strong endorsement and warm support of the international community, and has become a popular international public product. To date, the trade volume between China and countries joining the BRI has exceeded 6 trillion US dollars, with investment of more than 80 billion US dollars.
China has also become a most attractive destination for foreign investment. China works hard to maintain a fair, transparent and predictable business environment, slash restrictions on market access, and provide increasingly better services for all market entities, including foreign invested enterprises. In doing so, China has seen a huge increase in foreign direct investment (FDI). The materialized non-financial FDI reached 135 billion U.S. dollars in 2018, increasing 146 times from that in 1983 with an annual growth rate of 15.3 percent. As China opens more sectors to foreign investors with the full implementation of the pre-establishment national treatment and the negative list management system, the service sector has become a new magnet for foreign investment, attracting 68.1 percent of the total foreign investment last year.
China's international status has improved significantly
Since the founding of the People's Republic of China 70 years ago, the Chinese people have forged ahead as one and made great strides that have truly impressed the world. On the diplomatic front, China has broken new ground, overcome many difficulties and travelled an extraordinary journey.
In the early years of the People's Republic, China faced a severe international situation. Affected by foreign blockades, China had little interaction with the rest of the world. In the 1950s, the country had only maintained contacts with the former Soviet Union, Eastern European countries and a limited number of western countries, like the Nordic countries. In the 1960s, more diplomatic relations were established with some countries in Asia, Africa and Latin America. By 1969, only 50 countries had diplomatic ties with China. With the restoration of its lawful seat in the UN on 25th October,1971, China ushered in a new wave of the establishment of diplomatic relations with a large number of countries, including with Iceland on 8th December, 1971. Since its reform and opening up in 1978, China's foreign relations have entered a new era of development. Since then China has actively integrated into the international community and the friendly exchanges between China and the rest of the world have increased significantly. At present, China has established diplomatic relations with 178 countries and has become the largest trading partner of over 120 countries and regions. It has reached 17 free trade agreements with 25 countries and regions. China has become the second largest contributor to the UN among all member states, dispatched the largest peacekeeping force among the five permanent members of the UN security council, and played an irreplaceable role in a series of international hotspot issues.
The guiding principles of China's foreign policy are to hold high the banner of peace, development, cooperation and mutual benefit, uphold its fundamental goal of preserving world peace and promoting common development, remain firm in its commitment to strengthening friendship and cooperation with other countries on the basis of the Five Principles of Peaceful Coexistence, and to forge a new form of international relations featuring mutual respect, fairness, justice and win-win cooperation. To this end, China actively advocates and promotes the vision of building a community with a shared future for mankind, and works together with other countries to build an open, inclusive, clean, and beautiful world that enjoys lasting peace, universal security, and common prosperity. China firmly pursues an independent foreign policy of peace, respects the right of peoples of all countries to choose their own development path and endeavours to uphold international fairness and justice, never imposing its own will on others and opposing acts of interference in the internal affairs of others as well as the practice of the strong bullying the weak. Meanwhile, following the principle of achieving shared growth through discussion and collaboration in engaging in global governance, China stands for democracy in international relations and the equality of all countries, big or small, strong or weak, rich or poor. It maintains that dialogue and consultation should be pursued in the interests of peaceful resolution of differences and disputes among countries, and that the wilful use or threat of force should be rejected. China supports the United Nations in playing an active role in international affairs. In the meantime, China has actively developed global partnerships and expanded the convergence of interests with other countries. China will promote coordination and cooperation with other major countries and work to build a framework for major country relations featuring overall stability and balanced development. Guided by the principle of upholding justice while pursuing shared interests and the principle of sincerity, real results, affinity, and good faith, China will work to strengthen solidarity and cooperation with other developing countries. It will adhere to the fundamental national policy of opening up and actively promote international cooperation through the Belt and Road Initiative. In doing so, China hopes to achieve policy, infrastructure, trade, financial, and people-to-people connectivity and thus build a new platform for international cooperation to create new drivers of shared development.
Chinese President Xi Jinping attended the annual high-level general debate of the 70th session of the United Nations General Assembly and delivered an important speech titled "Work Together to Forge a New Partnership of Win-win Cooperation and Create a Community of Shared Future for Mankind" at the UN headquarters in New York, the United States, 28th September, 2015.
China will remain on the path of peaceful development, work for win-win outcomes, uphold existing international systems and shoulder more international responsibilities. The Chinese people are willing to work together with all other countries to build a community with a shared future for mankind and contribute more to world peace and human progress.