Icelandic Times – Issue 12
Many rue the day that summer goes, dreading the thought of winter. There is another group, however, who not only look forward to the colder weather but check the forecasts daily for signs of snow.
For them, the appeal of Iceland could not be greater, as we have had almost daily snowfalls since the beginning of December.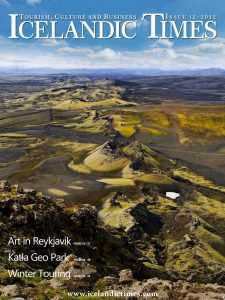 It's time for all the winter sports and Icelanders are equipped to enjoy it to the full. Whether your interest is in skating, skiing, riding skidoos or even hiking and enjoying the beauty of the countryside under its white blanket, there are always others who would be happy to have you join them.
 This year, the country is living up to its name for the first time in years, so if snow is your interest, you had better book your ticket quickly.
Speaking of booking your ticket, you will find that Iceland Express, Iceland's low-cost airline, has just taken delivery of a fleet of new Airbus 320 planes, which will make your trip all the more pleasant.
On board, you will soon find not only this magazine but videos about Iceland, its culture and lifestyle, so you can plan your holiday even while you are flying up to us.
Once you get here, there is no less to do in winter than in the summer months. It's just different – and often, more exciting.
One thing we would suggest, though, is that you take advantage of the tours on offer, many of which you can read about here because you will get so much more out of a tour than travelling on difficult roads in a small rented car, even with a map.
You could take a jeep or even a Superjeep on a thrilling trip up into the mountains. Or take a quad bike for off-road riding that will leave your adrenalin pumping. If that seems a bit too much, the tour bus companies have a plethora of tours that are very fulfilling.
It doesn't end when the tour returns you to your hotel. Icelanders are known for their love of life and you will find your time can be fully occupied day and night.
Those nights: you won't have to wait long before they get shorter than in your home country. At this time, though, many Icelanders like to enjoy the arts and cultural activities, taking advantage of any bad weather to indulge themselves in profitable pursuits.
The art galleries – and there are a number of them, both large and small – have very interesting exhibitions. For such a small country, cultural activities are amazingly diverse and there will always be something that will spark your interest.
Of course, you need to eat and, as you will read here, there are some great places to go with live entertainment at a number of them.
One thing is for sure, a winter trip to Iceland will be filled with new experiences and will leave you with good memories. We hope this issue will inspire you with enough ideas to fill your holiday. We look forward to hearing from you. In the meantime, don't forget to check the videos on our website.
— Andrew Scott Fortune
Icelandic Times – Issue 12