Icelandic Times – Issue 21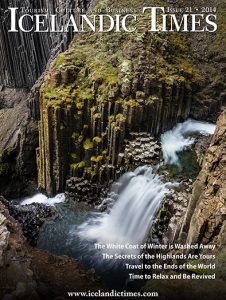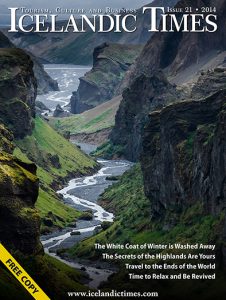 Iceland is fast becoming the tourist destination of choice. The growth in the number of tourists exploded by some 20% in 2013 and continues to rise with every passing year. As a result of this boom, Iceland is meeting the challenge with a growing number of new hotels, guesthouses, and other services that have been springing up recently around the country.
It's exciting for us to witness all the changes and in this issue of Icelandic Times, you will get a glimpse of some of Iceland's newest additions in the travel and tourism sector.
This, our 21st issue, marks Icelandic Times' 5th anniversary and we are proud of our progress, which while modest, has grown alongside the current fascination for all things Icelandic. 2012 saw the birth of two new language editions, one in French and the other in German, as well as a special edition, our largest to date, which is bursting with detailed information on a variety of subjects of interest to visitors. What's more, you can peruse all of Icelandic Times back issues in English, French and German at our website https://icelandictimes.com
Enjoy your stay in Iceland but please note that many highland roads and tracks are still closed in spring and some roads can be icy in places. Check out https://vegagerdin/English for road conditions around Iceland. The website updates its information once or twice per hour and you can get the latest weather report at https://vedur.is. An excellent and overall comprehensive website with detailed help on preparing for your trip to Iceland can be found at https://safetravel.is
Enjoy your Icelandic adventure and stay safe!
—Andrew Scott Fortune
Icelandic Times – Issue 21