Swept Away in Beauty and Comfort
Ion Luxury Adventure Hotel frees you from the stress and mundane
Looking for the extraordinary? A brand new hotel is opening in Iceland in January 2013; a hotel which will revitalise your well being and pamper all your senses.
ION hotel is located at Nesjavellir, a 40 min. drive from Reykjavik, where the force of nature merges with exceptional tranquillity and the landscape tells stories of Mother Nature's more turbulent times. With relatively easy hiking trails crisscrossing the surrounding hills and mountains and through centuries-old lava fields to Lake Þingvallavatn, the breathtaking sights, the perfect stillness and purity are sure to nourish guests' inner peace.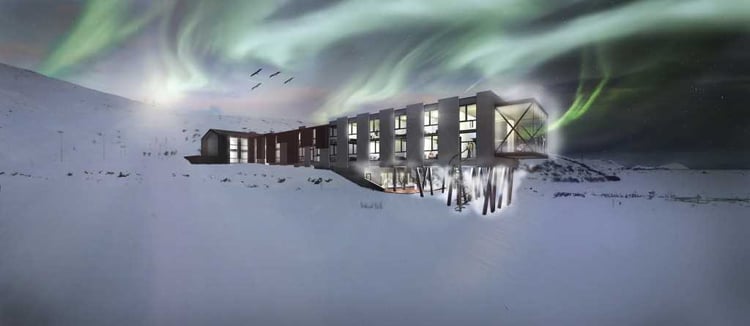 Come Apart from the Busy Scene
ION Hotel is designed to inspire, revitalise and enable guests to escape the mundane. Inside and out, they are surrounded by a visual symphony. The restaurant embodies the local flavour and spirit of Iceland. The menu is focused on contemporary native fare, with emphasis on sustainable, farm-fresh ingredients.
ION's softly lit lounge is the perfect place for guests to connect with family and friends over distinctive local ales or pick a perch from which to gaze up through the tall, cantilevered windows to the stars.
Become Revitalised
ION's spa seamlessly connects its interior to the outdoors through a series of textural transitions designed to help guests peel away urban stress. From the entry way, through naturally adorned treatment areas and out onto the stone deck of a lovely Jacuzzi, flowing continually like a river, guests are transported and revitalised.
Each ION private room boasts incredible views. Each private bath is environmentally responsible with water-saving shower systems. The king-size beds are hypo allergenic and supremely comfortable, with fair-trade organic linens. Guests will notice a modern, natural and warm aesthetic that immediately makes them feel at home with a luxurious attention to detail. Through the Icelandic wool throws, art and flower vases, hand-blown by local artisans, guests will enjoy a new perspective on rural hospitality.
In the Centre of Activities
Adventurous visitors can truly experience south-west Iceland's remarkable ever-changing natural beauty by choosing from a wide range of activities year-round, from the extreme to the sublime. This region offers opportunities for hot spring picnics, ice climbing, horseback riding, bird watching, stargazing, diving or snorkelling, caving, white-water rafting, snowmobile safaris, jeep tours, glacier walks, fly fishing for trout and arctic char, and more.
Event and Incentive Tours Take Note
Looking to host an event that will be remembered for all the right reasons? ION hotel's conference and meeting facilities can accommodate up to 60 people in its larger venue and 20 in the smaller meeting room. ION hotel is already open for booking. For further information please contact them.
Ion Luxury Adventure Hotel
[email protected]
www.ioniceland.is