Mýrdalshreppur: From Fertile Hills to Black Beaches
On the southernmost point of Iceland, you will find in the valley of Mýrdalur, between the sands and the hills, the charming village of Vík. This is the nearest inhabited area to the recently famous volcano Katla, which has actually not erupted since 1918. The people in Mýrdalur do not find the volcano to be an issue and have learned to live in peace with its existence. You will probably not find a more diverse landscape in the whole of Iceland than that around Vík, ranging from black, sandy beaches with steep cliffs, to fertile hills with various hiking routes and the glacier Mýrdalsjökull.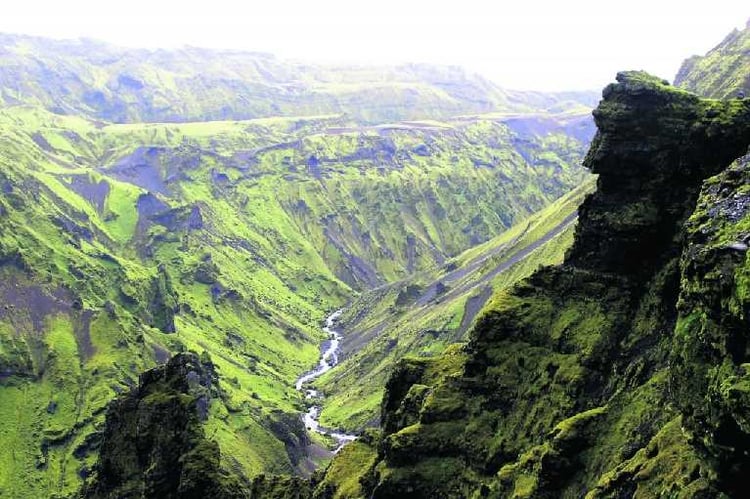 The natural treasures
Vík is only two hours from Reykjavík, the location being quite central in the South of Iceland. It is in a comfortable driving distance from most of the interesting sights in the region, from Vatnajökull glacier in the East to Gullfoss and Geysir in the West. This suitable distance, along with the fact that there is such a huge variety of natural treasures around, has resulted in tourism growing rapidly in Mýrdalur. The best proof of this is the large number of accommodation offered in the area compared to the population, ranging from low budget options like hostels and camping sites to higher budget hotels. It might be wise to book in advance if you wish to visit Vík during the summertime, especially if you seek something more comfortable than camping.
It would probably fill more than a book to describe the natural treasures around Vík, so great is the number. It is enough to mention some of the most memorable scenes. First we have to name Reynisfjara, the vast black beach with the strong surf and columnar cliffs. The walk along the beach is quite an experience, but be very aware not to approach the surf too closely, it is stronger than you might expect. Dyrhólaey is the southernmost spit of Iceland and really picturesque with its gigantic black arch of lava standing in the sea. One can go on a sail around Dyrhólaey to observe the arch better. Þakgil and the area around it is really worth the visit, being located on the higlands above Vík. There is a camping place and various marked walking routes to see the mossgreen, hilly landscape. Finally one cannot avoid mentioning the glacier Mýrdalsjökull, but the volcano Katla is situated in the glacier. It is really popular for hiking tours as well as for snowmobiling.
Living in peace with Katla for centuries
The recent media coverage of the volcanic activity in Iceland has been a bit dramatic resulting in the common misjudgement that it is not safe to be in certain areas of Iceland these days. This could not be further from the truth. "People have been living near to Katla for centuries without any casualties or injuries to speak of," says Sveinn Pálsson the director of the local council of Mýrdalur. "The contingency plan for the region is really forceful as we have been practicing it now for fourty years. If Katla would erupt it is not likely that it would flood over Vík, but if that would be the case we have safe spots in the village, to which everybody would go. So in the time of eruption the rescue teams would go from house to house to get everybody to a safe spot. We would have 2-3 hours until the flood which is much more than enough."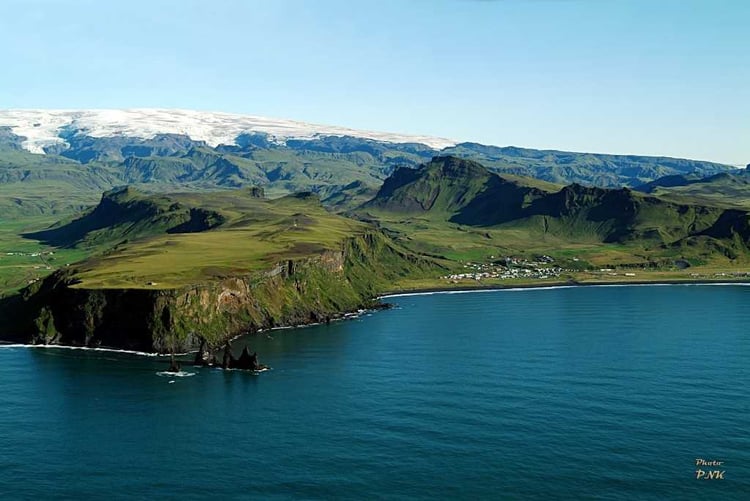 Many people have speculated about when Katla will erupt as the history seems to suggest that it happens most often after an eruption in Eyjafjallajökull. What has been forgotten in this discussion is that it seldom happens shortly after the Eyjafjallajökull eruption. It might even erupt after ten years or even later. Right now, the earthquake frequency under the glacier is none to speak of, but frequent eartquakes can usually suggest that an eruption might be ahead. "The volcano is carefully monitored, so we are prepared for everything here. I have often said jokingly that Florida in the USA is a popular place to visit, still, you have hurricanes there every year. Volcano eruptions might be a bit unfamiliar to most people in the world, but if it is monitored well like here in Iceland, there should not be anything dangerous about them, not more than just passing over a busy street, although the ash has certainly turned out to be a source of irritation for the flight traffic," says Sveinn.
Enough for a whole vacation
There is a reason why nearly all accommodation is booked in advance in Vík during the summertime. Not only is this a convenient place to stop for a couple of nights if you wish to drive the circular road around Iceland; you could also spend all of your vacation there. You have almost everything there, riding tours, sailing, snow mobiling, hiking and various other activites. You have a nice little village, with all the services you need in a walking distance. You have natural treasures, which will probably fill the memory card on your camera. Last but not least, you have a famous volcano close by, which is of great geological interest and a community, which has learned, from one generation to the next, that life surely goes on although nature can be both dramatic and influential.