Reykjavik Excursions Golden Circle and South Shore Adventure Tours
Seeing Iceland in safety, comfort and style
With Icelandic winter weather being rather unpredictable, it's good to know that you don't have to brave the elements on your own. Reykjavik Excursions is one of Iceland's oldest tour companies  with seasoned drivers and years of experience under its belt. With a large variety of tours to choose from, we take a look at two of their most popular day tours─South Shore Adventure and the Golden Circle.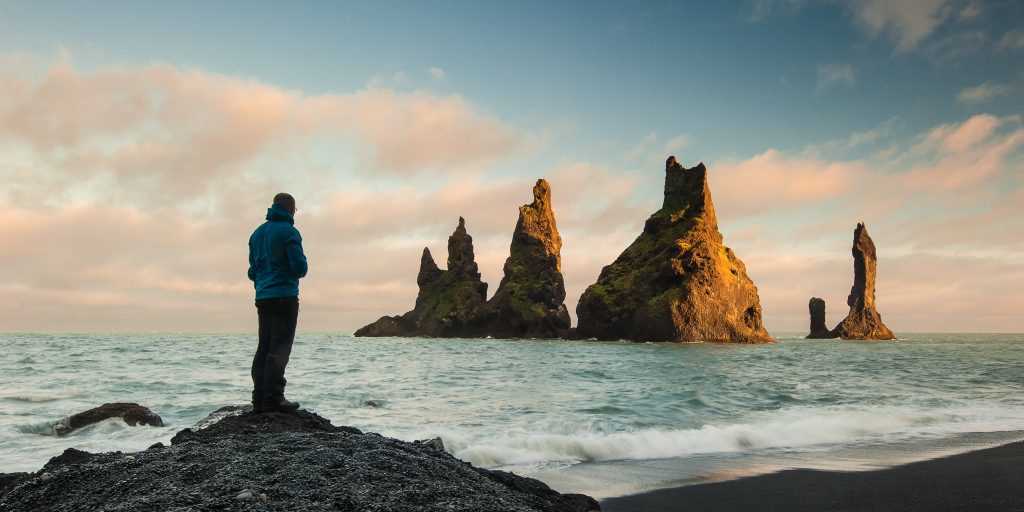 First up, the South Coast
Reykjavik Excursions' South Shore Adventure tour is optimal for seeing all those iconic places that the south coast is so well known for─ Seljalandsfoss, Skógarfoss, Reynisfjara beach, Vík and Mýrdalsjökull. This 10.5 hour day tour departs from the BSÍ bus terminal in Reykjavik, taking you over the beautiful Hellisheiði heath that overlooks the south coast from its eastern flank. Passing several small, sleepy villages, the tour makes its first stop in Hvolsvöllur, just a stone's throw from the the famous Eyjafjallajökull volcano that erupted spectacularly in 2010.
A must for nature lovers, photographers and history buffs
You'll get a chance to walk up to─ but not on, a real live glacier, Sólheimajökull, that flows out of the Mýrdalsjökull ice cap. Then it's on to Reynisfjara, the black sand beach known for its massive columnar basalt cliffs and sea stacks. After lunch in the picturesque village of Vík, (not included) you'll have a guided tour of Skógar Museum where some 15,000 cultural artifacts are on display. Here you will learn about the life and times of Icelanders over the centuries and gain an appreciation for the Icelandic way of life. Afterwards you will visit  the landmark waterfall Skógarfoss that thunders down from a 60m high precipice and then it's onwards to Located within 100km of Reykjavik, the Golden Circle continues to be one of Seljalandsfoss (the only waterfall in Iceland that you can walk behind).
The Famous Golden Circle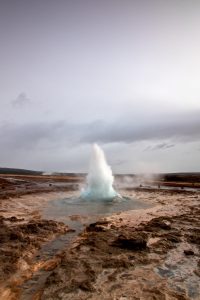 Reykjavik Excursions' most popular destinations.The tour encompasses three of the most popular of Icelandic tourist spots, known for their geologic, historic and scenic significance: Thingvellir─the world's first parliament, is unique in that it sits on the divergent plate boundary of the Mid-Atlantic Ridge. Next, the Haukadalur Geothermal Area is where you'll see a spouting geyser named Strokkur, and bubbling mud pools in a steamy, otherworldly landscape; and Gullfoss, (Golden Falls), is a raging, double cascade waterfall, as spectacular as they come─ and it also happens to be equally impressive when the temperature drops below freezing. En route, you will tour Friðheimar Greenhouse, where geothermal energy is used to grow pesticide-free tomatoes and cucumbers, year round. Friðheimar's refreshing homemade tomato soup (not included) is a tempting option, should you want a quick bite during the tour. Shorter versions of the Golden Circle tour are also available.
Helpful tips
Should you decide that a Reykjavik Excursions tour is right for you, here are a few helpful tips to make the most of your tour. 1. First and foremost─dress warmly. The wind chill factor needs to be taken into consideration, particularly in winter, so do dress warmly in layers and don't forget your gloves and hat. 2. Wear sturdy shoes─ you wouldn't want to scuff up your brand new Nikes but Icelandic nature, being what it is, (of volcanic origin) is not always kind to the latest fashion footwear. Sneakers will not cut it!  Lastly─ all of Reykjavik Excursions tours are available with guidance in English, but did you know that most tours are also available in French, German, Scandinavian, and now Spanish?
Be warm, be well and enjoy Iceland this winter with Reykjavik Excursions.