"I can smell how good your coffee is." A nimble rubbing movement of her fingers illustrates what is meant: coffee has aroma, has character, is soft or hard, and certainly not the same every day.
There is hardly anything that Elda Þórisson-Faurelien does not know about coffee. She grew up with the precious beans, on her father's plantation in Haiti, where coffee dominated the familiy's life, and from childhood she had learned to "read" the quality of coffee beans. "I prepared coffee for my mother, since I remember," she recalls, "and stuffed my father's pipe. And most of all I cooked for all of them. "
It's still a bit like this.
Today 42-year-old Elda lives in Reykjavík and operates Cafe Haiti at the old harbour, offering freshly roasted coffee from Haiti and Guatemala, homemade cakes and soups a la maison creole. With her kitchen being barely 3 squaremeters, and old pots and pans hanging from the ceiling, there is not much to show, except from cooking spoons, spice bars, a waffle iron and some dishware. But that's all she needs. "I prepare everything fresh. You only need salt, onion and lemon for a freshly caught fish." she explains her philosophy.
Elda is a true entrepreneur. "I've never been able to sit idle," she confesses. At the age of 15, she left school and plunged into working life. She learned how to cook and sew, she went to college, became head of a self-established primary school in the slums of Port-au-Prince, teaching children how to read and write. Here she met the man who would change her life – Methúsalem (Dúi) Þórisson had been working in Haiti for the Humanist Movement. They got married and decided in 2007, for the sake of Elda's son from her first marriage, to go back to Dúi's home country, Iceland.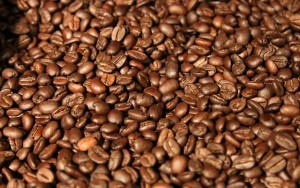 "I arrived in Iceland with 2 kilos of roasted coffee and 20 kilos of raw beans," she says. And so things started. She managed to find a suitable machine to roast coffee beans in the yard. She went to farmers markets with her goods, offering people a cup of freshly brewed Haitian coffee for taste, and roasted coffee beans for purchase. And finally found a small shop in Reykjavík district Mjódd – her own first coffee shop in a country that still had to learn about good coffee.
In 2011 Elda and Dúi moved their kaffihús to Reykjavík's old harbour, into a bigger house in Geirsgata, with a cosy terrace and more space for tables inside. In these years the old harbour became fashionable, and probably due to the café turned into kind of a cultural subcentre of the town.
Café Haiti is known for art exhibitions and live concerts. The café's stage appears small, the atmosphere, however, proves to be private and inviting, and musicians such as jazz bassist Tómas Einarsson, blues band Síðasti sjens, folk band Skuggamyndir frá Bysans or the Icelandic singer Ragnheiður Gröndal very much appreciate that.
Since Dúi died unexpectedly two years ago, Elda operates the café on her own. Roasting coffee, cooking delicious soups and shipping her coffee beans all over the country. She has had quite a hard time, but she learned how to handle her loss and is able to look positively into the future. Elda has never experienced discrimination because of her skin color or origin. As for bad Icelandic weather, she simply prefers to stay inside. And the threatening volcano somewhere in the eastern highlands doesn't make her afraid at all.
"I feel very well in Iceland," she says. "The best place to be, if you ask me. In Haiti you can't even go out on the street without fearing for your life. Here everything is safe, and the people have been friendly right from the start."
Reykjavík seems to be made for industrious and brave women. Elda Þórisson-Faurelien has come to the right place with her coffee beans.