Hotel Hjarðarból lies in the South-West between
Selfoss and Hveragerði, 30 minutes from Reykjavík
Hotel Hjarðarból – Herd's Lair – is a friendly family-run guesthouse in the countryside close to Hringvegurinn – The Ring Road or Route #1 – midway between the towns of Hveragerði and Selfoss in South West Iceland, just 30-minutes drive from the capital, Reykjavík. Hotel Hjarðarból has a homely atmosphere reminiscent of a bygone era. Rooms come with shared or en-suite bathrooms. It provides a good base for sight-seeing and exploring around South Iceland and the Reykjanes peninsula and for day trips to Reykjavík, as most of the major attractions are within a relatively short driving distance.
Old farm buildings
Hjarðarból is set in reconstructed farm buildings surrounded by woodland. This laid-back accommodation is in  an amazing area of hot springs and waterfalls in Hveragerði's Geothermal Park with various activities, such as horseback riding and hiking, nearby. Hotel Hjarðaból features 30 comfortable, down-to-earth and homely rooms with rustic furnishings that vary in size and set up, with double, triple, quadruple, and special family rooms with private or shared bathrooms suitable for all types of travellers.
Built in the 1950s
The Hjarðarból farm was a part of a government project to give people who wanted to be farmers a chance to do so. The Old House was built in the 1950s, a beautiful farm with cattle, horses and sheep. Today's main building was a barn with two sour-hay towers and a cowshed. The towers are still standing, the barn is now the main hall and the lounge is in the old cowshed. There is also the old sheep shed, where the horses most likely stayed with the sheep. The last 'original' house is the shed where tools were kept. This has been converted today into rooms #13-14.
Helga & Guðbrandur
Sigríður Helga, known as Helga, runs this unique hotel with her husband, Guðbrandur Sigurðsson. They have raised three children, lived in Denmark, where they started a restaurant, before returning and taking the risky decision to move their family from Reykjavík and 9-5 work. Guðbrandur is a carpenter. As he has worked in that field for most of his life, renovations haven't been be a problem.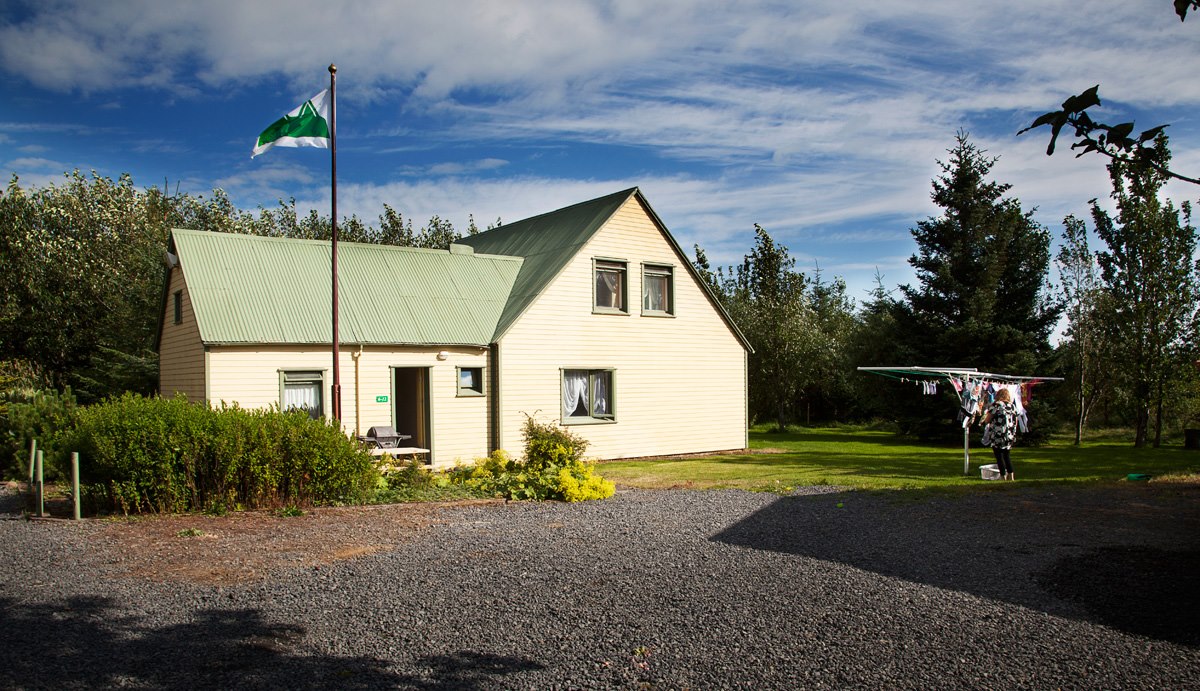 -HH
Hotel Hjarðarból
Hjarðarból, 861 Ölfus
+354 567 0045
[email protected]
GPS: 63.961894, -21.104263