A Cultural Feast Topped with a Breath-taking Scenery
If you have come to Iceland to experience the renowned landscape and the raw nature that the country is so well known for, a trip to East Iceland will not disappoint. The East boasts an abundance of dramatic mountains towering over the narrow fjords like silent giants, providing shelter from the ocean winds, resulting in an unusually mild climate – or as the East is sometimes referred to, a "good-weather spot". In the summertime the scenery is characterised by a diverse range of green patches, tinted by intricate vegetation sprouting from the rich soil. You can even find forests in the area – a rare sight indeed in Iceland. The area is home to the country's largest forest, Hallormsstaðaskógur, located only 27 kilometres away from Egilsstaðir, the East's largest town. Rivers and waterfalls are prevalent sights in the steep fjords adding to the majestic surroundings. Other popular attractions include the red cliffs at Rauðubjörg, the ferocious terrain at Stórurð and the stunning wilderness of the highlands, to name just a few.
The Hiker's Paradise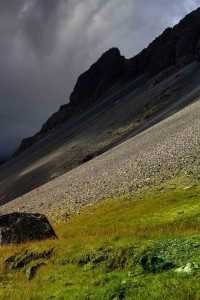 The East is a major attraction for the outdoorsy with its abundance of meticulously planned hiking paths and trails that are found all over the magnificent scenery. If you conquer some of the proud mountains that grace the region, be sure to leave your signature in the guest books which are commonly awaiting on the mountaintops. Tourist information centres will provide maps and further details on walking paths but if you would prefer a guided tour you could contact a local guide.
The Reindeers' Official Residency
Reindeers are one of the few species of wild mammals in Iceland. They were imported from Norway in the 18th century and have since become regional in the East. The total population counts around 3,000 animals, which live in small herds. They are regularly spotted during winters and have even been known to pay visits to urban areas, as they travel closer to the shore in search for food. In the summertime they are mostly based on more elevated areas in the highlands, although sights of travelling reindeer herds are certainly not unheard of during warmer weathers.
The Fetching Little Fishing Villages
The calming drive through the fjords provides a truly meditative experience and each fjord seems to open up a world of its own. Regular viewing platforms are provided along the way, even in the most remote locations, to allow you to stop and take in the sights before you. The numerous small and eminently charming fishing villages along the coastline are a true delight and certainly worthy of a visit.
In every village you will find a surprising amount of interesting things to see and experience. There are plenty of museums exhibiting everything from local art and handicrafts to historical lore and carefully preserved relics for us modern day people to enjoy. There are restaurants and cafés as well as guesthouses and hotels. Innovative travel agencies, usually owned and operated by the locals, endeavour to provide guests with experiences that are sure to create unforgettable memories.
It is eminent that the hard-working townsfolk strive to make for interesting atmosphere and they are eager to boast the best of what their area has to offer.
East Iceland Heritage Museum
Speaking of absorbing the Icelandic culture! The East Iceland Heritage Museum (Minjasafn Austurlands) is located in Egilsstaðir and vibrantly displays objects from the old rural society where self-sufficiency of every household was essential for survival. The way of life in earlier times is unveiled through the careful retention of the  display items, that once were considered mundane but are now viewed as exotic and thrilling.
The museum's main pride is the permanent reindeer exhibition where guests get a unique opportunity to learn in-depth about these fascinating animals. From the history of the reindeer settlement in Iceland to the animal's behavioural characteristics and habits, the hunting of reindeer and hunting regulations and, in short, everything you might find interesting about reindeers. Elegantly presented tidbits, footage and items made from reindeer products truly breathe life into the exhibition.
There is also a small gallery that hosts various temporary exhibitions, often displaying arts and crafts from local artists.
The museum is open from 1 June – 31 August, 1 p.m. to 5 p.m.
For more details visit www.minjasafn.is or call +354 471 1412  
–
Hús Handanna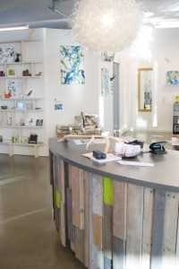 In the very heart of Egilsstaðir is the elegant art and design shop Hús Handanna. The gallery specialises in Icelandic quality design and handicrafts, offering a wide selection of various pieces of workmanship, artefacts and souvenirs, ranging from paintings, jewellery, ceramics and items made from reindeer products, as well as much, much more. The items come from all over the country but a great portion originates from the local area.
The boutique recently took on the task of serving as the main tourist information centre in the town and aims to maximise services and dissemination of information to passing travellers. So if you are in need of assistance or simply want to satisfy your curiosity about something that caught your interest, be sure to pay Hús Handanna a visit, and drink in the lovely offerings on display while you are at it.
For more details send an e-mail to

[email protected]

or call +354 471 2433 
Kaffi Egilsstaðir – Café, Restaurant, Bar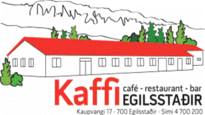 Not far from the town centre is Kaffi Egilsstaðir, a family-run restaurant and café. The house was built in 1957 and originally served as a wood workshop. Following substantial renovations in 2010 the restaurant first opened. It has remained popular among the locals ever since, thanks to great food and friendly service.
Among the kitchen specialities are dishes you would commonly find in a typical Icelandic home, including grilled lamb with potatoes and pan-fried, lemon-glazed salmon. They also serve pizzas, burgers and soups, as well as much more. At lunch time they offer a sturdy home-cooked meal, a true delight to weary and hungry travellers.
The restaurant's opening hours are from 11:30 a.m. – 11:00 p.m. On Fridays and Saturdays the bar is open until 3:00 a.m. where you can have your liquid refreshment and pizzas, as long as the bar is open.
 For more information send an e-mail to

[email protected]

or call +354 4 700 200
Skriðuklaustur
A noteworthy historical spot in the East is the Skriðuklaustur, Centre of Culture and History. Many important archaeological findings have been discovered in the ruins of the medieval monastery that flourished at the site in the 16th century. Today, the main attraction is the unique mansion, formerly the home of one of Iceland's most beloved authors and a Nobel Prize nominee, Gunnar Gunnarsson.  Additionally there is a small gallery on the first floor hosting contemporary art exhibitions, mainly by artists from the region.
Exhibitions and a guided tour covering the medieval monastery and Gunnar Gunnarsson are offered between 10:00 a.m. and 6:00 p.m. daily, throughout the summer.
Once you have engulfed yourself with the historical references in the museum, it is time to relieve the hunger in Klausturkaffi café and restaurant. There you will find light meals and home-baked cakes and breads, as well as more filling dishes that are representative of Icelandic cuisine, such as the free-range lamb and reindeer steaks – all made from local food products. With an impressive rating of a full house on TripAdvisor, you can be sure that Klausturkaffi will complete your journey gallantly.
For more details visit www.skriduklaustur.is or call +354 471 2990 
Tærgesen Guesthouse
The Tærgesen is a family-run guesthouse and restaurant in the heart of Reyðarfjörður town, located in the eponymous fjord in the centre of the Eastfjords, only a short distance away from many of the attractions in the East. The guesthouse's main building is the oldest house in town and dates back to 1870. The owners have made sure to treasure the intricate history of the house and maintain its old-fashioned charm.
There are 17 rooms in the main building that share three bathrooms and a TV lounge, except for one room which has a bathroom en suite. Those  who prefer more modern-day comforts can choose to stay in a recently added annex where all of the 22 rooms have a private bathroom, TV and Wi-Fi.
Breakfast at the restaurant is always included in the overnight stay fee so you can start your day full of energy. The restaurant is open to everyone until 10:00 p.m. and offers a great variety of options: light courses such as soups and omelettes, comfort foods like sandwiches, pizzas and burgers, as well as dinners of pasta, meat or fish.
For more information visit www.taergesen.com or call +354 470 5555
Petra's Stone and Mineral Collection
In the beautiful and quiet town of Stöðvarfjörður, you will find one of East Iceland's greatest treasures, the amazing stone and mineral collection of Petra  (Steinasafn Petru). The museum is the legacy of Ljósbjörg Petra María Sveinsdóttir who was born in 1922. She spent most of her life passionately collecting rare and quaint stones and rocks, even from her early childhood. The result of her diligence is the truly stunning geological feast presented in the museum, which has been carefully preserved by her descendants.
Petra passed away in 2012, then 90 years of age, but the museum is now affectionately run by Petra's  four children and their families. Whether you are a geology enthusiast or just looking for a stimulating experience, we assure you that a visit to the museum will not disappoint. You will be sure to receive a warm welcome and the experience will probably live in your memory for the rest of your life. 
The museum is open from 1 May through 30 September from 9:00 a.m. to 6:00 p.m.
For more details visit www.steinapetra.is  or call +354 475 8834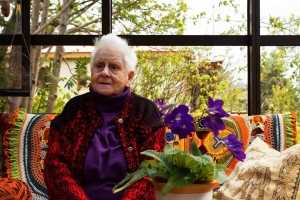 Blábjörg Guesthouse
Blábjörg is a friendly guesthouse located at the base of Borgarfjörður Eystri, in the northern part of East Iceland. The guesthouse is set right on the shore, providing a splendid view of the surrounding untouched wilderness and the rich birdlife – which makes for a real haven for birdwatchers as the birds are undaunted and can be approached with ease. The house itself was formerly a fish factory, although the fresh renovations would make it impossible to know.
Although the guesthouse is small, it is spacious and offers 11 comfortable double bedrooms with three shared bathrooms and a fully equipped kitchen. There are also 2 modern studio apartments with private facilities. Hot tubs and saunas are both inside and outdoors where guests can relax and mingle amongst themselves.
For more information visit www.blabjorg.com or call +354 861 1792 
Those who really want to absorb the core of the Icelandic culture should without a doubt pay the East a visit during their journey in Iceland. You will be faced with a wealth of cultural and national pearls presented in an originative and entertaining manner that delights the minds and thoughts of travellers. Take the time to explore the beautiful scenery in the region and make sure to give special attention to the enchanting villages and towns that cross your path – whilst imbibing the local hospitality in the process.
[easymedia-fotorama med="41498″]