Ambassador to the Whales
See the whales from Akureyri´s specialized whale watching ship
Whale-watching in Iceland from Akureyri, the capital of the North, might turn out to be a splendid option given the legendary beauty of Eyjafjörður. This will be the first year one can hop on a scheduled tour from Akureyri with the 'Ambassador' whale-watching ship that aims to bring good communications between humans and whales.
More travellers prefer to head straight to the North of Iceland rather than linger in Reykjavik in order to enjoy the magnificent nature as well as less travelled areas than those of the South. The beautiful town of Akureyri, full of old, historic houses simply captivates you, even making you want to relocate completely to this northern gem. Thus it is certainly good news for the town to get its own whale-watching company. The 'Ambassador' sails out three times a day during the summertime.
The Whales' home
The Northern shores of Iceland are home to all the species of whales found by Iceland. Eyjafjörður, particularly, is home to the Humpback Whales — gigantic animals who love singing and slapping their fins and tails! It is beautiful to see these magnificent creatures jump up out of the ocean! Additionally Minke Whales, Dolphins, Harbour Porpoises and Blue Whales like to be seen on the fjord.

The Whales are also curious about humans and, in many ways, they are like us. Some are more suspicious, keeping a distance from the ship, while others are more daring, playing along and perhaps even communicating with us. And they love to sing!
Sailing with the 'Ambassador'
The Ambassador has great viewing facilities, its length and many decks providing its guests with the opportunity to watch the whales from different angles. The name, 'Ambassador' is representative of its function of connecting whales and humans.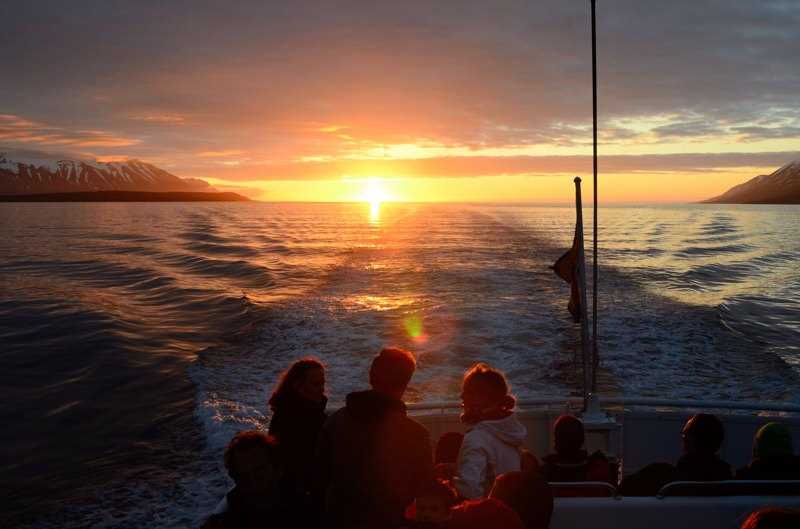 The 'Ambassador' sails from Akureyri's central harbour, right next to the Hof cultural house. The tour takes from between three to four hours, during which you get guidance about the spectacular nature of the whales, the sea, the fjord, the mountains — the whole eco-system! Being protected from winds and weather by the magnificent mountains certainly provides you with calmer sea than sailing in an open bay.
The sailing schedule
From the beginning of May, you can choose from morning tours at 8.30 or afternoon tours at 13.00. From the start of summer you can also choose an evening tour at 20.30, giving you the opportunity to watch the whales and enjoy the bright and beautiful colours of Northern evening-sun simultaneously! – NNH
Ambassador
Torfunesbryggja • 600 Akureyri
+354 462 6800
[email protected]
www.ambassador.is