Borgarfjörður eystri: Capital of Elves, Puffins and Hiking
The East of Iceland has a hidden treasure called Borgarfjörður eystri. With a total of 130 inhabitants, the area, nonetheless, has plenty to offer, including some of the most populated elfin settlements in Iceland and a tremendous variety of hiking routes. In addition, the harbour has the best access to puffins in Iceland, where you can observe the birds from a distance of two metres.
Not only does the area boast a spectacular landscape, a dream for every outdoor enthusiast, but also a good range of accommodation and services in the small town of Bakkagerði. Borgarfjörður Eystri, which is the northernmost of Iceland's East fjords, is located an hour away from Highway No. 1, at the end of the road. There is great natural beauty in the area, as it is still untouched by mass tourism.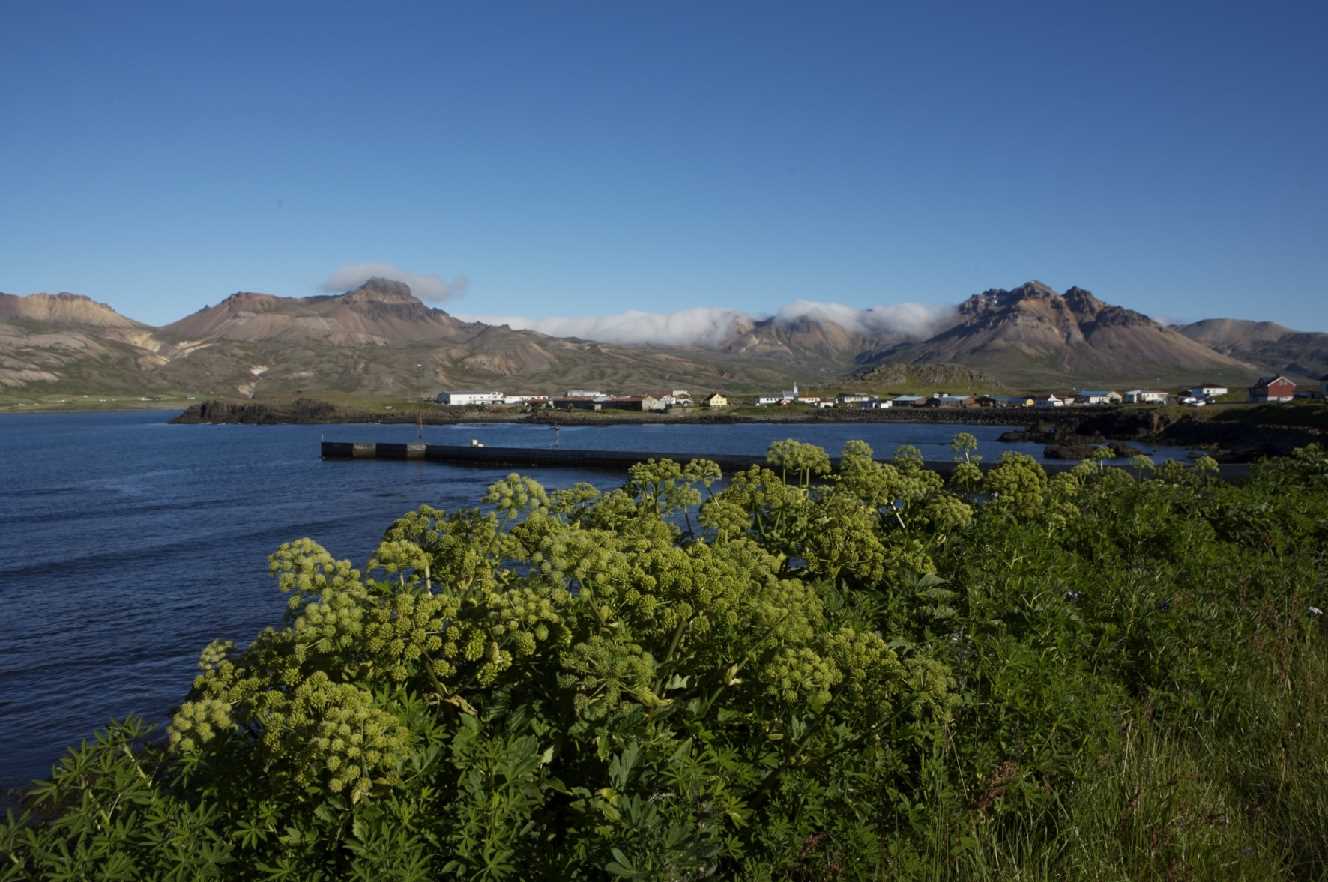 Going to Borgarfjörður eystri will also offer you a chance to experience a genuine Icelandic fishing village with a small boat fishery, which is quite different from the large-scale fisheries that are more prominent in Iceland. In addition, you will be in contact with a close community of people renowned for their hospitality. Their local cuisine consists of high quality ingredients from the region, such as the fish brought in fresh every day. The local folklore is interesting and there are – at last count – 172 folk stories dealing with elves that take place in the region.


Álfheimar is one of the options for accommodation in Bakkagerði. A guesthouse of 18 rooms with a cozy restaurant, Álfheimar also serves as a travel agency, with an emphasis on hiking trips – both customized tours for individuals and families and multi-day hiking that covers some of the main attractions of the Northeast of Iceland. Álfheimar aims at offering high quality service in the field of hiking with local guides that know every nook and cranny in the region.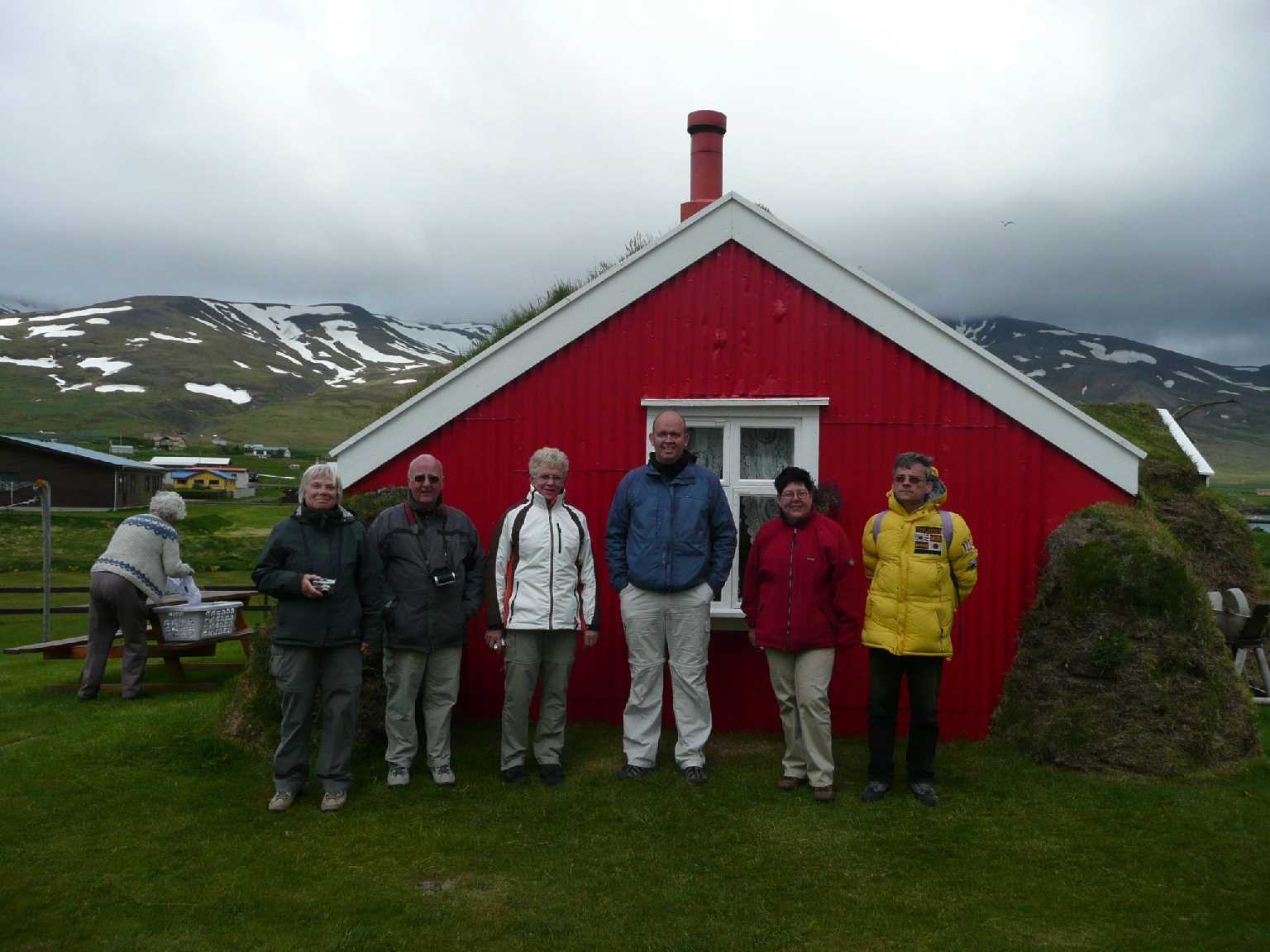 Seeing the Best of Northeast Iceland
If you are looking for a good hike but haven't got much time to spend, 'In the footsteps of Elves' is an ideal trip for you. On this trip, you will have the chance to see some of the most spectacular sites in Northeast Iceland along with various interesting hiking routes. You might even see an elf or two, but only if you really believe they exist.
The trip takes eight days in total, five of which are dedicated to hiking along the so-called Víknaslóðir or 'The Deserted Inlets' in and near Borgarfjörður eystri. After these five days in the East, the lake Mývatn is visited, then the still-steaming lava field of Leirhnjúkur and finally the trip ends in the capital of the North, Akureyri.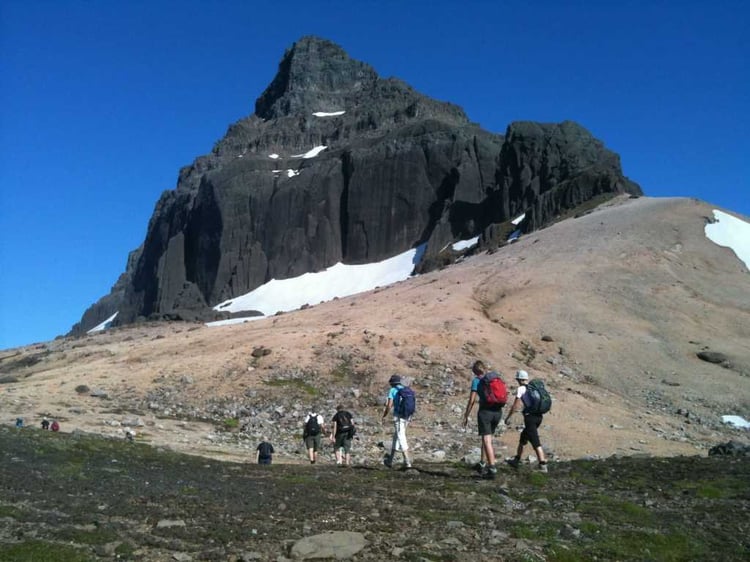 The trip can be said to begin at Reykjavik domestic airport as the flights from and to Reykjavik are included in the whole package. In fact, everything is taken care of for you over those eight days; accommodation, guidance, transport, food, the only thing you need to bring with you is good outdoor clothing, hiking boots and a camera!
The level of difficulty of the walk is around medium, which means it is suitable for all those who can walk for 5-7 hours per day with a 300-600 m degree of elevation. The beauty of the surroundings will most likely offset your fatigue, however. Imposing and colourful mountains meet the ocean, creating deep, intriguing fjords. That is the landscape that awaits you! Doing smaller exercise hikes before a trip like this is always recommended, both to get used to your shoes and to enjoy the long hike to the fullest.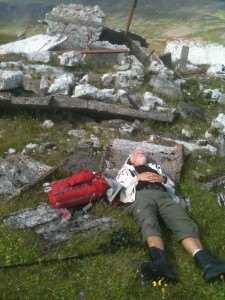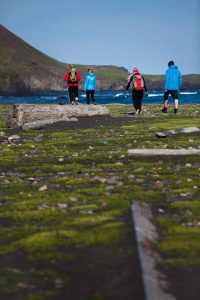 During the hike you will be accommodated in the little fishing village Bakkagerði, choosing from hotel, guesthouse or hostel accommodation. The starting point of the hikes is therefore always in the village, from whence the hikers go off in different round tours every day. To list a few amazing sights on the trek, first mention must go to East Iceland's best kept secret, Stórurð (Boulder Hollow). It is an expanse of enormous rocks intersected by a small river. Calm turquoise-coloured basins of icy water lie hidden among the huge boulders, often with flat banks of short, tender, green grass. It is certainly a mysterious and enchanting place, and you will be hard-pressed to leave.
In fact, the trip covers most of the amazing sights of the area: vast black beaches, rhyolite landscape with an incredible range of pastel colours and great mountains like the Door mountains and Álfaborg. You will also get to know the charming village of Bakkagerði and everything it has to offer.
If you are travelling on your own in the East of Iceland and want to take a smaller hike from Bakkagerði village, you can always contact the Elftours owner, Arngrímur Viðar and ask him to organise it for you. There is no lack of hiking options, with about 27 day-routes on offer. But let's have a closer look at the two other charming elements of Borgafjörður eystri, namely our friends the elves and the puffins.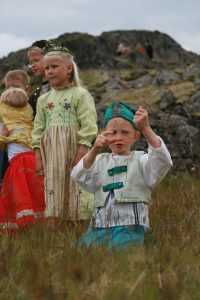 The Hidden People of Iceland
Borgarfjörður eystri is home to a very large population of elves, according to the regional folklore. Elves are often called the 'hidden people' because of how difficult it is to see them. Nowadays you might find Icelanders, who distinguish between hidden people and elves, but in 19th century folklore these two terms are synonymous.
The fjord actually derives its name from the residency of the Icelandic elf-queen. Álfaborg (Elf Rock, Elf Hill) is a rocky hill right next to Bakkagerði. An easy path leads to the top, which has a panoramic viewpoint. Álfaborg is a reserved area, and an interesting place to visit, especially if you believe in the hidden people. They don't mind passers-by as long as one respects their residence: the rocks.
In the folklore, the elves are often described as similar to humans, but taller, fairer and more beautiful. Their residences (inside the rocks) are similar to those of 19th century Iceland, just a bit nicer. They often help humans out, especially those bullied by their fellow humans.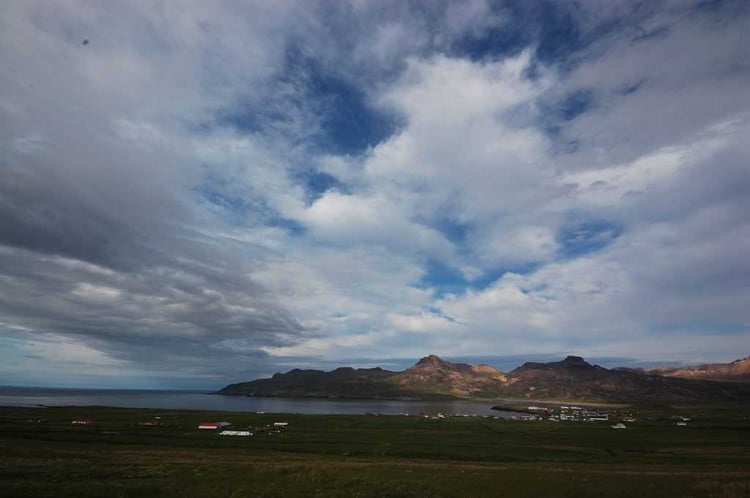 Borgarfjörður has numerous places other than Álfaborg connected to elves. One example is the church of elves, Kirkjusteinn, which is a huge rock in Kækjudalur valley. The elfin bishop lives in the beautiful Blábjörg, on the other hand. Christening of the hidden people is prominent motif in the folklore. A couple of folk tales relating to trolls also occur in the area.
The stories about the elves are fascinating, especially for the younger ones. It is ideal for families to take an elfin-walk around the village or visit their local Fairytale house (ævintýraland) and try to get in contact with the enigmatic hidden people.
To Observe the Strange Little Bird
The Atlantic Puffin has been called many names as its appearance and special walk often seem funny or resemblant of certain human characteristics. In Icelandic, it has often been called 'Priest' because of its stately plumage. In other languages, it has been called names like the 'clown of the air' or 'sea parrot.'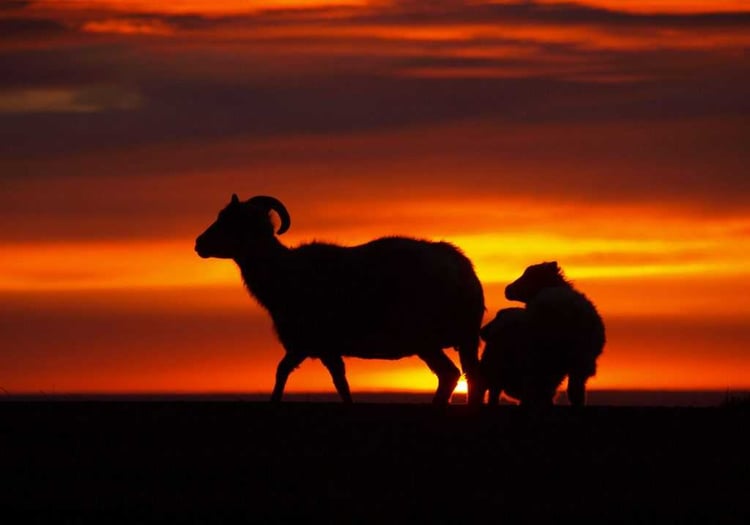 The reason for the parrot comparison is probably its colourful beak, which is one of the Puffin's most striking characteristics. The beak has blue, yellow and red stripes but otherwise the Puffin is a stocky bird, black above, white below and with grey cheeks. It is a small bird and commonly makes holes in the turf, in and above cliffs. Therefore, it can be really hard to catch a good sight of it. A nice observation platform in Hafnarhólmi, which is connected to a small islet that is bustling with birdlife, especially puffins, which means that you basically see the Puffin within a distance of two metres.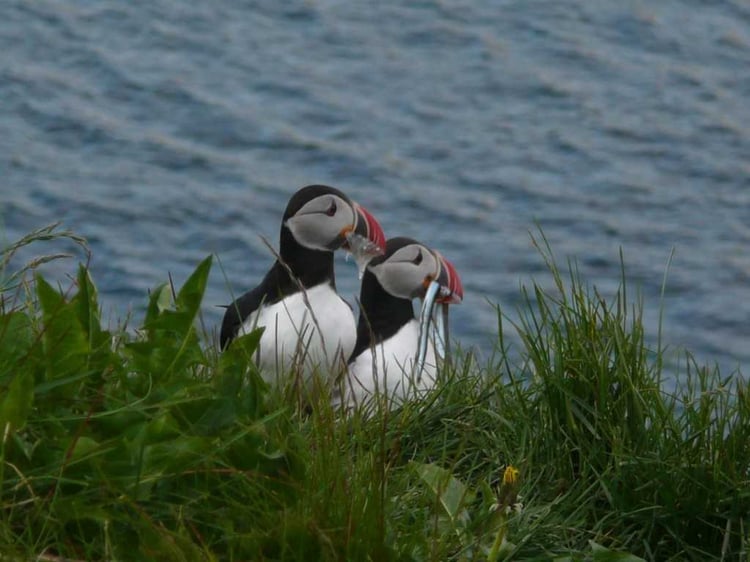 About 10.000 pairs of puffins nest every summer in Borgarfjörður, somewhere between the 20th of April till mid-August. Among other common bird species nesting there are the Fulmar, Kittiwake and the Eider duck. The islet is surely a photographer's dream; the birds seem to love modelling for photographers and the surrounding scenery is amazing. In addition, the harbour itself is a beautiful sight, having been well cared for and has 'the blue flag' to show for it, a certification given for being environmentally friendly.
Unspoiled Wonderland
Iceland surely has a largely unspoiled nature and vast areas where there is not a soul in sight. But if you wish to experience untouched wilderness and a pristine landscape in the peace of the deserted fjords and inlets, Borgarfjörður eystri is the place to visit.
Finally, one cannot discuss Borgarfjörður eystri without mentioning the renowned music-festival 'Bræðslan' which has been held for many years in the old rendering house in Bakkagerði. Many famous bands and musicians have played there, like Belle & Sebastian, Emiliana Torrini and Damien Rice. The festival will be held between the 21st and the 24th of July this year with bands like Fanfarlo and KK & Ellen.
The community in Bakkagerði lives in close proximity to nature, is mostly sustainable and lives life without hurry, which makes it the perfect place to relax and get in touch with nature.
Borgarfjörður eystri: Capital of Elves, Puffins and Hiking