Clearwater's Credence
Exploring Iceland's underwater world with DIVE.IS
You might not immediately think of snorkelling and diving when forging out vacation plans for this island in the North Atlantic. Yet Iceland is one of the world's top five diving destinations. If you enjoy swimming and feel comfortable in water, or have a PADI licence for diving, the Land of Fire and Ice will present underwater perspectives that are unparalleled. Iceland's largest and oldest diving school DIVE.IS prides itself with knowing the best places and is keen on guiding you safely through the elements.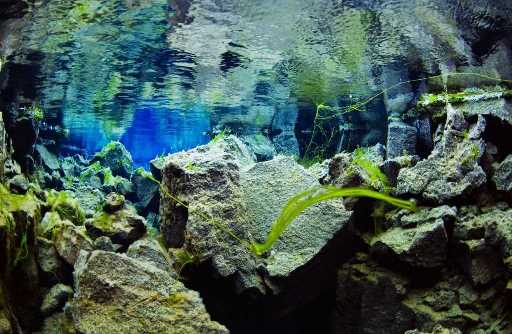 Silfra – the earthly ordeal
Born from a lava-oozing rift, where the continental plates drift apart, the mid-Atlantic ridge has, in some places, risen above sea level. One of these rare places happens to be Iceland. In the Þingvellir National Park, the continental drift can be observed, thanks to a huge chasm that started to open between the continents around the year 1798 and formed the famous Silfra underwater fissure in Lake Þingvallavatn. Not more than a 40km drive from Reykjavik, Silfra is located in a sheltered environment that is easily accessible even during the winter months.
There is hardly a spot in the world where you can get closer to the drama of the Earth's genesis in its original element, water, – and you will hardly find a spot with at view on things as clear as in Silfra.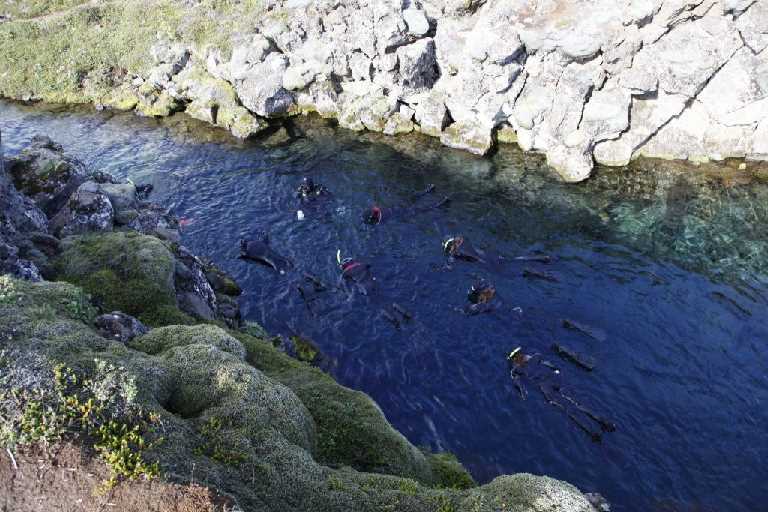 Pure water, pure drama
Be prepared to dive in one of the purest waters in the world. Glacial melt water, filtered through a huge lava bed proves to be a unique Icelandic phenomenon. The water's journey through the lava takes 30 to 100 years before it bubbles up from an underground source into Silfra – water that can't be purer. You can try and drink it while diving or snorkeling.
The clarity of the water allows a visibility of up to 120 metres, with scenery that you won't forget. All four sections of Silfra can be explored by both snorkelling and diving. With expert guidance, this scenic dive or snorkel trip will take you through the 'Big Crack' where, at its narrowest point, you can touch both continents at the same time. Surrounded by incredibly pristine water you will pass through the 'Hall' and finally float into the silent grandeur of the continental drift.
The fissure's awe-inspiring rock walls rise up to 20 metres, and the 'Cathedral' bears its name quite rightly. Boulders give evidence of bygone earthquakes in an area that now seems to be one of peace and eternity. Nature is lost in contemplation, fish only rarely stray into the fissure. Here and there, drifting algae float like green mermaids' hair through the stillness of the water. The charming 'Lagoon' reveals a breathtaking panorama of underwater's infinity.
Diving with the pros
Numerous top-trained guides from DIVE.IS provide undiluted diving pleasure. The company boasts long experience and offers not only perfect equipment servicing and PADI training, but also professionally guided diving and snorkelling tours that leave nothing to be desired.
And if you are out there diving or snorkelling anyway, why not continue with the guys from DIVE.IS for your next adventure? The combo-tours make things easy. Get out of the drysuit and into outdoor jackets and safety helmets, and head for a walk into Icelandic lava caves, where impressive lava formations speak of the Earth's power. Or stay with the element of water and combine your Silfra trip with a visit to Gullfoss and Geysir on the Golden Circle, or a with relaxing bath in the Blue Lagoon.
If the weather is really unsuitable for diving, DIVE.IS comes with a cheerful alternative: The organized 'Storm hike' with a subsequent visit to the famous Icelandic rescue unit will transform a bad weather day into a real highlight.
On the company's website you will find the entire programme with comprehensive information as well as tempting photos and videos.
[table caption="Dive.is – Contact Information" class="row-fluid"

border="5″

width="100%" colwidth="50% | 50% " colalign=" center | center"],
Hólmaslóð 2 • 101 Reykjavik,[email protected]


www.dive.is

,tel: +354 578 6200
[/table]