Fljótsdalur Valley
– Enjoy Nature and Service by the Edge of the Highlands
Fljótsdalshreppur is among the most sparsely peopled municipalities in Iceland with less than 100 inhabitants. In Fljótsdalur valley, one nevertheless finds a great number of natural treasures and historical sites, as well as diverse services and recreation for tourists. When driving into Fljótsdalur along Lagarfljót lake, it is best to keep one's eyes open because the Lagarfljót Worm (ormur.com) might raise its back above the water.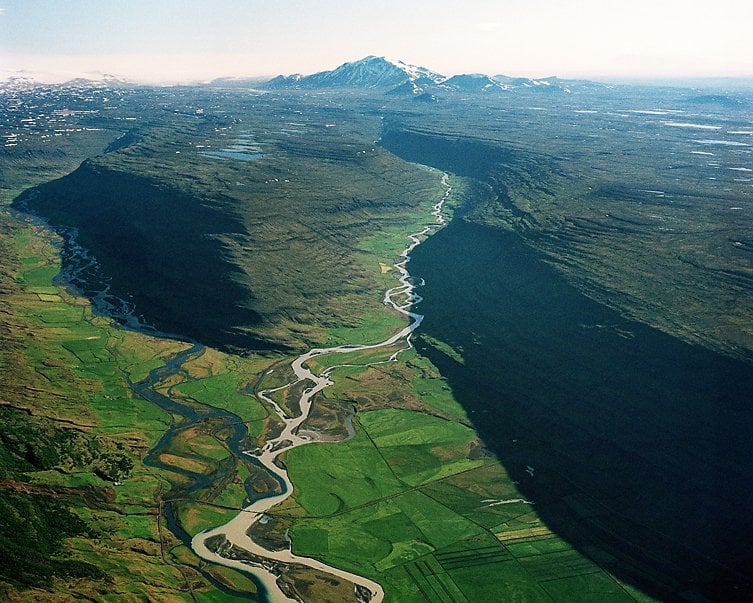 The most popular tourist spot of Fljótsdalur and East Iceland is without a doubt the waterfall Hengifoss (hengifoss.is). Tens of thousands of tourists walk to this second highest waterfall in the country (128 m) where it cascades off the edges of Fljótsdalsheiði heath in a magnificent canyon by the innermost part of Lagarfljót. In the same river, the waterfall Litlanesfoss is surrounded by high basalt columns. The walking route to Hengifoss is relatively short but those who wish to exert themselves more can make their way to other majestic waterfalls in Fljótsdalur. In Suðurdalur valley, one can see Strútsfoss and in Norðurdalur valley, there are many gorgeous waterfalls in Jökulsá river, such as Faxi and Kirkjufoss.
Services for tourists have expanded rapidly in recent years in Fljótsdalur and people can easily spend a few days enjoying recreation, food and drink both down in the valley and up on the heath.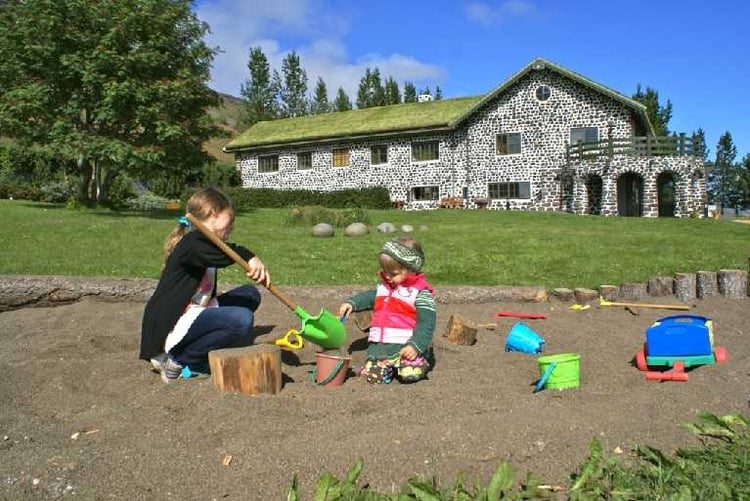 Skriðuklaustur Cultural Centre
– History, Culture and Local Food
At Skriðuklaustur, you can have a look at the ruins of a medieval monastery from the 16th century and visit the manor house that author Gunnar Gunnarsson built when he returned home from Denmark in 1939. You can also visit the restaurant Klausturkaffi, which offers, for example, a lunch and cake buffet every day. The restaurant places an emphasis on using ingredients from the area, such as brambleberries, Larch Bolete mushrooms, and reindeer meat.
TEL: +354 471 2990 / [email protected] / www.skriduklaustur.is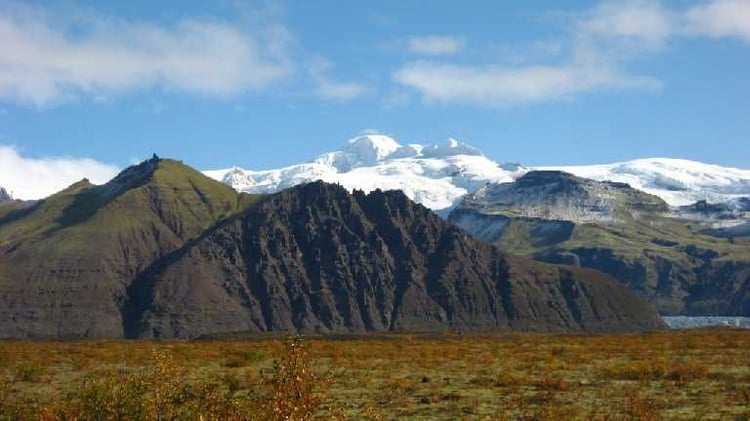 Vatnajökull National Park
– Visitor Centre and Highland Lodge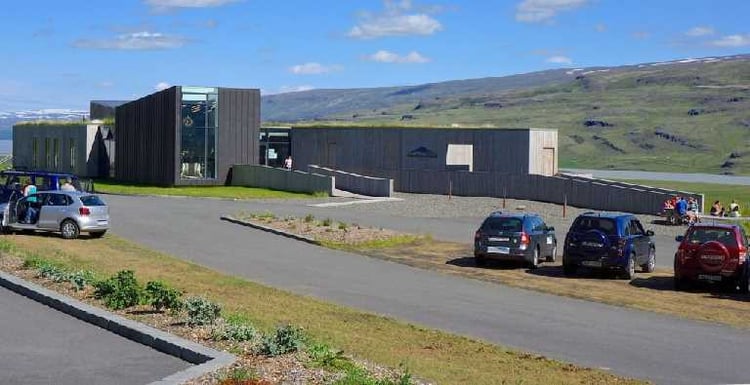 At Skriðuklaustur, you will also find Snæfellsstofa, the elegant visitor centre of Vatnajökull National Park where you can familiarise yourself with the nature, flora and fauna of the east area of the national park, which reaches from Kverkfjöll mountains south to Lón glacier lagoon. This is a good place to stop before continuing up into the highlands and driving, for example, to Snæfellsskáli lodge where the rangers of Vatnajökull National Park offer guided walks and inform visitors about fun walking routes at the roots of Snæfell mountain (1833 m).
TEL: +354 575 8400 / [email protected] / www.vjp.is
Fljótsdalsgrund Guesthouse
– Sleep by the Giantess's Path
A short distance from Valþjófsstaður is the guest house Fljótsdalsgrund at the end of Tröllkonustígur (Giantess's Path), a dyke that cuts through Valþjófsstaðafjall mountain. At the guest house, you can stay in spacious rooms with cooking facilities and bathroom en suite and enjoy fire-side chats with your fellow travellers in the evenings in a cosy sitting room with a fire place. The option of a welcoming home style dinner in the evenings is offered during the high-season from June 20th to August 30th. If you are travelling on a budget, you can make use of the sleeping-bag accommodation or the full service camping site with electricity and barbecue facilities.
Fljótsdalsgrund Guesthouse
TEL: +354 865 1683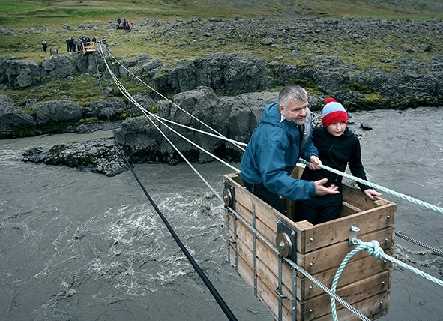 The Wilderness Center
– Gateway to the Greatest Wilderness in Europe
Fljótsdalur is located at the edge of the wilderness, and at Óbyggðasetur Íslands (The Wilderness Center) in the innermost part of Norðurdalur valley, you can learn about life in the highlands. Guests can stay in a baðstofa (communal living/sleeping room) and rooms designed in the spirit of the past, enjoy refreshments, go horseback riding and venture out on shorter or longer walks. It is also fun to pull oneself across Jökulsá river in Fljótsdalur on a newly renovated aerial ropeway.
TEL: +354 896 2339 / [email protected] / www.wilderness.is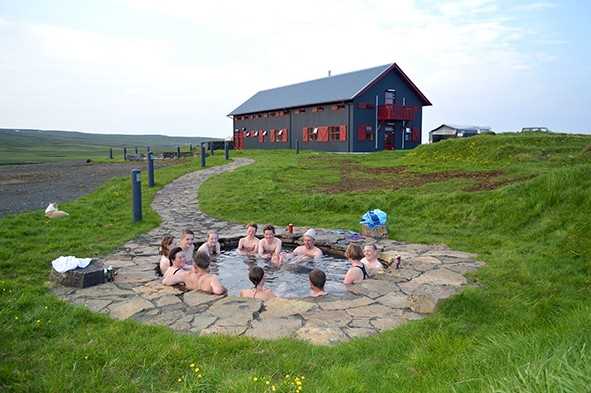 Laugarfell Highland Hostel
– Natural Hot Pools and Hiking Trails
Those who head up into the highlands to view the large dams at Kárahnjúkar or to enjoy the nature of Vatnajökull National Park, can take a dip in the natural pools at Laugarfell. There they will find a highland hostel with warm outdoor pools, refreshments and accommodation in rooms, which is rare in the Icelandic highlands. It is not unlikely that visitors will encounter reindeer, but it depends on the season whether they show themselves down in the valley or up on the heath. There is also rich bird life in the area and it is mesmerising to observe the numerous species of ducks that can be seen on rivers and lakes.
TEL: + 354 773 3323 / www.highlandhostel.is  / [email protected]
Take time to enjoy everything that Fljótsdalur valley has to offer. Use a few days to see all the natural treasures and get to know people who will share what it is like to live at the edge of the highlands.
-SG