Men Who Made Iceland
Hallgrímur Pétursson, the runaway who became the suffering psalmist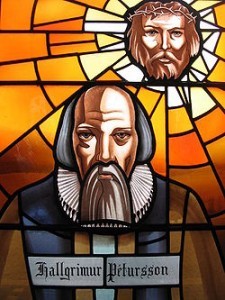 Life was very tough in 17th century Iceland. The Danish king imposed onorous trade restrictions on the country, impoverishing the people; pirate raids were common; the soil was infertile and the climate harsh. It was in Hólar in 1614, that Hallgrímur was born to the church bell-ringer. His uncle was the bishop and he was educated in the cathedral school but ran away, leaving Iceland for Denmark with some merchants to become a blacksmith's apprentice. His future could hardly look less promising. He was found by a travelling Icelandic priest who overheard him cursing his employer in Icelandic. The priest, Brynjólfur Sveinsson, encouraged the young man to train for the priesthood and sponsored his education at the Copenhagen Cathedral School, where he was counted amongst the best students.
Ransomed from Barbary pirates
While in his last year of studies, he was tasked with the re-education of a group of Icelandic captives, ransomed from Algerian pirates. One, Guðríður Símonardóttir, was to become his wife. She was 16 years older than he and already married but, when they returned to Iceland together, she discovered her husband had died, so immediately married Hallgrímur, whose child she was carrying.
Rescued from a life of labour
He had left the seminary before graduating and worked as a labourer and fisherman for seven years in Njarðvík, part of Reykjanesbær. Brynjólfur, now bishop at Skálholt, the southern bishopric, appointed Hallgrímur to minister in the village of Hvalsnes. Despite appearing as an ungraduated worker, he proved he was a skillful preacher and justified his ordination. Heartbreak quickly followed as his little daughter, Steinunn, died at the age of four and others were to follow in the difficult economic times. Her gravestone, believed to be carved by his own hand, was recently discovered there and is to be found in the current church. This tragedy marked a turning point in his life, as he wrote a hymn which is still sung at every Icelandic funeral today.
A man's gifts make room for him
In 1651, Hallgrímur was appointed to the much wealthier area of Saurbær, north of Reykjavik, a position probably gained due to admiration for his preaching. He wrote extensively during this period, two hymnbooks, 'Hymns of Samuel' and 'Hymns of the Passion', one for each day of Lent.
More tragedy
In 1662, the Saurbær farm burned. After that, Hallgrímur's health declined. He was diagnosed with leprosy, from which he died in 1674, at the age of 60. However, his faith enabled him to rise above the tragic events in his life to write hymns which have been translated and remain an encouragement to people worldwide today, just as they have been for the Icelandic people as they went through great hardships and difficulties.