Icelandic Times – Issue 14
When I first came to Iceland, a majority of the roads outside the capital and most towns or villages were gravel or worse. Icelanders had discovered the many wonders and secrets of their country, but few visitors learned much  about them. It's a testament to the Icelanders vision and personal initiative that, today, all round the country, you will find tourist facilities and organisations that open up practically every aspect of the country to the gaze of the visitors from abroad, who have increased many-fold in number over the intervening years.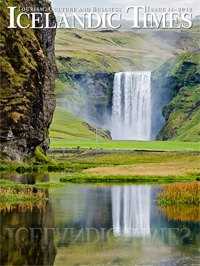 The country has moved swiftly to build up an infrastructure to make visiting Iceland a much more rewarding experience. It has lost little of its mystique, however. It was not called 'Europe's best kept secret' for nothing and, even for the frequent visitor or resident, there is always something new to discover. It's a country that does not reveal its secrets to the casual observer but to those who take the challenge to dig them out.
Today, there are tour companies who will teach you more in one day as you enjoy a chauffeur-driven ride to many of the hidden as well as the most popular sights. Such is the importance given to opening up the secrets to visitors that it takes a thorough university course to train guides.
Hotels, guesthouses and campsites have sprung up all around the country, each offering a different perspective on their part of the country. You can even travel right up through the middle of the country, passing famous sights like Geysir and Gullfoss, the less-travelled, but spectacular Kerlingafjöll, crossing rivers and winding your way between mountain ranges in the rugged highlands of the interior. Small this country may be, but it possesses Europe's largest glacier and most powerful river. Today, guides can take you there in safety.
Nonetheless, the natural forces are not to be trifled with. Weather can change in a matter of moments under the jet stream. Many roads can only be driven with 4×4's or Superjeeps. We have our share of volcanos here, too, if you just think back a couple of years. But it all adds to the challenge and excitement of this young country on fire in the basement.
On the surface, the beauty of the nature is breathtaking. The birdlife brings both professional and amateur birdwatchers and photographers. Now hikers and cyclists, campers and caravanners are unravelling more of the precious secrets this country possesses. We hope you will find your own to take home something special with you.
Icelandic Times – Issue 14