Icelandic Times – Issue 15
Autumn arrives from one day to the next in Iceland. The weather changes are dramatic—as are the colours, both in the vegetation and in the sky. Spectacular sunsets lead to ever-earlier nightfalls, after which the skies are filled with the Northern Lights.
The sheep are brought down from the mountains, the harvest is brought in before the inevitable storms that signal the onset of winter.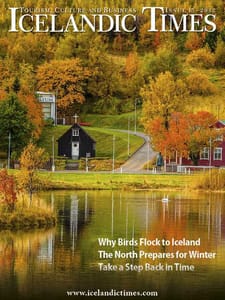 Iceland puts on an entirely different set of clothes after basking in the warm summer sun. Visitors who have seen the country in summer, see a very different landscape in autumn—and then, an even more different scene in winter.
It's an exciting time, especially in the North of Iceland where, in Akureyri, commonly known as the country's winter capital, after the cruise ships have left, the skiing and winter sports begin, drawing visitors from all over the world to experience the uniqueness of an Icelandic winter in all its glory. The evenings are filled with lights and entertainment.
Sports feature highly, also, in Mývatn, where the lake freezes over. This year marks the 10th anniversary of the horse riding competition on the ice. It's not all cold there, though, as the geothermal baths are more enticing than ever, making a visit well worth the trip.
Birds feature highly in this edition, both at the mystical Breiðafjörður Bay and around the northern towns and villages. In particular, Lake Mývatn is home to many species of birds, a number of which stay through the winter.
It's a different Iceland—but one that is all the more exciting, challenging and memorable. It's a visit you will never forget!
—Andrew Scott Fortune
Icelandic Times – Issue 15