Xinhua News Agency, China's national news agency and one of the world's largest news agencies, covered the release of the first Chinese edition of the Icelandic Times. The story was covered on all of Xinhua's main mediums, such as the TV channels CNC China and CNC World, which broadcast in English and in Chinese to over 120 countries. Xinhua also runs one of the most powerful news web mediums in China.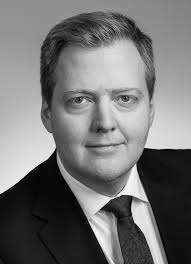 The Prime Minister of Iceland, Sigmundur Davíð Gunnlaugsson, was interviewed in the coverage. He spoke of the friendship between Iceland and China and the possibilities that the countries' co-operation could bring. He referred to China as 'the country of the future' and said he hoped to see the two countries co-operate as much as possible in the times ahead.
"We are extremely pleased to see the growth in tourism and particularly in this large number of Chinese tourists which we welcome very much. The reason we are so pleased to see Chinese in particular visiting Iceland is that we would like to encourage as much cooperation with China as possible", said mr. Gunnlaugsson.
Iceland's Minister of Industry and Commerce, Ragnheidur Elin Arnadottir, who is also in charge of travel affairs, said that Chinese tourists are valuable to Iceland and that many tourist companies are striving to cater to the needs of the Chinese in order to welcome them the best way they can.
Mr. Gunnlaugsson ended by addressing the Chinese people directly, saying:
"We welcome all our Chinese friends and would like to see even more."
The Icelandic Times whole-heartedly agrees with the Prime Minister. We have published our first edition of the Icelandic Times magazine in Chinese in order to offer the best possible service to the Chinese guests who come to Iceland, as well as to inform those who are interested in visiting. A second edition is scheduled for print and distribution within China in February 2015. In the meantime, the online version of the magazine at www.icelandictimes.com can be enjoyed by the news hungry and interested Chinese who would like to learn more about Iceland.
You can read the full version of the CNC story here