Iceland in Easy Reach
Sandgerði, a vibrant town of art and culture
Just 10 minutes from the Leif Eiriksson International airport. You probably saw the collection of buildings clinging to the coastline as you came in to land, yet you really had no idea of what lay there. A little way out to sea lies a rich fishing ground where Steinunn the Bold, the cousin of the first settler, Ingólfur Arnarson, used to fish and here begins a dramatic history that belies the calm façade of Sandgerði. That rich fishing means that the harbour is busy – very busy – when the flotilla of small fishing boats return. In fact, it is one of the busiest harbours in the country and it is this relationship with the sea that forms the foundation of its history.
As you drive into the town today you can see a dramatic sculpture by Steinunn Þórarinsdóttir depicting three stainless steel waves, representing the timeless ocean and the rusting figure of a man, cast in iron, a reminder of the transient, perishable nature of man.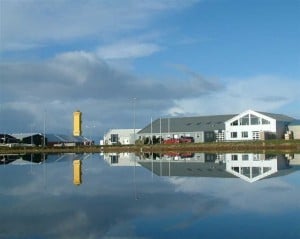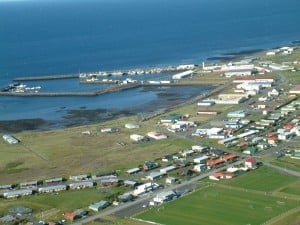 The town's relationship with the sea has never been a cordial one. It is a dangerous coastline and many a ship has foundered there. Between the 16th and 18th centuries, over 1,300 lives were claimed by the sea off a nearby headland, Rosmhvalanes. As a busy trading post, it received many vessels but in January, 1799 a flood devastated it. The 'Jamestown', one of the largest English sailing ships of its type ran aground in 1881 and its valuable cargo of high quality timber was used to build houses in the district. Efra Sandgerði, the oldest standing building in the town, was one. It has recently been restored by the Sandgerði Lions Club.
Huge rollers often batter the coastline and as recently as 1928, the trawler 'Jón forseti' ran aground and many drowned. The following year, however, the town fought back with the formation of the Sigurvon Rescue Team and the introduction of its first lifeboat – still to be seen in the rescue team's headquarters in the town. Today, the team has one of the best-equipped lifeboats in the country, always on stand-by in the harbour.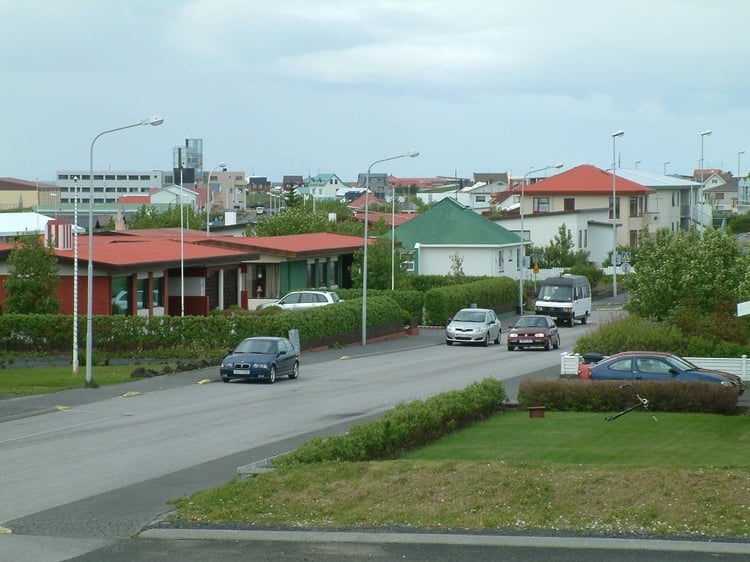 Sandgerði's history also features fights of another kind, as it has been the scene of skirmishes, fighting and, in 1551, the first battle using firearms. A famous folktale about Rauðhöfði has its roots in Melaberg. Sandgerði today, however, is a vibrant town with art and culture high on its list. A sculpture at the harbour celebrates the centenary of the motor-powered fishing boat industry in Sandgerði. Ný-Vídd is an art workshop where aspiring artists of all ages produce works of art in clay, glass, paint, wood and other materials. Close by, Gallery Listatorg in Vitaborg has a display of works produced with local materials and a shop where local items can be purchased.
The Nature Centre brings together man and his relationship with nature in an amazingly realistic 4-part exhibition featuring a large number of preserved birds of many species and animals such as mink, foxes, seals, and a walrus on show in seashore, fish, bird and freshwater settings. Scientists use the sea water, filtered through the lava for their experiments & research.
The centre also lets you experience the life and times of French explorer Charcot, whose ship foundered close to Borgarnes as he was returning to France in 1936, with the loss of all but one man. His research is now carried on by a team from the Suðurnes University at the centre. Parties of excited schoolchildren also learn about sea life. This is really worth a visit!
After visiting the town, your appetite can be assuaged at the Vitinn restaurant, with its beautiful ambience and whilst the Mamma Mia Café provide light refreshments and excitement with live broadcasts of sporting events and Shellskálinn has hamburgers and other snacks. Speaking of sports, Sandgerði has excellent facilities with Reynir Football Club providing a natural grass pitch, along with a clubhouse where a swimming pool, hot tubs, steam bath and sun beds provide a range of options for both exercise and relaxation. The Golf Club offers a 9-hole course that is often ready to play a month earlier than others in Spring.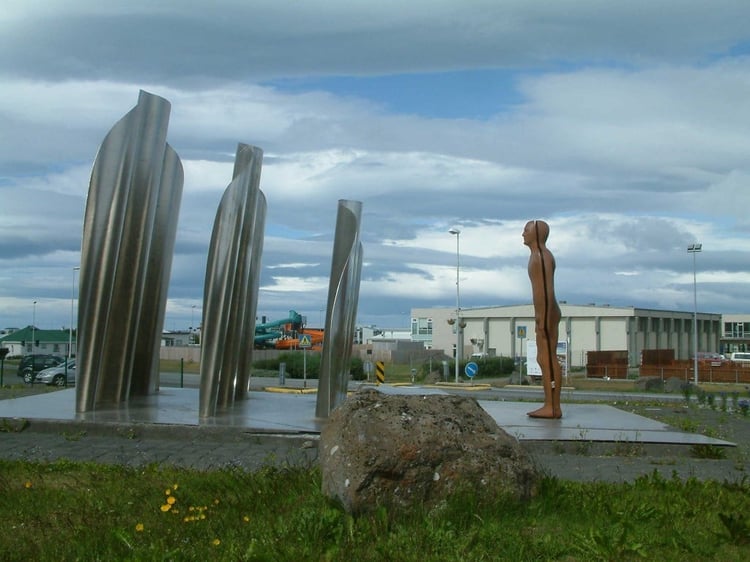 The town's other facilities are no less impressive for a small – but growing – community of 1,760. Varðan, a new building in the centre houses the council office, library, bank and apartments and the recently-renovated Samkomuhúsið is one of the best community centres in Suðurnes. That sense of community is fostered by the well-designed parish hall, a music school, kindergarten, primary and secondary schools. A new camping area with electricity for campers is open from 1st April to 30th Sept. An ideal time to visit Sandgerði is on arrival at the airport, as it is so close by but a visit at any other time will also provide you with a memorable experience. Perhaps, though, a visit by boat in a storm would not be so advisable! The sea here is a powerful adversary at such times! The view from the land can be both thrilling and memorable, however. After all, don't you want to visit Iceland because you want to experience something different?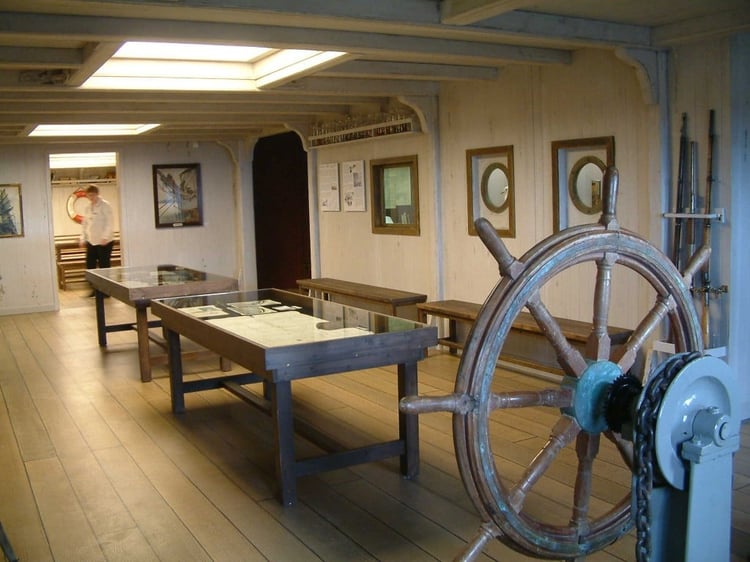 Sail with A Polar Pioneer
Jean-Baptiste Charcot was born to a famous French neurologist in 1867. Although trained as a doctor, adventure and exploration were in his blood. His first voyage was when he was 3 years old. He took an old
soapbox, scrawled "Pourquoi Pas?" on its side and set sail – in a pool in his garden! It was fortunate he tested his boat there, as it sank, leaving him wet but undaunted! He found French society to be too superficial for him. In 1892, aged 25, he bought his first boat, sailing north to the Shetland Is., Hebrides, Faroes and Iceland. His father died the following year, leaving a large inheritance, allowing him to leave medicine behind for a life of scientific investigation and sea-faring adventure. He married the granddaughter of Victor Hugo, but it did not last and she divorced him on the grounds of desertion while he was away. He had planned another trip to the Arctic but news of the missing Swedish explorer, Nordenskjöld, led him to head south instead. He charted more than 600 miles of new Antarctic coastlines and islands. A second, equally successful expedition followed. Scott of the Antarctic nicknamed him, 'The Gentleman of the Pole'.
After the 1st World War, he set out sailed north to lead numerous expeditions to the Færoe Is., Jan Mayen Is., Iceland and Greenland. The 'Pourquoi Pas?' was a scientific research vessel with a library and three laboratories on board. The ship stopped often in Iceland, where Charcot made many friends, including the eminent Icelandic naturalist, Bjarni Sæmundsson. In fact, when the 'Pourquoi Pas?' put into Reykjavik to repair its boiler, Charcot and Bjarni had a meeting that was to prove to be their last. The ship set sail on the 16th September, 1936, heading for France when a sudden, very violent storm drove them off course, across the Faxafloi Bay onto the rocks off Mýrar. Of the crew of over 40 souls, only one survived. The news shocked all Iceland and a memorial service was held in Reykjavik for them.
You can get an idea of what it was like on the 'Pourquoi Pas?' at the Suðurnes University Research Centre in Sandgerði, where part of the ship has been reconstructed with many items from both the ship and Charcot's personal belongings on display. This is a vibrant display that really gives a clear impression of life on board the ship and is well worth a visit to the centre, close to the harbour.
Fræðasetrið Sandgerði
Garðvegi 1 • 245 Sandgerði
+354 420 7555
[email protected]
www.sandgerdi.is