Siglufjörður's New Marina Village
Sigló Hótel Complements the Town's Vibrant Cultural Life
Staying at the top of the world has just taken on a new meaning. Driving up the coast to Siglufjörður in North Iceland is filled with beautiful vistas but nothing can prepare you for the spectacular view as you come out of the tunnel into the fjord, surrounded by snow capped mountains. The town itself is set picturesquely on one side of the fjord, overlooking the Herring Museum and the marina area.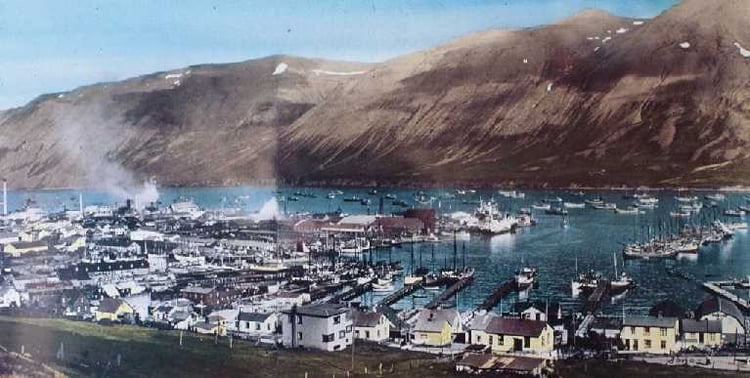 Completing the Marina
Carefully designed to blend into the surroundings and taking full advantage of the spectacular views in every direction, the new 68-room Sigló Hotel has just opened to provide full 4-star accommodation, dining and activities for visitors to this northern fishing town.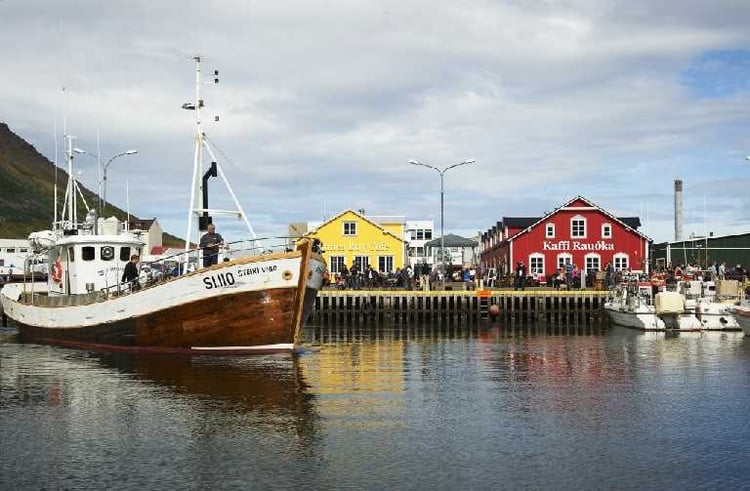 Speaking of fishing, watching the fishing fleet sail down the fjord while you're eating a delicious breakfast in the restaurant or outside on the patio as the sun climbs over the mountains and burns off the mist, is an experience you will always remember.
The hotel's Sunna restaurant overlooks the marina where the fresh catch is landed every day and the best are selected and cooked by the skilled chefs for dinner that evening. It's a beautiful dining spot with plenty of space for individuals, couples or groups.
The high quality service is matched by the rooms. There is a good choice of rooms, with 3 suites – two full deluxe suites and a junior suite, large deluxe rooms 29 m2 in size, classic rooms averaging 23 m2, and all equipped with a range of amenities including complimentary WiFi, HDTV, alarm clock, work desk, window blinds, walk-in shower and more.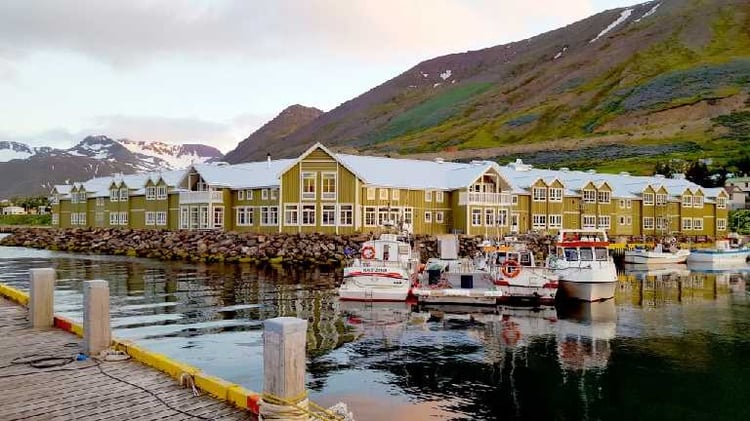 Restaurants with Character
Part of the charm of visiting this northern town is meeting the people and the Marina Village is complemented by the Hannes Boy restaurant and Kaffi Rauðka—the bright yellow and red buildings on the other side of the marina. Hannes Boy is a cosy, romantic environment, offering salted cod and lamb dishes that are favourites for lunch or dinner.
Kaffi Rauðka, the bright red house is the hot spot in town. With a casual, relaxed family atmosphere, the restaurant's menu has everything from sandwiches, cakes and coffee to BBQ ribs and traditional Icelandic hashed fish and is open all year round.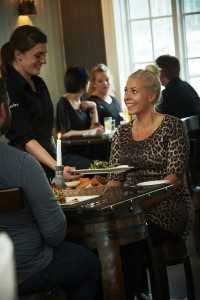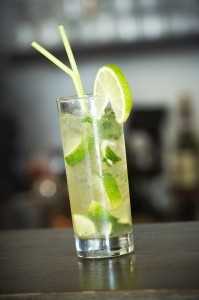 Romance, Relaxation, Business and Sport
Siglufjörður is a vibrant, all-year town, with festivals, sports and activities taking place throughout the year. It is a popular ski resort and the new hotel provides the ideal aprés ski centre. With an outdoor hot tub to soothe sore muscles, an infrared sauna and a fireplace room and bar, you have everything you need to relax. It is a truly unique location for honeymoon couples while meetings of up to 150 people can be held here, making it an innovative location for incentive tours.
-ASF
Sigló Hotel
www.siglohotel.is
[email protected]
+354 461 7730
Snorragata 3, 580 Siglufjörður