An Icelandic Icon
The Heart of Reykjavik City
The spacious but intimate Café Paris is a café and a restaurant known for first-class service and bistro-style meals, primarily made using fresh local produce, in the heart of the city centre, Austurvöllur. Austurvöllur is Iceland's Champ du Mars, where locals relax on warm summer afternoons, overlooked by the Icelandic Parliament, and the Cathedral Church, Dómkirkjan.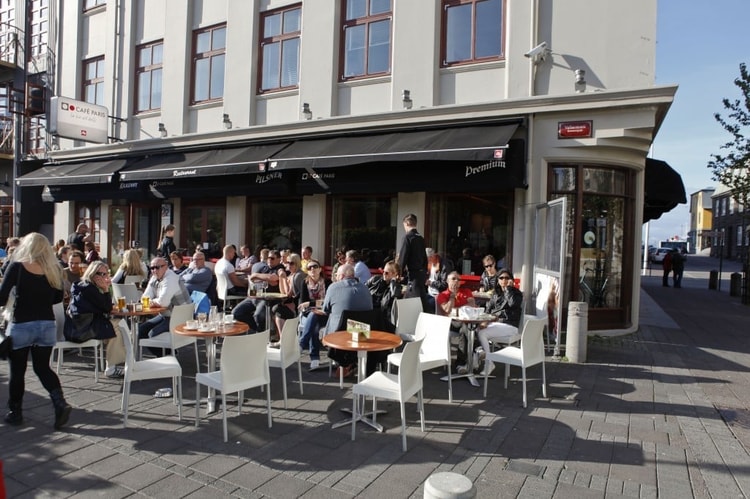 Its long history and esteemed reputation has contributed to it being one of the most successful restaurants and cafés in all of Iceland. This year, Café Paris celebrates its twentieth anniversary. Guests were asked for their feedback to help the management continue to offer the highest standards.
In its anniversary year, Café Paris has a professional staff providing great service, knowledgeable about the menu, wine, cocktail and coffee selections and the mouth-watering desserts.
A Landmark for all
Café Paris is a city landmark meaning different things to different people. It's where artists contemplate in solitude, writers busily document their thoughts on a laptop, politicians escape heated debates and share a quiet moment together, young adults giggle and smile over Mocha and sweetened Latte, young mothers share a slice of a homemade chocolate cake and creamy coffee, students gather to celebrate and hungry travellers come to experience Icelandic bistro culture.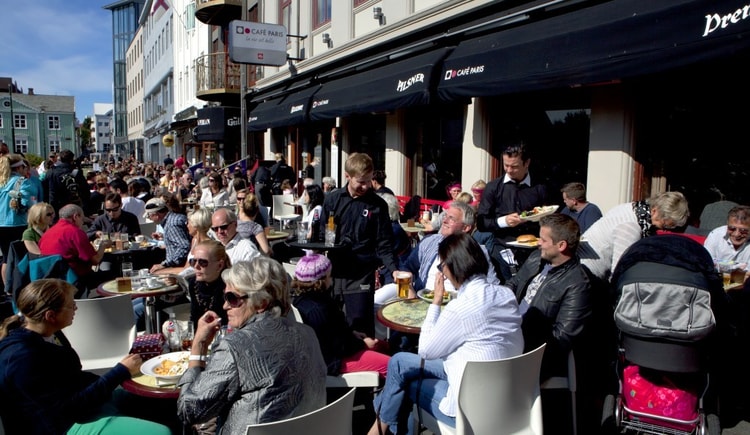 In summer, the tables outdoors facing the Parliament are always packed. Sheltered from the North Atlantic breeze, days of sunshine in the very heart of the city are hard to resist, and the well-trained and experienced staff make sure none go hungry or thirsty.
There is nothing like the house white wine boiled mussels and a glass of Pinot Grigio on a beautiful summer's day, or a succulent burger with a bun fresh out of the oven and ice-cold beer. For dessert, the house speciality is a French chocolate cake—freshly baked in house—and best served with deluxe coffee. The well kept secret recipe is legendary in Reykjavík.
A Weekend Hotspot
Come the weekend, Café Paris turns into a sophisticated bar with live jazz music playing from 11 pm. The atmosphere is a unique fusion of a Parisian jazz club and a sophisticated Icelandic wine bar. The wide variety of imaginative cocktails is the creation of ambitious bartenders who aim to impress with rich flavouring.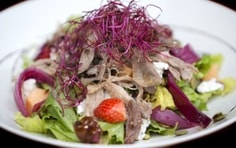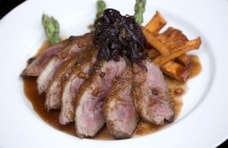 Café Paris caters to all ages and nationalities. Café Paris may seem to be a Parisian café in Reykjavík but local culinary traditions and fresh Icelandic produce are at the heart of this Reykjavík bistro.