The rejuvenation your feet have been dreaming about
Fish Spa Iceland is the first spa in Iceland to offer an unusual but increasingly popular type of pedicure, using the lovely Gurra Rufa fish to exfoliate and reinvigorate tired feet.
A rewarding leap of faith.
"It´s not that I don´t like fish. I just prefer me eating them over them eating me,"  I replied to my friend who recently encouraged me to try this peculiar method which, in her opinion, was just what my former dancing, currently running feet needed. I was skeptical. In my opinion, my feet were beyond saving. And besides, I´m ticklish.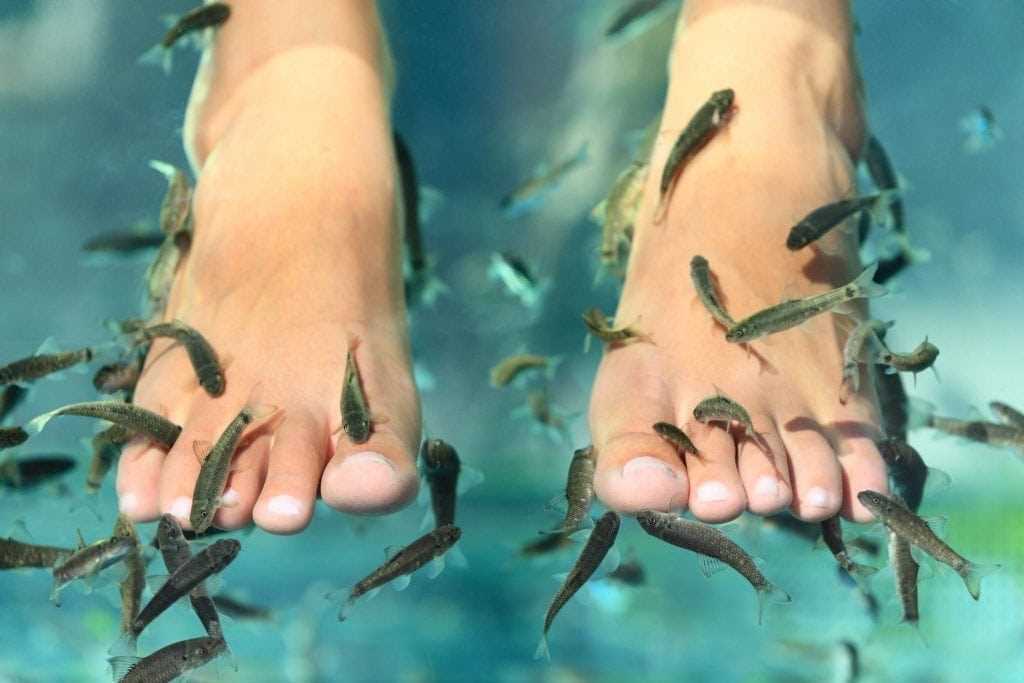 But my curiosity had been raised and therefore, just days later, I´m sitting in the bright and tidy environment of Fish Spa, staring into an aquarium full of very lively little creatures who seem eager to get to work.
The Guarra Rufa, sometimes nicknamed doctor fish, is a fish species which feeds on dead skin by instinct. The fish have no teeth and thus can not bite or cause any harm or pain, instead, they massage the skin with their tongue which works a bit like sandpaper, leaving your skin incredibly soft and clean. But the benefits are by no means only appearance wise. A member of the staff explains to me that the fish´s micro-massage stimulates the nerve endings in the feet which promotes blood circulation and aids the skin renewal. The fish also release a certain enzyme, called Dithranol, which relaxes and creates an overall feeling of well-being in the body. I have to admit that this doesn´t sound bad at all. Plus, it´s eco-friendly.
I look at my less than pretty toes – that have just been disinfected – take a deep breath and dip my feet into the water. I gasp. These little fellows sure have excellent work ethics! No one has ever been quite this enthusiastic about my feet before. What´s surprising is that it really doesn´t tickle that much, if anything it almost feels like being massaged with small water jets or soft electric waves. Within a minute I´m starting to relax and really enjoy myself. When my twenty minutes are up, the staff practically has to order me out. I pull my feet out and dry them with amazement. They feel so cool and smooth that I´m reluctant to put my socks and boots on. I´ve had a pedicure before but this is a completely different feeling, much fresher and cleaner. No wonder the spa has a lot of returning clients; the treatment is effective and pleasant and, last but not least, so much fun it not only revives your feet but your heart and soul as well!
The Fish Spa is open Monday to Saturday from 1:00 pm – 7 pm and welcomes both groups and individuals. Just call in advance and make an appointment. It´s more than worth it.
Fish Spa Iceland
Hverfisgata 98
101 Reykjavik
[email protected]
www.fishspa.is
+354 547 770