The Oldest Eco-Village
Sólheimar: Where Culture, Organics and People Thrive
Sólheimar is hardly the kind of place in which you arrive by accident. But take a twenty minute detour en route to Gullfoss or Geysir, or an afternoon trip from Reykjavík, and you will be very glad you did. Nestled in a small valley, the village remains tucked away until – at the very last bend – the turf roofs of the houses begin to appear as if from nowhere.



With a population of around 100, Sólheimar holds many surprises. Over 30,000 visitors a year have already discovered this special place, many returning time and again. Being one of Iceland's largest organic vegetable producers would be reason enough to drop by and stock up on tomatoes, peppers and chutney, to name but a few ingredients. This was the first place in the Nordic countries to cultivate produce organically. But the village shop is much more than a general store and an organic greengrocer for residents and visitors. Here you can find candles, weaving, handmade soap, art and ceramics, as well as toys and gifts carefully crafted from wood. Sólheimar has its own bakery too, which makes the delicious bread and cakes that can be found in the shop and the café. The shop is the perfect place to find a unique present or keepsake.



The social hub of Sólheimar is its café, which happens to be in a large greenhouse. If a café in a greenhouse does not sound like a cosy place then think again – Sólheimar's café is geothermally heated and the greenhouse is as warm as the welcome you will receive there. The name of the café, which translates as 'green coffee pot', is a reminder of its green credentials, because from the coffee and cake to the beer and wine, almost everything is organic. The Green Coffee Pot is a meeting place for residents and visitors all year round, but visit on a weekend afternoon in summer and you will find yourself in the midst of a lively entertainment programme that comprises everything from well-known pop and rock musicians to classical concerts, and choirs.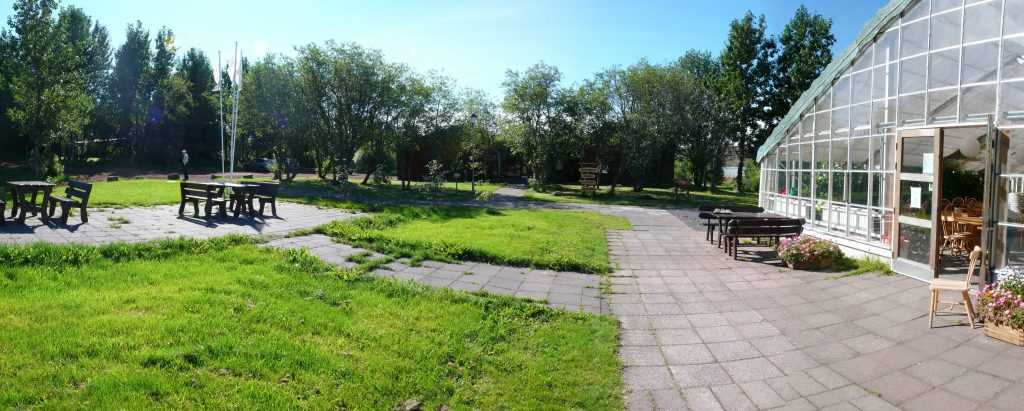 A day in Sólheimar is not nearly enough. Stay a little longer, when most visitors have returned home. In splendid isolation, it is a wonderful place for relaxation or quiet reflection. Wander amongst the sculptures in the village centre, and then set out on a circular walk which takes you up to the hilltops for stunning views and down across the wetlands bird sanctuary on a boardwalk before emerging through shaded woodland, a rarity in the Icelandic countryside. You can walk through a living exhibition of different tree species cultivated at Iceland's only organic nursery and arboretum, and perhaps choose one or two for your garden.
Two guesthouses provide comfortable accommodation for those staying longer. There are rooms with or without en suite, as well as self-contained mini-apartments with their own kitchenette. For groups, full board accommodation is available, while individuals can opt for breakfast on request. For other meals, guests can use the self-catering kitchen or the barbecue on the veranda. A geothermally-heated pool and hot tub are nearby and open to guesthouse visitors.


Sesseljuhús, an educational and exhibition centre in the village, is a distinctive building which can also be rented out for conferences and corporate events. The building showcases sustainable architecture and is open to visitors on weekdays. Sheep wool was used for insulation and the exterior cladding is driftwood. It is powered by a combination of renewable energy sources, including an innovative generator that produces electricity from the temperature difference between hot and cold water. Another noteworthy building, and one of the newest in the village, is the church, which was completed and consecrated in 2005 and holds weekly Sunday services throughout the year. It regularly welcomes visiting choirs, and there are Saturday concerts from June to August.


There is always plenty going on at Sólheimar and a diverse lecture programme includes upcoming lectures on  Icelandic water, the revival of the birch tree in Iceland, and fish and fishing in the south of Iceland. There is also a workshop on nature photography, an educational walk on fungi, a jazz concert and a violin concert, all in July and August. There will be two fascinating exhibitions in Sólheimar throughout the summer. In the sports hall cum theatre, there will be an exhibition connected to the 80th birthday of the Sólheimar theatre, which is the oldest and biggest amateur theatre in Iceland. Then there will be an exhibition in the Ingustofa art gallery, with an Icelandic folklore and fairy tale theme.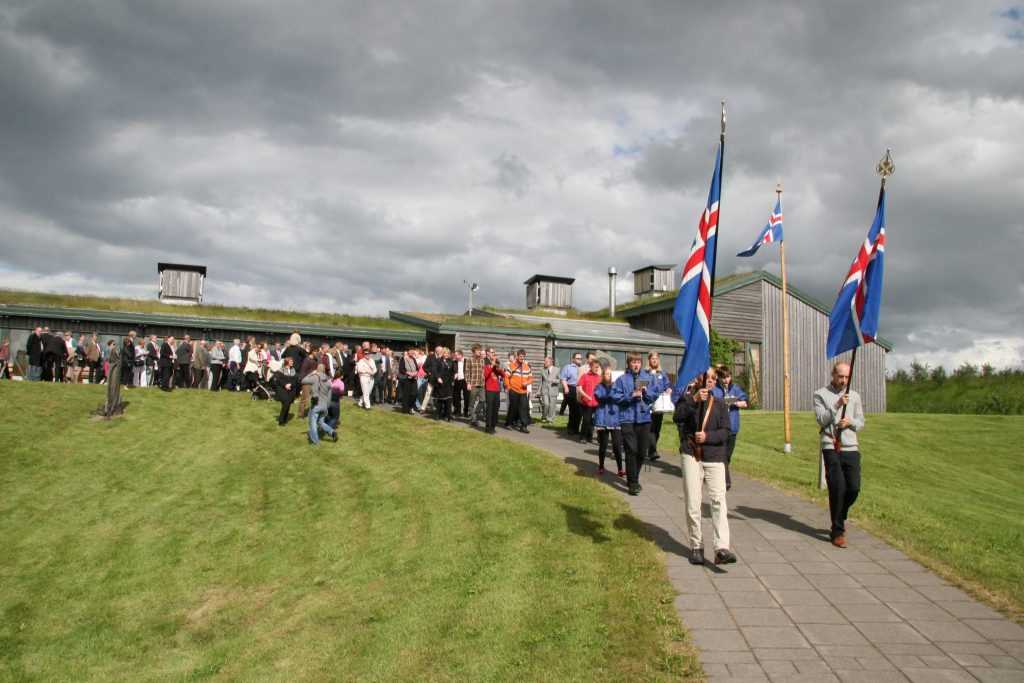 Sólheimar was founded in 1930 by Sesselja Hreindís Sigmundsdóttir and today is home to people with special needs and others. The villagers with special needs will always be at the heart of Sólheimar, and they are great hosts. Many have special talents in art and in other areas. You'll meet Sólheimar people in the café and around the village, and they'll brighten up your day. You can find their work in the shop and take home something to remember your time in Sólheimar.
Sólheimar
Sólheimar • 801 Selfoss
+354 480 4400
[email protected]
www.solheimar.is