Seeking for past and power
Reykjavík Excursions takes you to Iceland's hidden beauties
50 years ago Iceland had been a sleeping beauty in the North Atlantic Ocean, well hidden between lava fields and mountains. In 1968 the founders of Reykjavík Excursions decided to join forces in order to make the country's austere beauty more accessible to travelers who at that time mostly came to Iceland during stop-over breaks. A company was established and started operation with just a few guides, hired buses and a lot of passion to present the country's hidden gems.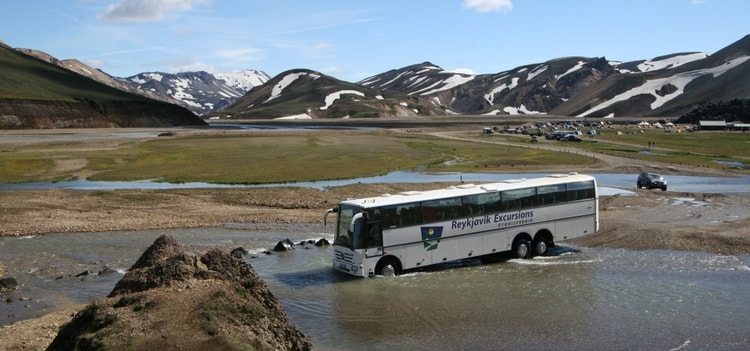 Traveling in those days was not comfortable, as many roads in Iceland were still gravel tracks, and restaurants were rare. It must have been quite an adventure to visit remote places like the hot springs at Krýsuvík or even drive to Hveragerði during wintertime. But passion made it all possible and helped the company to flourish and sail with prosperous winds through the decades.
Today's modern company Reykjavík Excursions operates a fleet of 60 buses, also running the legendary Fly-bus-service, which connects Reykjavík to the international airport at Keflavík. The company is able to offer all kinds of guided tours at the highest comfort level. Your extra piece of chocolate on top: wireless internet on all buses, to ensure that you can share your impressions with your friends – or, being addicted to Icelandic colors and light, check the weather forecast for your next day-trip, maybe right away tomorrow?
Reykjanes Peninsula – a trip into the Past and Power
From late April on, 'night' is just a far-away-idea, as the midnight sun starts turning night into day – the ideal condition for an unforgettable day trip on the paths of past and power. The Reykjanes peninsula invites you to  discover the shy beauty of Iceland's Southwest. This rather remote coastline area will deeply affect your senses. The historic sites of the old fishing-town Eyrabakki or Strandarkirkja, a seclusive parish church on the shores of the Atlantic Ocean allow a glimpse into the life and drama of past-time's fisheries.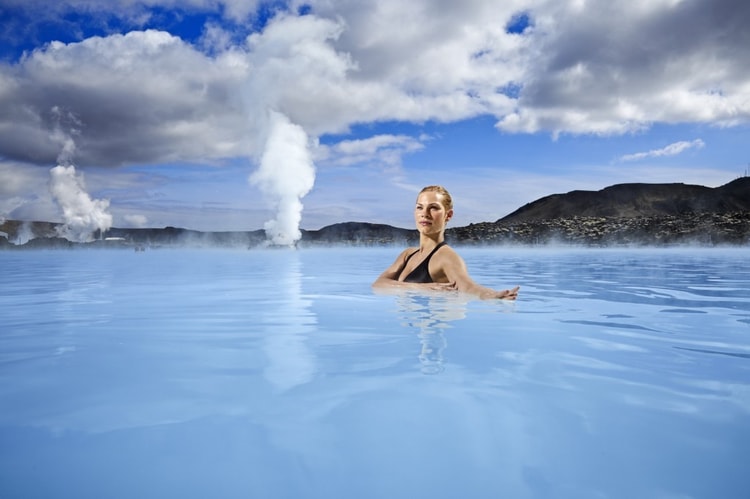 Colorful and bizarre lava fields perfectly stage contemplation on hardship and the course of time and serve well in preparing you for a meeting with Mother Earth at the hot springs of Krýsuvík and Gunnuhver, where powerful boiling mud pools demonstrate, what Iceland really is made of. Meet modern fisheries in Grindavík and enjoy wild Atlantic waves at the southwesternmost point of the country, before walking on the famous Bridge between the Continents.
The relaxing waters of the Blue Lagoon could form a perfect ending to this remarkable day of "dating" Iceland.
"The Legends of Sleipnir"
Staying with history, one will hardly conceive the past centuries' achievements without having met its most important participant: the Icelandic horse. A true companion of the first settlers and partner in daily life, which now is celebrated in Fákasel Horse Park, a place of its own kind. Take the chance on this romantic evening trip which might perfectly top off your stay. While spending some delightful hours at the innovative park you might lose yourself in the dramatic scenes of the multimedia show, and enjoy the pride and power of the Icelandic horses performing a show based on Icelandic mythology, history and culture. Of course you are welcome to make their acquaintance at Fákasel's horse stable and learn more about their uniqueness.
The horse show is followed by a 3 course gourmet dinner in Fákasel's cosy restaurant, with traditional Icelandic dishes  and a special children's menu. In the open and bright facilities of the design shop Kron Kron you might find the garment or item that will remind you of this extraordinary evening. We will take you back to Reykjavík when the sun is starting its evening spectacle, immersing the quiet lava fields of Hellisheiði mountain pass into a world of pure magic.
A Guidance for your Memories
Whether you are seeking the seclusion and purity of Iceland's nature reserves, or rather would like to experience some really hot adventure in fire and ice – be sure of enjoying the most comfortable and safest way to get there by booking trips with Reykjavík Excursions. Since the old days of gravel tracks we put a special emphasis on the professional education of our multilingual tour guides, in order to share the things to know, sites and a romantic sundown with suitable words, or with silence.
Whatever we have to offer, we strive to leave you with the best possible memory of your time in Iceland!
[table caption="Contact Information – Reykjavik Excursions" class="row-fluid"

border="5″

width="100%" colwidth="50% | 50% " colalign=" center | center"]
BSI Bus Terminal ◦ 101 Reykjavik,[email protected]


www.re.is

,tel: +354 580 5400
[/table]