The Icelandic way of relaxing
Swimming pools in Iceland
In most other northern countries, swimming pools are just for  swimming. To relax in them is not cozy at all, in fact it is rather chilly. Swimming pools in Iceland are the opposite. Surely you can have a swim there, but many locals just go there to spend some quality time with their friends  and family or to have a chat with their fellow citizens. In Reykjavik alone you can find seven different swimming pools to visit for less than 2€ entrance fee. If you want to go local in Reykjavik, visit the pools.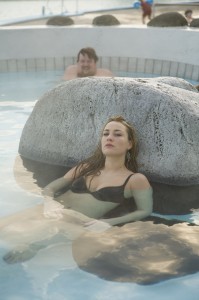 Iceland is famous for its geothermal energy, which has been of good use to Icelanders. Not only is it utilized for heating houses and to create electricity, it also offers everybody living in Iceland the advantage of plenty of warm swimming pools that have a wide variety of hot pools and saunas. Swimming in Iceland can have numerous positive effects, not only because of the exercise one gets out of swimming, but also when you want to unwind and socialize. In fact, socializing is a huge part of the swimming pool culture, this is the place in Iceland where people are most open to talk to strangers, it is generally accepted to chat to the next fellow in the hot pool. It is not uncommon that the people sitting in the hot pool start to discuss politics or whatever issue is in the spotlight at the time. If they realize you don't speak Icelandic, it is quite common that they change to English and become really interested to hear where you are from, how the life is in your country and ask: "how do you like Iceland?"
Don't be afraid to ask around in the hot tubs for any information or tips about good restaurants in Reykjavik or hidden natural attractions in the vicinity. People are normally eager to share these kinds of tips as well as telling you their opinion on all sorts of things. If you have a stiff neck or sore feet after a day of sightseeing, letting your body relax in Laugardagslaug in Reykjavik, Iceland's biggest swimming pool, is bliss. It is located in the valley Laugardalur, one of Reyjavik's biggest green areas. There you can choose  between more than five different hotpools to relax in, as well as two or three saunas. The kids will probably go nuts in the big slide and with plenty of space to splash in and play. Another fun swimming pool for children is Árbæjarlaug, which is in the Árbær quarter near to Árbæjarsafn, the historical museum of Reykjavik. That pool is ideal for unwinding as it has plenty of hot pool space where one can comfortably lie and get some tan. If one is coming or going out of town it is quite convenient to visit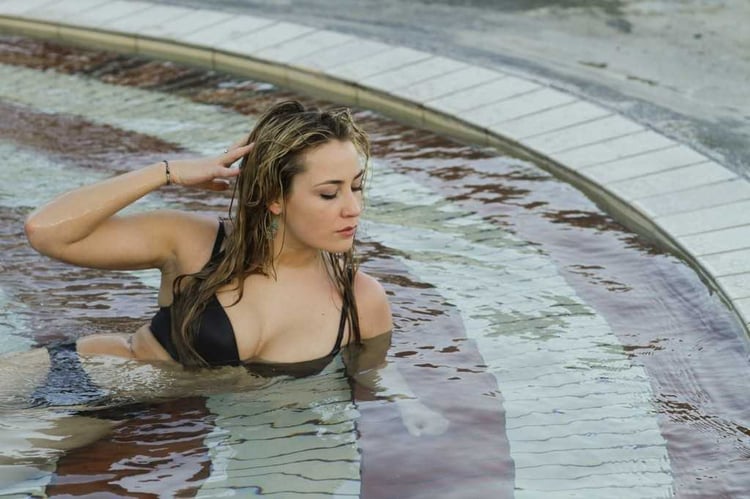 Árbæjarlaug on one's way as it is near to the roads leading to both the North and Southeast of Iceland. In the downtown area of Reykjavik, you can find two good swimming pools, in fact two of the oldest swimming pools in business in Reykjavik, this being its oldest quarter. Sundhöllin (the Swimming hall), the oldest one, has an indoor swimming pool with hot pools out on the balcony. The architecture of Sundhöllin is spectacular, designed by Guðjón Samúelson, one of Iceland's greatest architects. Therefore, if one wants to be cultural while exercising and unwinding, swimming in the special environment of Sundhöllin is ideal.
Vesturbæjarlaug is right at the outskirts of the downtown area, the West side of town. It is an outdoor  swimming pool and the best place to find lively discussions regarding life, the universe and everything if you wish to seek that kind of activity.  It is often preferred of locals over Sundhöllin as it is situated outdoors. Reykjavikers often want to have the opportunity to wallow in the snow during wintertime and enjoy the clean, fresh air whilst sitting in a rather too hot pool. Icelanders often have a special ritual in the swimming pool. This ritual consists of going between the hot and cold water. You begin in one of the "colder" hot pools. When it is getting  too hot you move to the swimming pool and stay there until it is a bit too cold for sitting still. Then you may go to a hotter pool or the sauna and back again in the swimming pool. If you want to be extra tough you stay as long as you can in the hottest pool (+40 degrees), then you take an ice cold shower. Then you go to the sauna. At that point your body has become all good and warm, so you can both stay as long as you please in the sauna or sit outside without getting cold.
This is the Icelandic trick, maybe the reason for the longevity of the nation. If you wish to make your stay in  Reykjavik more enjoyable, the swimming pools should be visited, even every day. That is what the locals  do if time permits, some even go at 7 in the morning. Experiencing the delightful feeling of moving slowly and stretching one's limbs in the swimming pool is too good to miss.