Vök Baths offers guests the only floating geothermal pools in all Iceland.
Vök Baths is an exciting new geothermal bathing facility where guests can enjoy two heated floating pools among the beautiful scenery of Lake Urriðavatn. Situated just 5 kilometres from Egilsstaðir, Vök Baths is an ideal place to relax while sightseeing in East Iceland. The brand new baths, completed in the summer of 2019, take their shape from the ice-free patches on the lake ice, created by the bubbling hot springs in the lake.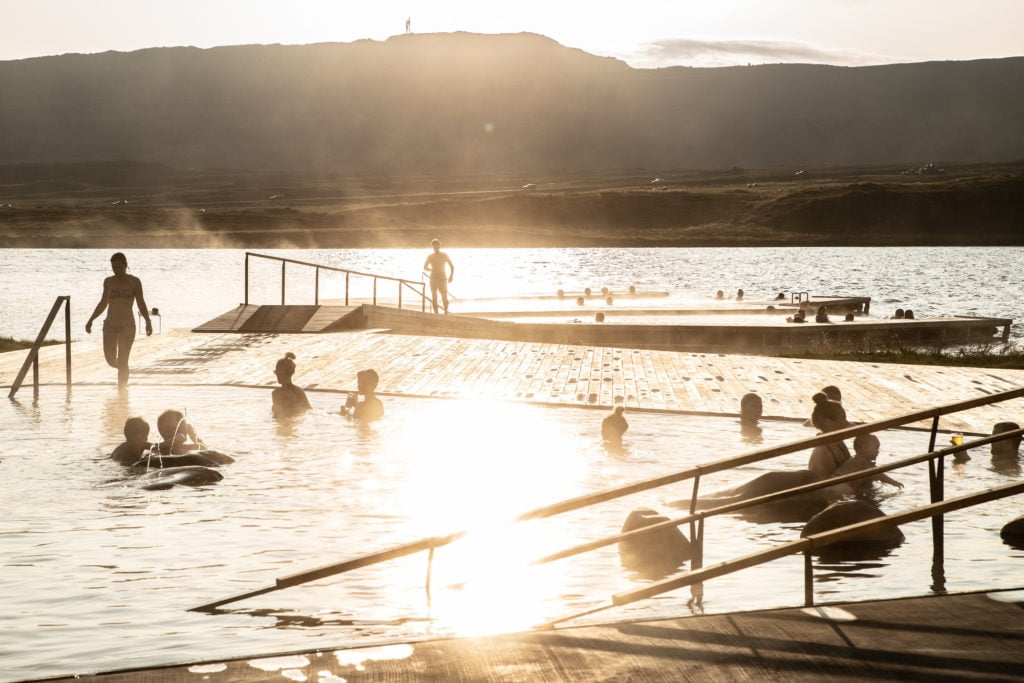 Harnessing the power of geothermal energy
There are many advantages to the Land of Fire and Ice, and one is the abundance of natural, renewable geothermal energy. The baths are gloriously warm, soothing your skin and muscles while you're enjoying the pristine nature of the region. The pools, whose water is so clean and pure it has been certified as drinkable, are especially welcome to the area, as East Iceland is home to few hot springs, compared to other parts of Iceland.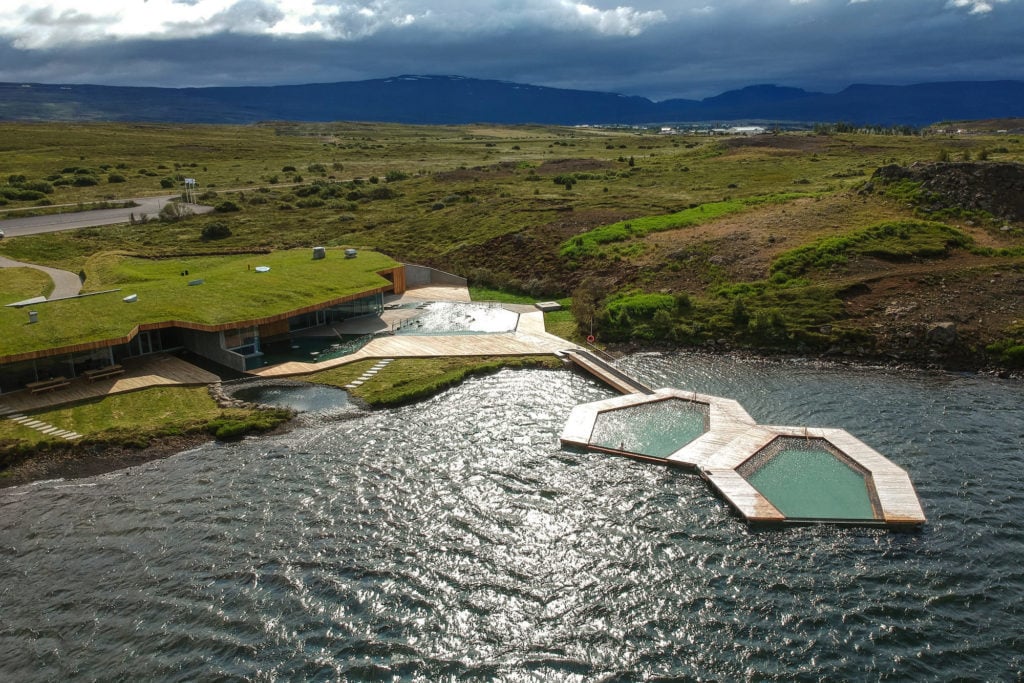 Bathing facilities and changing rooms
In addition to the floating pools there are two on-shore hot pools, and an outdoor pool bar. A steam bath and cold tunnel equipped with a cool mist shower inside will be available in October/November, 2019. The indoor shower facilities and changing rooms are comfortable with nature-inspired designs. There are private showers and lockers to store your belongings while bathing. You can rent swimsuits and towels at the baths if you did not bring your own.
Enjoy the onsite café, restaurant and bar
Housed inside the facility, the café-restaurant offers a delicious array of soups, salads, cakes and fresh-baked bread. All ingredients are sourced locally, and chefs work closely with neighbouring farms for local, seasonal produce. The Infusion bar also serves an impressive selection of complimentary teas made from local herbs, brewed with the natural hot spring water.
Using the hot water from Lake Urriðavatn, Austri, the local brewery, produces a 4.5% Blond Kellerbier and a 4.5% Session IPA especially for Vök Baths from this special hot water. If you would like to enjoy a drink or two while bathing, there is a pool bar so you can relax with your drink while soaking in crystal clear waters surrounded by the unique Icelandic nature.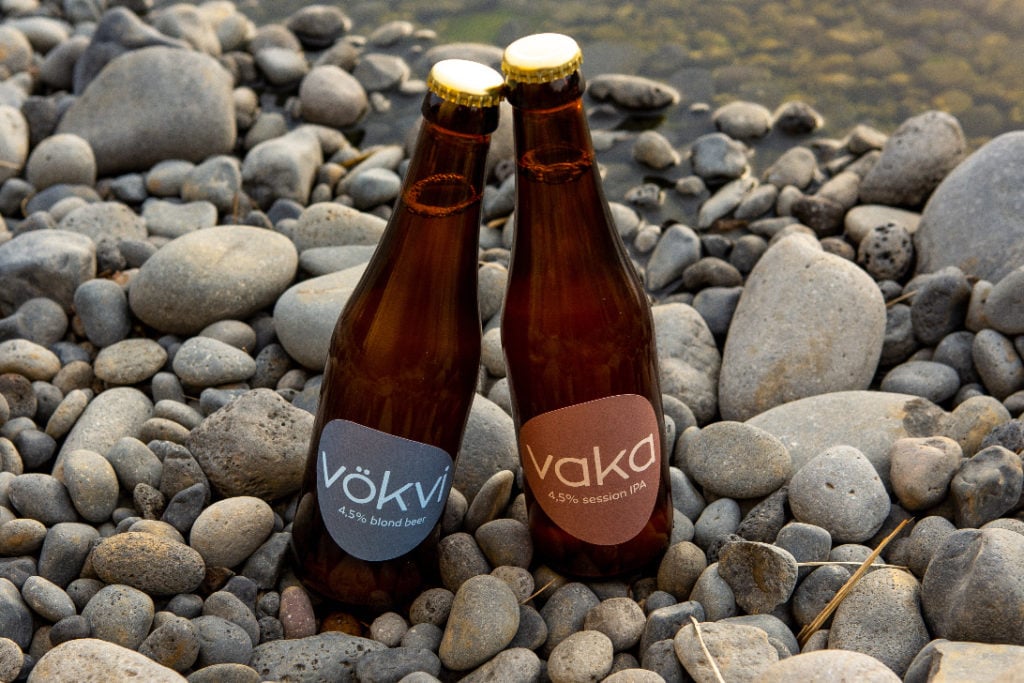 Strong commitment to the environment
The creators of Vök Baths have a deep respect for the environment and are committed to upholding excellent standards of sustainability in every aspect of their business. When it comes to maintaining the pools, the bar and restaurant facilities, employees make a determined effort to avoid all use and disposal of plastic, where possible, and packaging is organic and recyclable. Additionally, all the wood furniture and features at Vök are made from ethically sourced trees raised in East Iceland.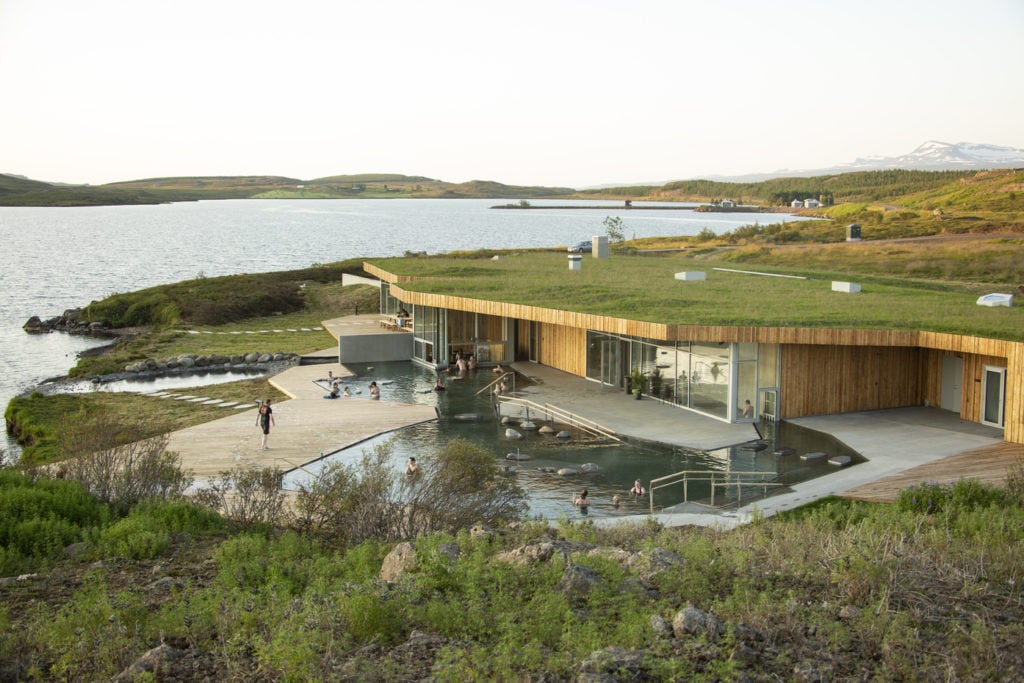 Be sure to stop by Vök Baths during your next trip to East Iceland and partake of a special bathing experience.
Vök Baths
+354 470 9500
[email protected]
www.vok-baths.is/en