A MULTINATIONAL TAPESTRY
A long, artistic Icelandic story of intrigue and love
Hvolsvöllur in South Iceland is not only the gateway to Iceland's volcanic wilderness. Here you also enter ancient saga grounds. Almost 1,000 years ago incredible family dramas took place in the area. A 13th century scholar left us the story for posterity.
The Saga of Njál deals with relationships and murder, and culminates in a dramatic family feud and the extinction of an entire clan. Displaying the saga in an exciting way, the museum of Hvolsvöllur shows probably the most unusual art project in Iceland: the Njál's tapestry.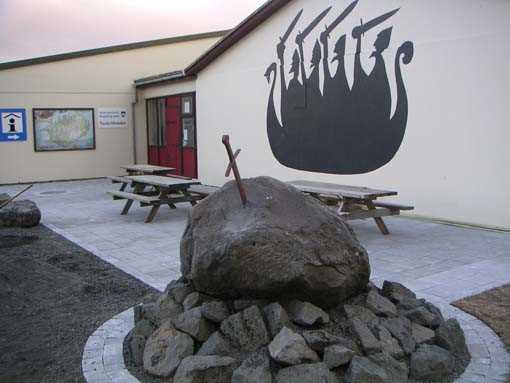 Njál in new ways
Icelandic sagas in their original language sound strange to our ears. The artist Kristín Ragna Gunnarsdóttir had the brilliant idea of converting Njál's drama into a image project to be be created by visitors.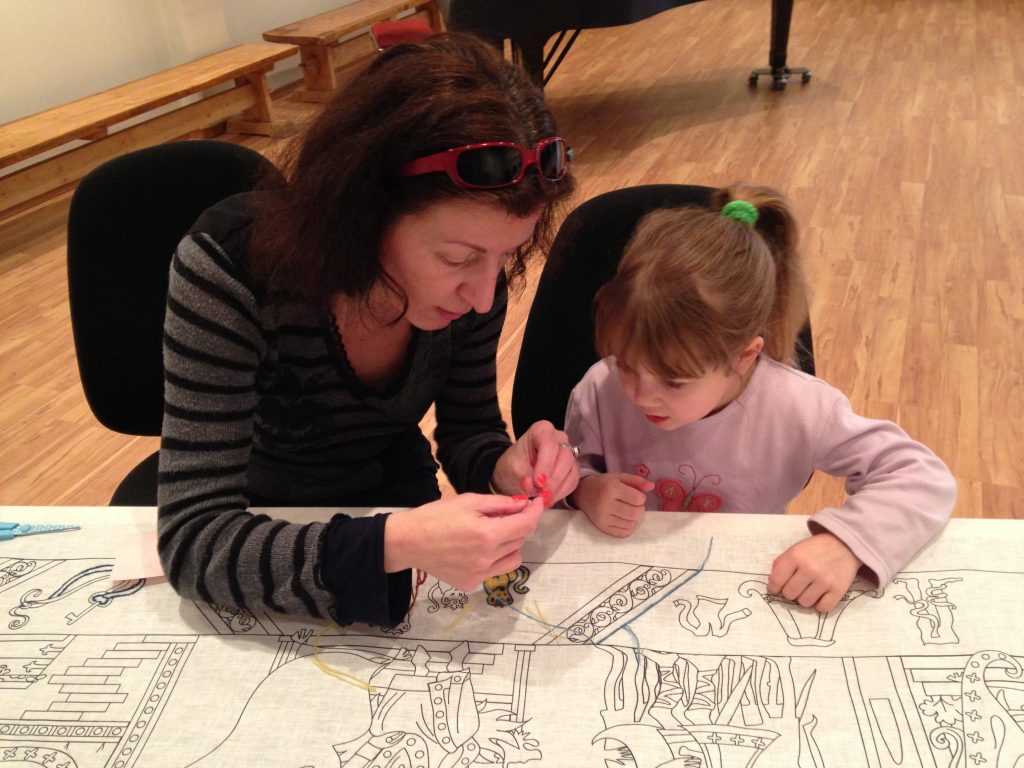 Inspired by the famous tapestry in Bayeux, Kristín has printed 91.5 metres of canvas with scenes and pictures of the Njálssaga and titled them with original quotations. The beautiful figures and ornaments are now waiting to be stitched by diligent hands. Finely spun Icelandic wool is used for the embroidery. It was dyed with native herbs and is impressive with its fresh colours.
1000 years – 1000 hands
The project is ambitious. It might take 1000 hands to transform this 1,000 year old story into vibrant images. Everyone is invited to help in the project. Needlework artists sit next to members of bowling clubs, riders alongside hikers and managers. Whether you can only spare one hour, or want to spend a rainy afternoon in the cosy embroidery workshop, whatever country you may come from and whatever language you speak, you are welcome to join in and help.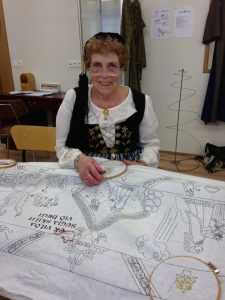 Images and colourful woollen threads are connecting people of all nations and encouraging mutual awareness and storytelling – just as in the days of Njal, when people shared stories in the Viking halls. Is there a more enjoyable way to meet local people in a relaxed atmosphere? The impressive canvas roll rests on an easel and reveals only ten metres of Njálssaga – the work for all 2013. Each year ten metres of embroidery are scheduled to be completed. Be part of the project!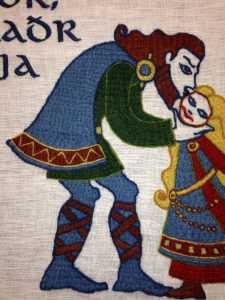 Time travel with happy end
The Museum in Hvolsvöllur is a place for time travel. You can visit the exhibition of the Icelandic merchant's association, or lose yourself in the maze of the saga exhibition.
The latter especially tickles your senses by mixing an audio guide with meaningful replicas, like the clothes and weapons of Viking times, and with overwhelmingly expressive paintings of selected scenes of the saga.
Take a deep breath when leaving the exhibition and relax in the museum café, built in Viking style. Take your time with a coffee or hot soup to catch up on the experience again and enjoy the photo exhibition in the hall.
Young local artists are presenting their personal focus on Iceland. And maybe you will happen to be there when the next concert takes place. A programme can be found on the museum's website.