A Vibrant Urban Market
Healthy Living in the Heart of Reykjavík
A visit to LIFANDI Markaður organic grocery is a truly sensory experience. The shop's inviting atmosphere is enhanced by warm textured wood, the scent of exotic spices and the gentle flicker of candles in the restaurant. Judging by the rush at lunchtime, LIFANDI Markaður is very popular with locals seeking fresh and wholesome fare, served with a smile.
Eat Like a Local
Shopping in LIFANDI Markaður will invariably make you hungry, so it's a good thing that the grocery portion of the store is partnered with a casually chic restaurant which prides itself on using the highest quality raw ingredients available. The reasonably-priced menu changes daily, and chefs are encouraged to improvise so that each dish incorporates the freshest foods on hand that day. Every menu includes an enticing vegan or vegetarian option as well as meat or fish dishes, and ingredients are listed so that anyone with allergies or intolerances can enjoy their meal without worry. For folks on the run, LIFANDI Markaður provides delicious sandwiches, wraps, and energy bars, as well as hot takeout meals, all ready in biodegradable or compostable packaging. Even the takeout utensils and smoothie cups are made of corn plastic, so eating on the go can be fast, flavourful, and environmentally friendly.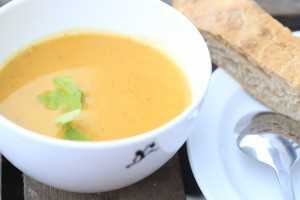 Newly Opened Breakfast Bar
On weekdays from 7:15 to 10:00 am, LIFANDI Markaður offers several scrumptious breakfast options including greek yogurt with fruit, chia pudding, and scrambled or poached eggs along with grilled tomatoes, halloumi cheese and fresh sourdough bread, baked in-house daily. An organic oatmeal buffet is also on hand, with all sorts of tasty toppings. A power breakfast wouldn't be complete without LIFANDI Markaður's own Green Thunder smoothie, packed with mango, spinach and an energising burst of ginger. Open until 8:00 pm during the week, LIFANDI Markaður's wonderful staff promise their clientele exciting and nutritious choices for breakfast, lunch and dinner.
The Traveler's One Stop Shop
Centrally located in Reykjavík at Borgartún 24 and walking distance from downtown, LIFANDI Markaður provides tourists and locals alike with one of the widest varieties of certified organic and ethically sourced products in Iceland. Whether stocking up on supplies for your holiday apartment or grabbing food to take on the road, travellers can be sure to find an impressive range of the highest quality natural products—everything from fresh produce and baked goods to cosmetics, baby food and bulk organic nuts and dried fruit. Foodies will appreciate the many locally produced Icelandic specialties which include organic lamb, birch and angelica teas, lupin-infused juices, sea salts and creamy cheeses. Visitors to Reykjavík will discover that maintaining a healthy lifestyle away from home is easy at LIFANDI Markaður—the "living market" for people who really like to live well.
-MJA
LIFANDI Markaður
+354 585 8700
www.lifandimarkadur.is
Borgartún 24 • 105 Reykjavik