Hótel Húsafell
Welcoming guests from all over the world
Surrounded by powerful glaciers and beautiful sights
The magnificent two-story building of Hótel Húsafell is located in an area characterised by rich history and natural wonders such as lava formations, mountain springs, hot water, rushing glacial rivers and extraordinary animal and birdlife.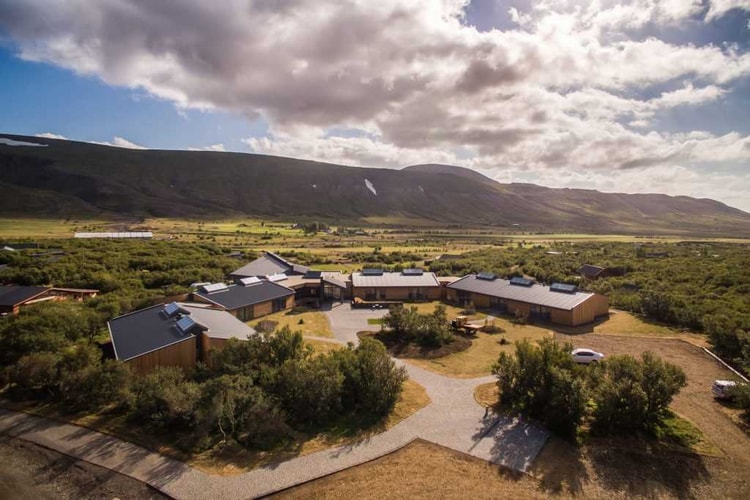 Luxury All Around
Opening their doors to visitors from around the world, Hótel Húsafell did just that on the 15th of July 2015.  Designed as an outdoor activity centre for the Borgarbyggð area, the building offers facilities servicing hikers and others involved with activities such as caving, angling and glacier tours. Connected to a square that opens to the swimming pool, the golf course, the service centre, and the bistro, Hótel Húsafell also offers an exciting location for meetings and conferences. On either side of the centre are two buildings with thirty-six spacious rooms, including six deluxe rooms, each with a living room, grand bathroom, shower, double sink and bath tub.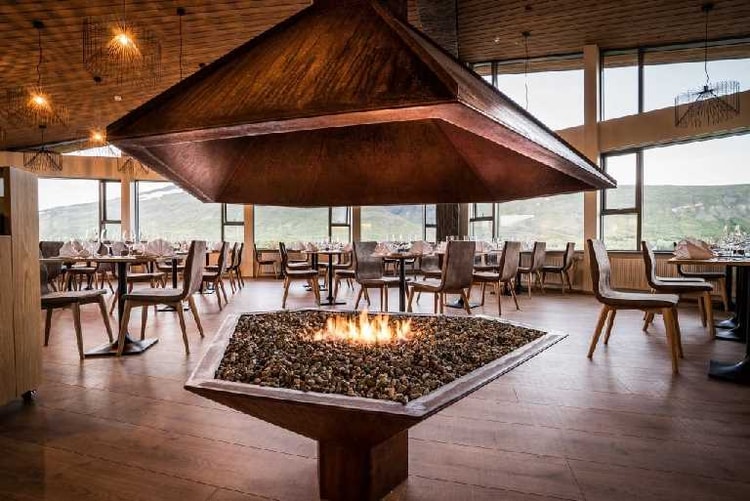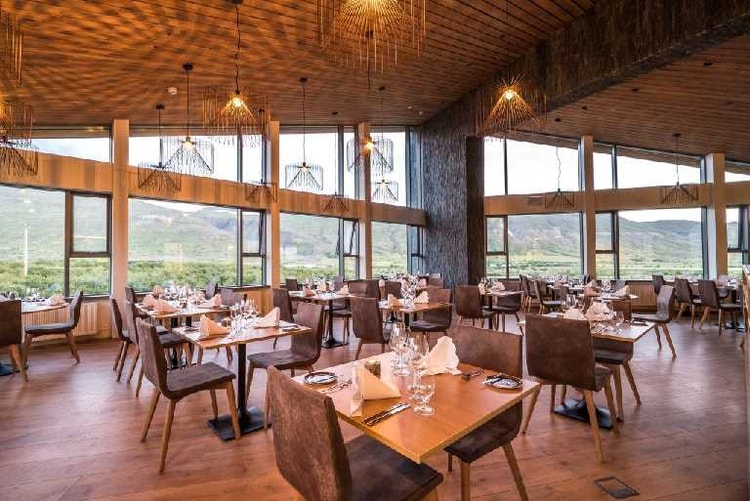 Hótel Húsafell only uses 100% pure energy produced on the site. The electricity comes from small hydro power plants which are driven by crystal clear spring water. Additionally, the hot water heating up the hotel and geothermal baths comes from nearby mountains. Guests are encouraged to benefit from this natural wonder by soaking in the steaming water, as this long-held Icelandic tradition
will leave everyone feeling fresh and completely invigorated.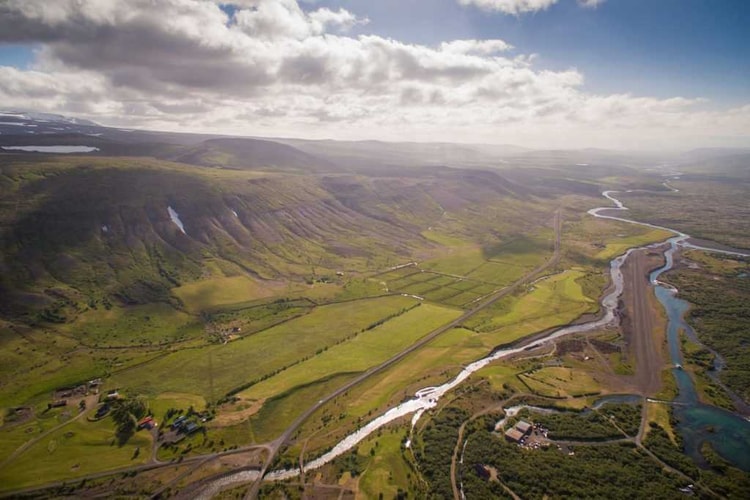 Húsafell Area
Known for its mild weather, the region offers surroundings and activities which cater to all groups of people; regardless of whether guests prefer to relax, have an action packed adventure or spend time with family outdoors. The land of Húsafell reaches up to the Eiríksjökull and Langjökull glaciers and stands in the middle of the Hallmundarhraun lava field which was formed in an eruption in 930. The place is sheltered and often enjoys good, mild weather. The unusual Hraunfossar waterfall, with pristine, clear water flowing from the lava into the Hvítá River, and the powerful Barnafossar falls are close by. There are interesting lava tubes in the lava which can be visited and many good walking paths in the area. Some are marked on a map in the service centre. In the hinterland is Arnarvatnsheiði, an area with abundant good fishing lakes and the remote Kaldidalur valley connecting Húsafell to Þingvellir National Park. A short distance away is the centre for glacier activity in Langjökull. Fancy marrying in an amazing ice cave? That can be arranged!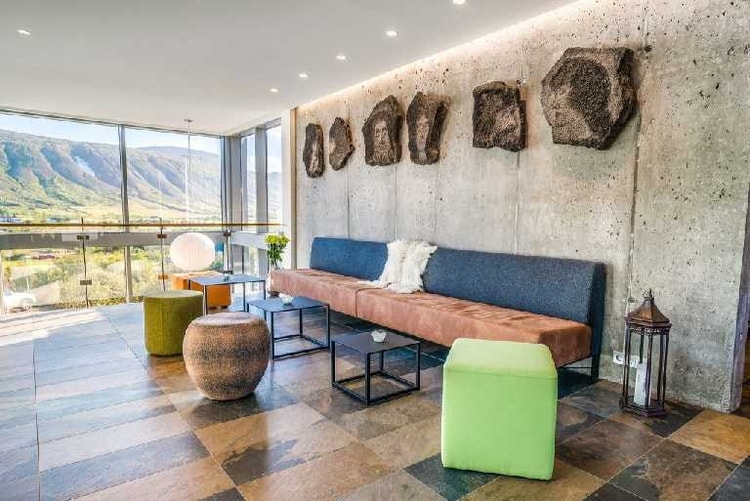 Musical Art in Stone
For those interested in Icelandic art and music, the artist Páll Guðmundsson lives and works on the premises. He has carved many faces on rocks in the gorge behind the farm and with his amazing ability to work with stones, he even worked with the Icelandic band Sigur Rós as a musician – with a unique idiophone, a large xylophone-like instrument he made of stones and is called Steinharpa.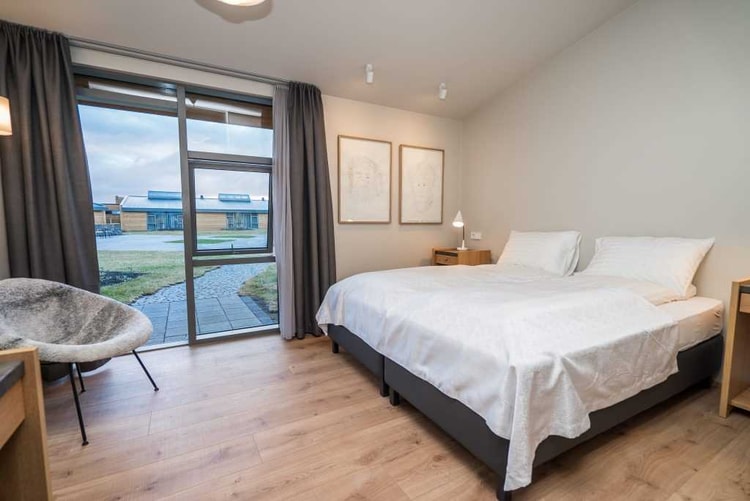 Location and Hours
The hotel is located an hour and forty minutes' drive from Reykjavík while the drive from Keflavík airport is about two hours and twenty minutes. Wireless internet is free for guests at the hotel and breakfast is served in the restaurant from 8:00 to 10:00 am. The restaurant is open from 8:00 – 10:00 am, 11:30 – 18:00 pm and 18:00 – 22:00 pm. Then the bar is open from 11:00 pm to midnight. Geothermal baths and hot tubs are on the premises, free of charge and open all day for hotel guests – even open outside formal hours upon request!
Hótel Húsafell, truly an amazing experience surrounded by Icelandic nature at its greatest.          – SP
Hótel Húsafell