Imagine Peace on Viðey Island
Elding Tours
From October onwards, a giant beam of light will tower above the Reykjavík skyline serving as a reminder that peace on earth is a goal we must never lose sight of. The tower is the conceptualization of renowned artist Yoko Ono and is dedicated to her late husband John Lennon, one of the most beloved musicians of all time and an eternal advocate for world peace. The tower will be lit on John Lennon's birthday, 9th October, and will remain lit until the date of his death, 8th December. The Tower consists of 15 searchlights with prisms that act as mirrors, reflecting the column of light vertically into the sky from a huge "wishing well," which has the words "Imagine Peace" inscribed on it in 24 languages.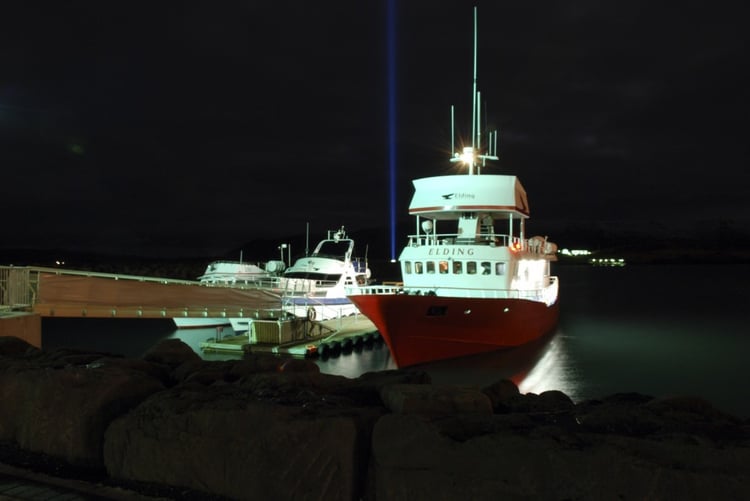 At the tower's unveiling Ono remarked that she hoped that the tower "will give light to the strong wishes of World Peace from all corners of the planet and give encouragement, inspiration and a sense of solidarity in a world now filled with fear and confusion." Elding Reykjavik Whale Watching now offers you the unique chance to visit the tower and the beautiful island on which it is located.
Viðey is less than two square kilometers in size, but makes up for its small size with rich history and beautiful scenery. In the Videyjarstofa restaurant you'll have a chance to experience the island's historic atmosphere while you enjoy the refreshments there is on offer. Elding offers daily guided tours to the Peace Tower in Videy, where you'll visit the tower's base and enjoy stories about its creation, concept and inner workings, a unique chance to visit one of the most ambitious art pieces in the world first hand. For those who want to get the full John Lennon experience, be sure to ask about the Lennon tribute in Viðey on selected dates between October and December – a truly unforgettable evening where Lennon's music and culinary preferences are united into one spectacular show. Some of Iceland's finest musicians will perform a number of Lennon's most beloved hits while you enjoy unique dishes prepared with Lennon's favourite ingredients based on his lyrics and lifestyle. The night will be completed with a journey through the life of Lennon and Ono and their continuing campaign for world peace.
Elding also offers you the unique chance to visit some of the earth's largest mammals just a few minutes sail from downtown Reykjavík. Don't let the cold weather deter you – the whales are worth it, and besides, Elding provide you with warm overalls. For further information and booking visit www.elding.is Tel: +354 555 3565
Imagine Peace in Viðey Island