Þjóðólfur and Þuríður the Strait-filler in beautiful Bolungarvík
Bolungarvík is a thriving fishing town in the outer reaches of Ísafjarðardjúp, on the western shore. The community received its town charter in 1974 and the population is now more than 1,200. The bay (Icelandic: vík), from which the name of the town is derived, faces northeast and stretches from Óshyma in the south to Traðarhyma in the north. To the west of Bolungarvík is Stigahlíð, where steep slopes and cliffs make the terrain hard to traverse. Two grassy valleys lead back from the bay, with Mt. Emir above. At the mouth of these valleys stands the estate and church site of Hóll, formerly an important manor. The landscape of Bolungarvík is spectacular, with abundant vegetation in some areas, and there is an impressive view across Ísafjarðardjúp to Grænahlíðar, Jökulfirðir, Vébjarnarnúpur and Snæfjallaströnd.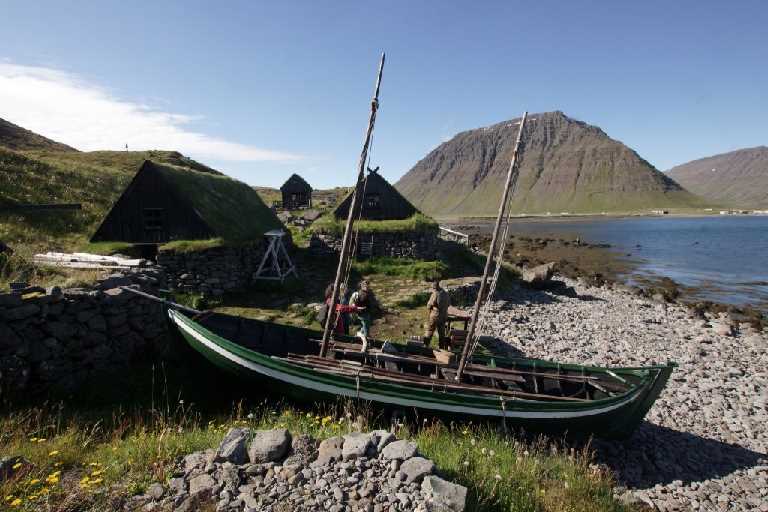 Bolungarvík is believed to have been a seasonal fishing centre from the earliest days of Iceland's history, thanks to its proximity to rich fishing grounds. In times past, fishermen's huts stood there in clusters, but permanent habitation did not develop for a long time. It was only after Bolungarvík became a trading post in 1890 that people began to settle there permanently. The hamlet was licensed as a trading centre in 1903, and in 1911 harbour construction commenced. The local economy has been largely based on the fishing and fish­processing industries, although there have also been other enterprises. While today's fisheries employ state-of-the-art technology, Bolungarvík also offers the opportunity to learn about the old ways: a replica of an old fishing station has been built at Ósvör, showing how fishermen lived and worked in the days of the rowing boat. Reconstructions of a fishermen's shelter, fish-drying shack and salting shack have been built, along with other items connected with fishing in the past. At nearby Gil in Syðridalur, where lignite (brown coal) was mined for fuel in 1917-21, traces can be seen of old mine-workings.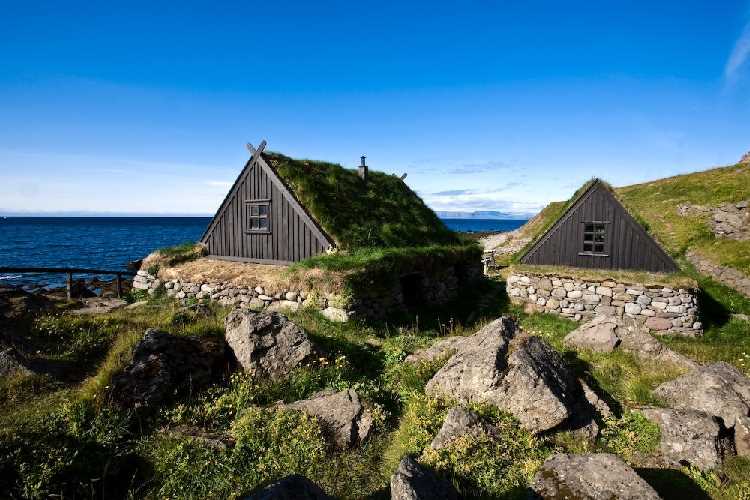 In the past, Bolungarvík was isolated and difficult to reach except by sea. The community became more accessible when the Hnífsdalurísafjörður road via Óshlíð was opened in 1950. This road, however, is a hazardous one, due to the risk of falling rock and avalanches from the slopes above, and it is constantly being repaired and improved.
Another road leads from Bolungarvík via Skálavíkurheiði to Skálavík, a community which is now only inhabited in summer. Skálavík has a long and interesting geological history: some of Iceland's oldest rock strata have been found there, dating back 15-16 million years.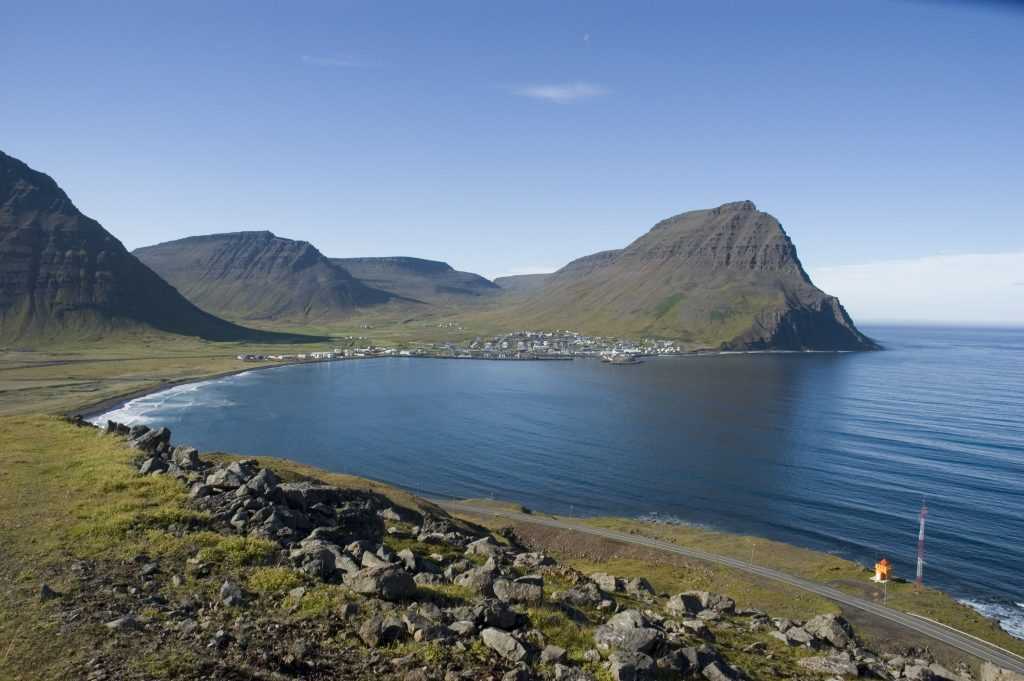 Landnámabók (the Book of Settlements) tells of Þuríður sundafyllir and Völu-Steinn, her son, who came from northern Norway and settled at Bolungarvík. Þuríður had remarkable powers, and it is said that before she left Norway, during a time of famine, she cast a spell that filled all the straits with fish, hence her sobriquet sundafyllir (Strait- filler). The following folk tale tells of her relations with her brother Þjóðólfur.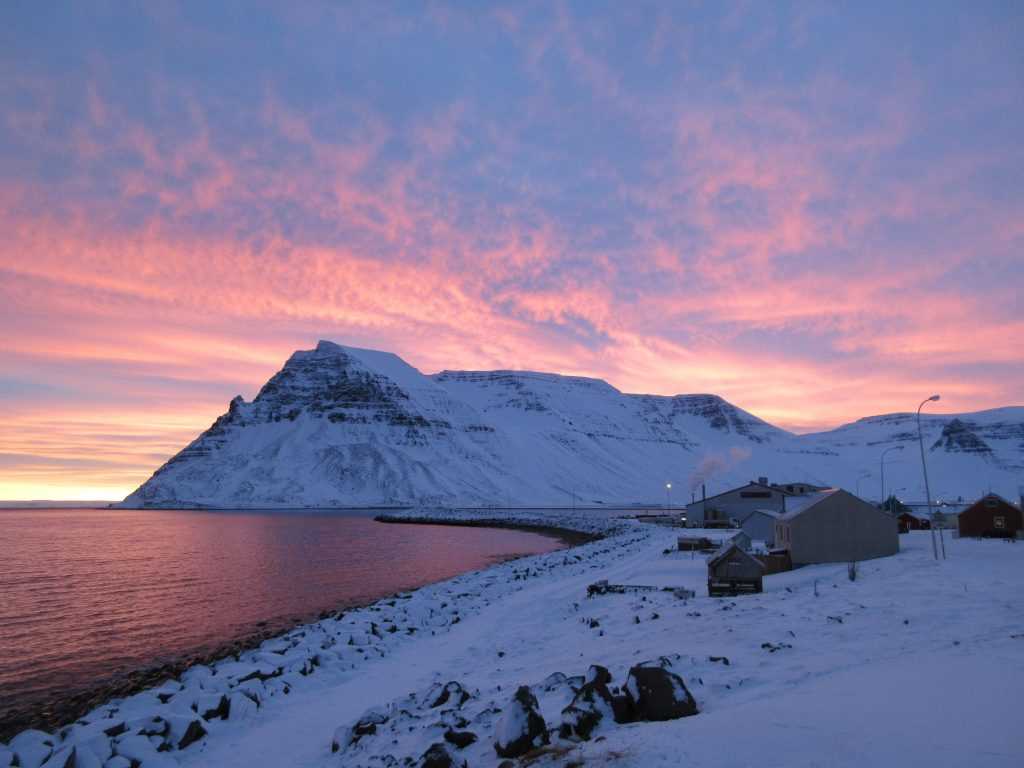 The Hólsá river rises in the Tungudalur valley in Bolungarvík and flows a short distance before reaching the sea in the middle of the bay. At the top of the bay, north of the river, is a farm with fine buildings, which some say was named Þjóðólfstunga. For Þuríður the Strait-filler had a brother named Þjóðólfur. He asked Þuríður to give him a piece of land at Bolungarvík, and she allowed him as much land as he could fence in a day. He set off and built a wall from Stigi, intending to fence off Hlíðardalur and Tungudalur, but got no farther than the middle of Tungudalur that day. Traces of the wall can still be seen. Þjóðólfur laid claim to both valleys, but Þuríður claimed she owned the valley that was not fully fenced off, and she expected him to submit.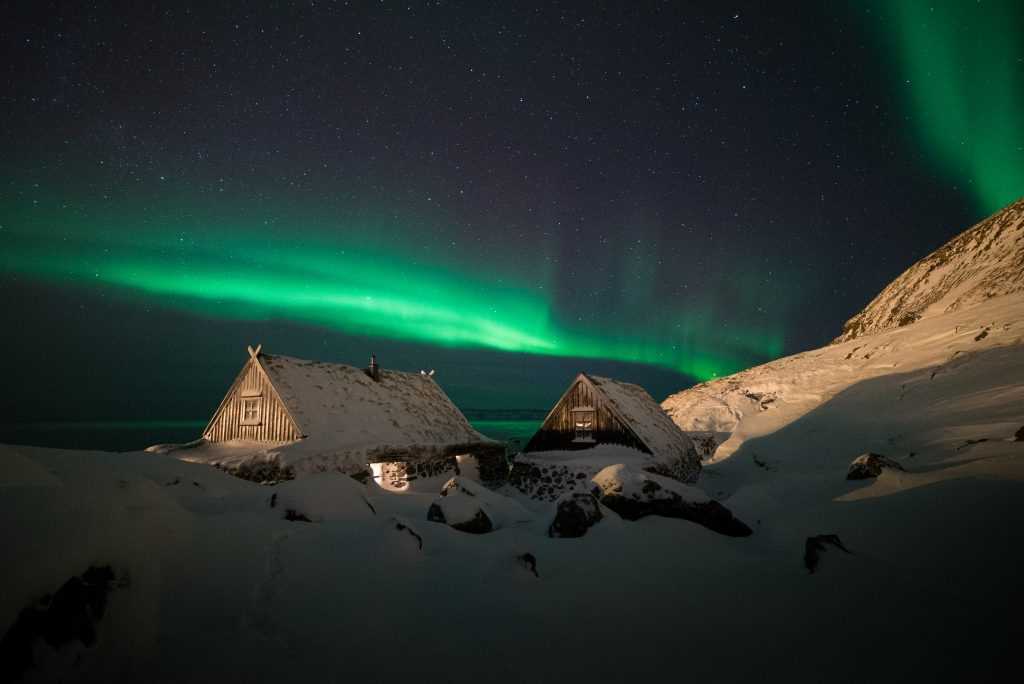 Þjóðólfur was very displeased and wished to avenge himself by stealing an ox that Þuríður kept at Stigahlíð. She noticed him there and chased after him, but he took the beast and tried to lead it home.
They met at Ófæra. She immediately fell upon him and tried to take the beast away, but without success. Now she was so angry that she cast a spell upon him, that he should be turned into a rock in a place where multitudes of birds would leave their droppings. He retorted that she should become a rock in the place where the strongest winds blew – and since then she has stood at the top of the northern point of Óshlíð, as may clearly be seen.
As for Þjóðólfur, he turned to stone and fell down into the sea, where he landed on a rock that stood out of the water. The rock was generally clustered with birds and was called Þjóðólfur. This rock remained there until the autumn of 1936, when it vanished in calm weather one night, leaving no trace.
The people of Bolungarvík remembered Þjóðólfur for a long time and knew exactly where it had been, as it had stood alone and they passed it every time they went to sea.
They say that the sea is so shallow there that the rock could not lie in the sea without being seen. And so they believe that the rock vanished because the spell had reached the end of its term.
Traces of where Þjóðólfur stood are clearly visible on the skerry: the rock was over five fathoms across at the base. And this is the end of the story of the siblings Þjóðólfur and Þuríður the Strait-filler, and their fate. 
A Traveller's Guide to Icelandic Folke Tales
Text by. Jón R. Hjálmarsson