Spring in Snæfellsnes
See more than Jules Verne even dreamt of
Where do you begin? There are so many places to see and so many tours that Reykjavik Excursions offers that it would take weeks to see everything! In this article, I'll take a look at some of my favourites: trips to the Snæfellsnes peninsula. Even here, there are 2 different tours to take. They are full-day trips, leaving at 8 am, with a pickup from your hotel about half an hour earlier.
500 km of secrets revealed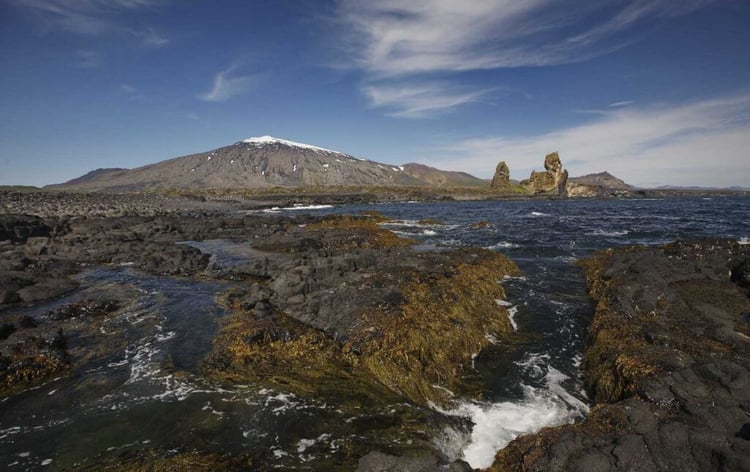 Snæfellsnes peninsula is a nature lover's paradise. When I took this tour, I thought I'd already seen it all. I've been there many years. What more was there to see?
I learnt that there's always more. Iceland is full of hidden gems and, for the nature lover, this tour is no exception. I saw more than I had ever seen driving myself. Through the inspired direction of the tour guide, I enjoyed more history, geography, botany, biology and geology than I thought possible. This was a veritable university of life course that was both fun and instructive. I came back with so many photos and memories.
Just off the main road there's a spot to see the geese swimming, another reveals a cliff face where many varieties of birds nest, swoop and plunge around you and yet another where the seals sun themselves. A shipwreck is reached through a gorge of moss-covered rocks.
The fishermen's proficiency test
If I pick up the 20 kg. stone, I'd be classed as 'useless'. Next is the 'weak' stone, the 'half strength' and 'full strength' stones used to test a man's fitness to be a fisherman on these wild seas. You get a good idea from these scenes of what life was like in previous centuries.
Then there's the stone giant – a sculpture both brilliant in its simplicity but powerful in its presentation, a reminder of the folk lore of the area.
This tour runs every Sunday in spring and three times a week in summer, with an extra stop for a taste of shark meat – enjoy!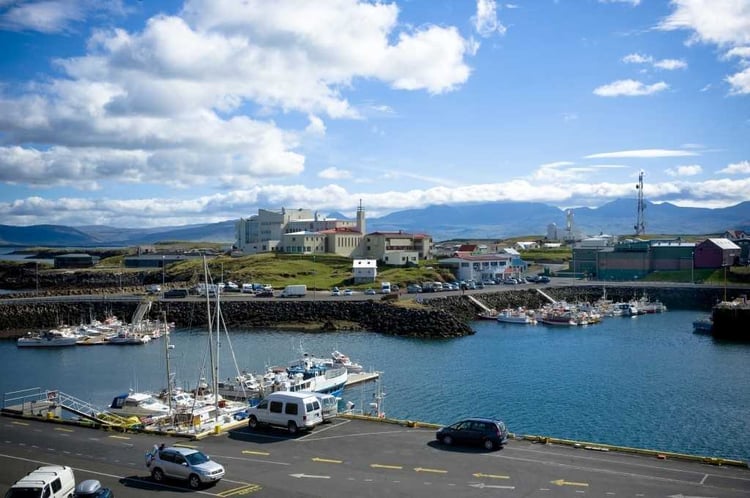 Summer specials
If you love the sea as well as the nature, the second tour takes you to Stykkishólmur where a specially-designed, modern boat awaits to take you out into the mystical Breiðafjörður Bay, with its countless islands, myriad bird life and the chance to sample the freshest of the fresh marine life in all its diverse forms.
Like the first tour, the trip to the boat is full of history and interest. The countryside is amazing and you will doubtless see landscapes totally foreign to your experience. Out in the bay, you will be able to get close to colonies of birds and see the special flora and fauna of the islands. Even some of these islands have a history that goes back centuries. On your return, the Shark Museum offers a snack of shark meat for free. Then it's on to see the seals and, if time permits, another couple of fascinating stops.
The Saga Circle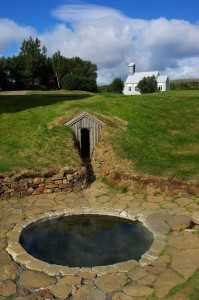 A third tour is the Saga Tour. For someone with an interest in history, this is perfect. Many have heard of and even read some of the Sagas. Here's where you step into that history and experience where a number of these Sagas were lived.
The Viking warrior and poet, Egill Skallagrímsson lived just outside the town of Borgarnes and the land has changed little since he lived. At the Icelandic Settlement Centre, there is an exhibition filled with interesting and dramatised scenes.
Then the tour moves to nearby Reykholt, the village where Snorri Sturluson lived from 1206 until his assassination in 1241. He was a man with many sides to his life. A lawmaker, poet, wealthy landowner, he wrote some of the most famous works of medieval times.
Snorrastofa has an excellent library. Snorri is considered to be the foremost historian and most significant poet of the Nordic region during the Middle Ages. He provides a unique insight into the life and times and his writing style marked a departure from the sterile writings of the period.
The beauty of the countryside cannot be overlooked and the tour visits the
Hraunfossar waterfalls and the largest hot spring in the Northern Hemisphere, Deildartunguhver.
Your camera will get a workout on these tours, so be sure you have a full battery and an empty memory card.
An article of this size cannot do justice to all that these tours offer. You will find many more on their website. What is certain is that they will fill your holiday with experiences you would never get sunbathing on a beach!
Reykjavik Excursions
BSI Bus Terminal • 101 Reykjavík
+354 580 5400
[email protected]
www.re.is