Vatnajökull National Park
Vatnajökull National Park, established in 2008, encompasses not only all of Vatnajökull glacier but also extensive areas surrounding it. These include the national parks previously created at Skaftafell in the southwest and Jökulsárgljúfur in the north, so that the national park now covers 13% of Iceland and ranks as Europe's largest.
In general, national parks are protected areas that are considered unique because of their nature or cultural heritage. The unique qualities of Vatnajökull National Park are primarily its great variety of landscape features, created by the combined forces of rivers, glacial ice, and volcanic and geothermal activity.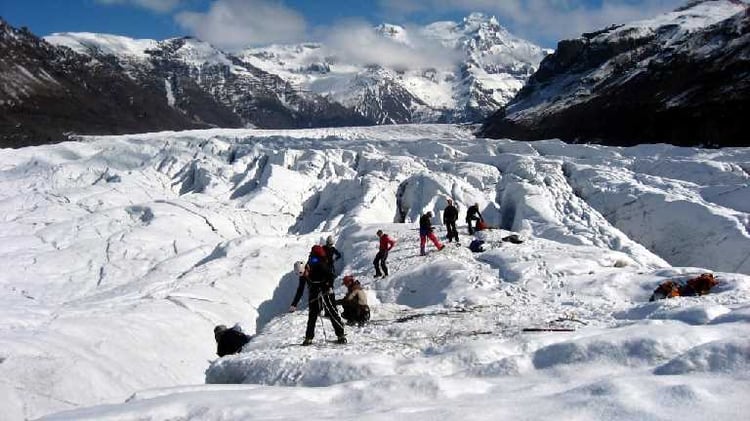 Vatnajökull is Europe's largest glacier, with a surface area of 8,100 km2. Generally measuring 400-600 m in thickness and at the most 950 m, the glacial ice conceals a number of mountains, valleys and plateaux. It even hides some active volcanoes, of which Bárðarbunga is the largest and Grímsvötn the most active. While the icecap rises, at its highest, to over 2,000 m above sea level, the glacier base reaches its lowest point 300 m below sea level. Nowhere in Iceland, with the exception of Mýrdalsjökull glacier, does more precipitation fall or more water drain to the sea than on the southern side of Vatnajökull. In fact, so much water is currently stored in Vatnajökull that the Icelandic river with the greatest flow, Ölfusá, would need over 200 years to carry this quantity of water to the sea.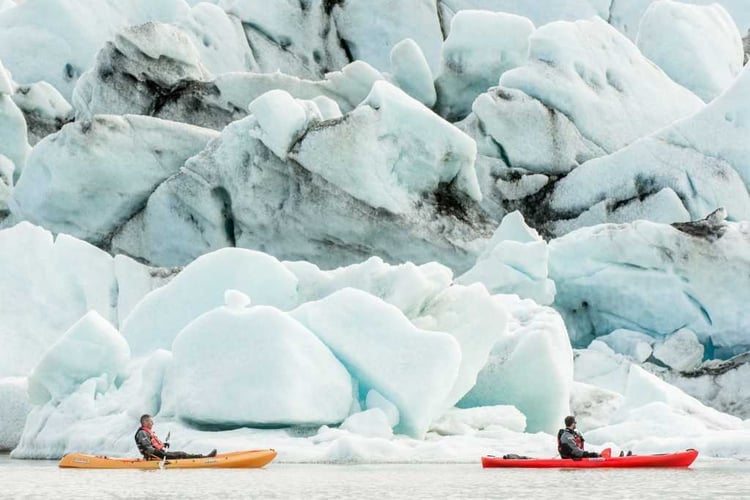 The southern side of Vatnajökull is characterised by many high, majestic mountain ridges, with outlet glaciers descending between them down to the lowlands. The southernmost part of the glacier envelops the central volcano Öræfajökull and Iceland's highest peak, Hvannadalshnúkur. Sheltered by the high ice, the vegetated oasis of Skaftafell overlooks the black sands deposited to its west by the river Skeiðará. These sands are mostly composed of ash that stems from the frequent eruptions in Grímsvötn and is carried to the coast by jökulhlaup, or glacial floods. Substantial volcanic activity also characterises the landscape west of Vatnajökull, where two of the world's greatest fissure and lava eruptions in historical times occurred, at Eldgjá in 934 and Lakagígar 1783-1784. Vonarskarð, northwest of the glacier, is a colourful high-temperature area and a watershed between North and South Iceland.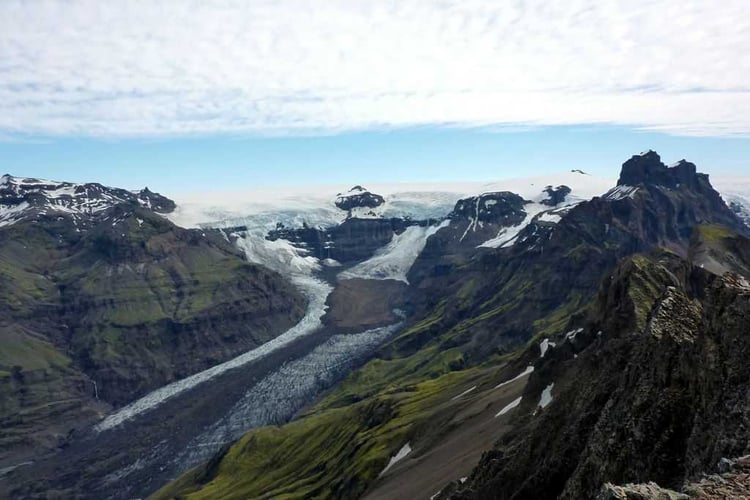 Preservation objectives
The objectives of designating Vatnajökull as a preservation area, along with the main regions it affects, are the following:
•    To protect the nature of the region, including the landscape, biota and geological formations, as well as cultural features
•    To allow the public to get to know and enjoy regional nature, culture and history
•    To provide education on nature and nature conservation and on regional history, society and cultural features, as well as encouraging research to gain greater knowledge of these aspects
•    To strengthen communities and business activity in the vicinity of the park.
Visitor centres and other tourist information offices working with the park
Visitor centres and other tourist information offices working with the park provide information and services for the park and its immediate environment. The following offices are situated along the south coast of Iceland:
Skaftá Visitor Centre | Kirkjubæjarklaustur | open during the summer
Skaftafell Visitor Centre | Skaftafell | open all year*
Skálafell farm | Suðursveit | varying hours – all year
Hólmur farm | Mýrar | varying hours – all year
Hoffell farm | Nes | varying hours – all year
Höfn Tourist Information Centre | Höfn | open during the summer
* Closed on December 25 and January 1.
Nature highlights
Eldgjá
The eruptive fissure Eldgjá is to be found between Kirkjubæjarklaustur and Landmannalaugar. Eldgjá is a 40 km long eruptive fissure, 600 m wide in many places, and up to 200 m deep, formed in a gigantic eruption in 934. From Eldgjá, extensive streams of lava have flowed through Landbrot and Meðalland, reaching the sea at Alviðruhamrar in Álftaver. The lava-field is believed to cover 700 km², which makes it one of the largest lava-fields on earth since the last ice age. Eldgjá is considered to belong to the same crater system as the Katla volcano. Eldgjá is a unique natural phenomenon and is listed as a natural remnant.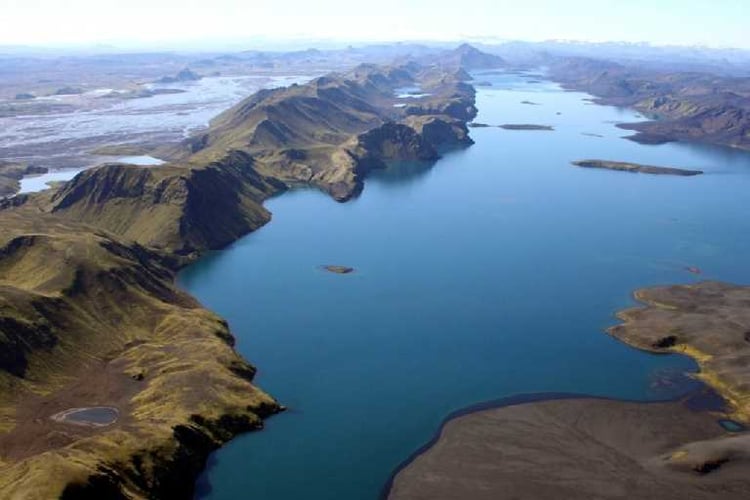 Langisjór
Langisjór is a lake, 20 km long and 2 km wide in some places. The lake lies to the southwest of Vatnajökull, between the Tungnárfjöll and Fögrufjöll mountains, in a beautiful and picturesque landscape. Its area is 27 km². It reaches a depth of 75 m and the water surface is 670 m above sea level.
Lakagígar
Lakagígar is a row of craters, formed in one of the world's largest mixed eruptions in recorded history. This continuous series of eruptions emitted a vast quantity of lava and substantial amounts of volcanic ash from a fissure stretching 25 km across the area west of the ice cap. The craters are regarded as a globally unique phenomenon and are as such a protected natural monument.
In 1783, a huge lava flow streamed from Lakagígar in what became known as the "Skaftá Fires." This is believed to have been one of the greatest lava flows in a single eruption in the history of the world: the molten lava filled the gorges through which the Skaftá and Hverfisfljót rivers flowed, and swept down in two branches into inhabited areas, to spread over the lowlands where it laid waste many farms. The eruption produced large quantities of volcanic ash. For residents of the region, and Iceland as a whole, the results of the eruption were catastrophic: this time is known as "Móðuharðindin" (the Haze Famine).
Skaftafell
Scenic nature, favourable weather conditions and a network of hiking trails make Skaftafell an ideal destination to enjoy outdoor activities in the Icelandic nature. Short and easy trails lead to the Svartifoss waterfall and Skaftafellsjökull glacier, but for those who want to reach further out, Morsárdalur valley and Kristínartindar mountain peaks are perfect as regards distance and toil. Skaftfell is also the perfect base camp for those who seek to climb Iceland's highest mountain peak, Hvannadalshnúkur.
Private travel companies operate in Skaftafell and offer guided hikes on the nearby glaciers and mountains. Also on offer are sightseeing flights over Vatnajökull glacier and other renowned attractions.
Heinaberg area / Hjallanes
Three major glacial tongues put their mark on the area that consists of Hjallanes and Heinaberg. It is rare to see glaciers so close to an inhabited area. Locals in Skálafell have marked a trail with information signs around Hjallanes that leads to Skálafellsjökull glacier. The Heinaberg area offers interesting sets of basalt columns in addition to the Heinabergsjökull glacier tongue and the lagoon. The valley Heinabergsdalur, 7 km long, leads to Vatnsdalur valley, which ice used to dam off and keep full of water. Nowadays, the view down into the valley is magnificent, since massive icebergs are often left stranded along its floor. It is not unusual to come across large herds of reindeer in this area.
Hoffell area
The Hoffell area consists of Hoffellsjökull glacier and the mountainous area next to it. These mountains are the remains of an old central volcano, which has been carved out and eroded by the glacier. Hiking trails cut through the mountains, with the gabbro mountain Geitafell serving as a starting point. The receding glacier has formed a deep lake in front of it with large blocks of ice floating in it. This is in stark contrast to the geothermal pools next to the road leading to the glacier.
Lónsöræfi / Stafafellsfjöll
The Stafafellsfjöll mountains dominate the skyline east of Vatnajökull glacier and have long included one of Iceland's most extensive protected areas, known as Lónsöræfi. Besides the deep, rugged canyons, the landscape displays a wide range of colours, due to rhyolite and other attractive rocks. In contrast, there are lushly vegetated, sheltered valleys, and a good chance of spotting reindeer. Numerous trails make this a perfect hiking territory.
A flight over Vatnajokull glacier, Iceland, in spectacular weather.
Music is from Movie, Crimson Tide. Roll Tide, composed by Hans Zimmer
See video here