Eiríksstaðir Museum, Dalir, West Iceland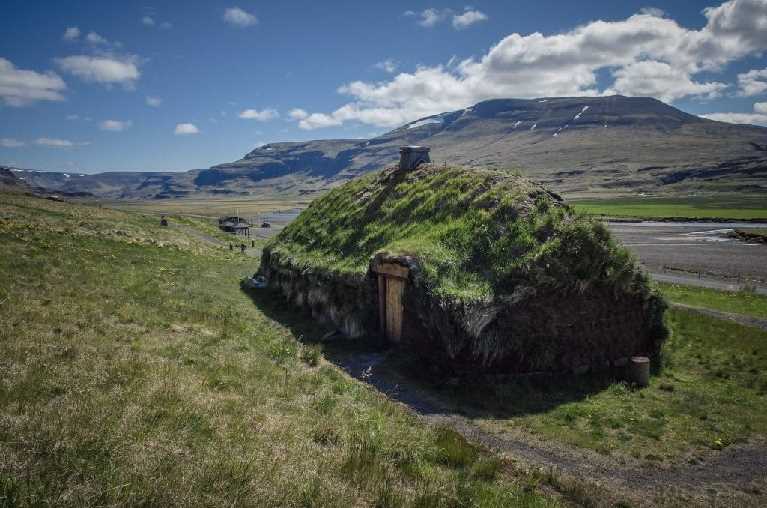 Step out of the present and into history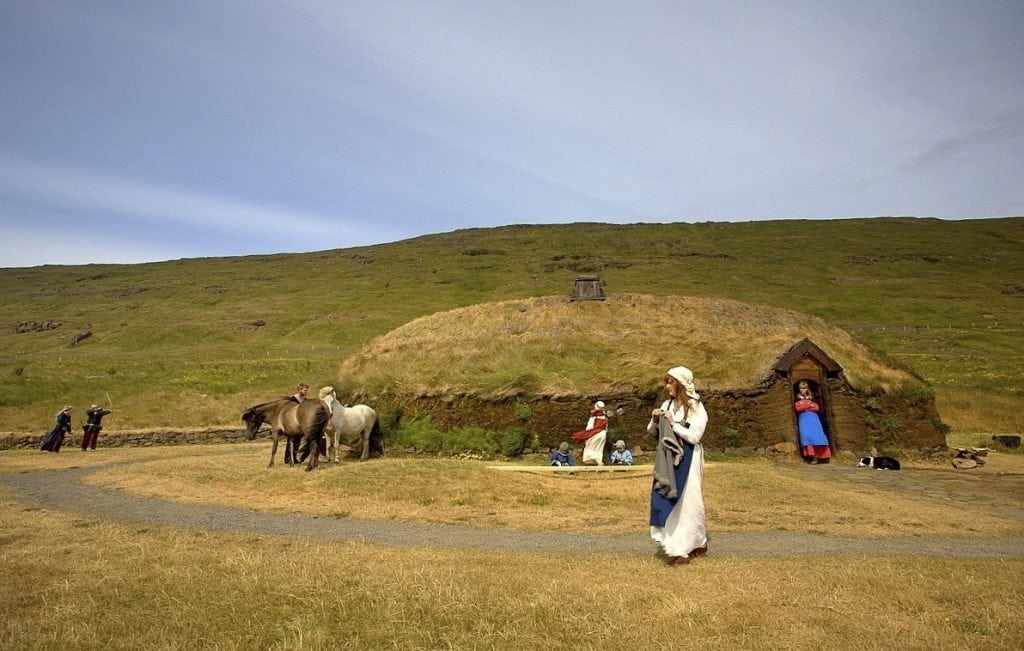 Eiríksstaðir, in Dalir, West Iceland is the site of the ancestral home of Erik the Red and his son Leifur, also known as "Leif the Lucky", who is believed to have been born here in the year 974.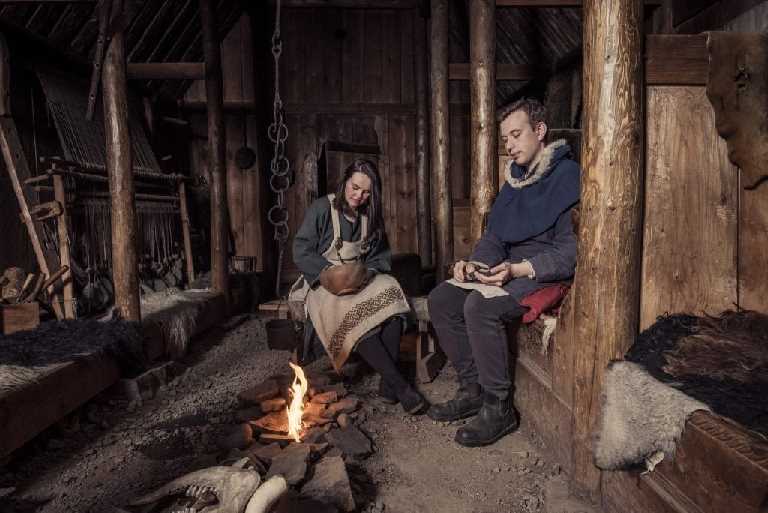 The story of the notorious Viking Erik, and his son Leifur, is recounted in the Icelandic sagas which chronicle some of their more well known exploits. It is believed that Leifur discovered the North American continent at L'Anse aux Meadows, (now part of Nova Scotia) around the year 1000, long before Christopher Columbus was born. Erik the Red is credited as being at the forefront of the settlement of Greenland, sometime between 980 and 990.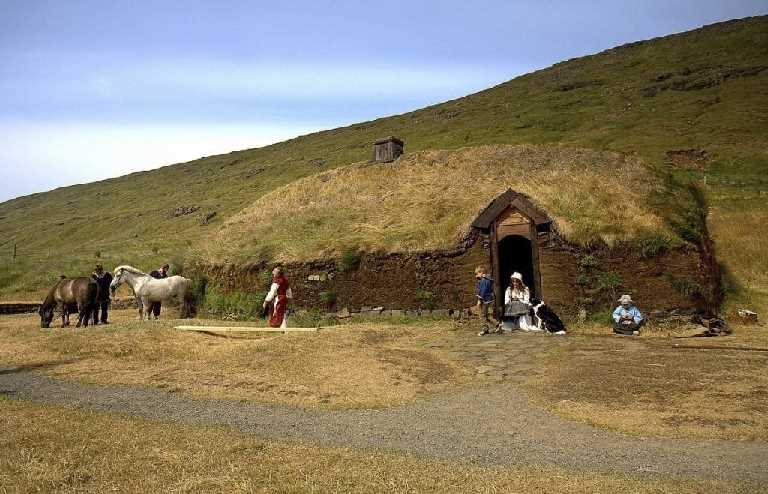 History comes to life
The 'living museum' at Eiríksstaðir is located on the very site where Erik's family once lived. Archaeological research at Eiríksstaðir in the mid-20th century and again between 1997 and 1999 unearthed the remains of a 10th century Viking longhouse. Ruins are still visible but a reconstruction of the longhouse has been built just 100 metres from the original site and it is here that visitors can immerse themselves in an age gone by.
A hands on experience
History comes alive as you warm yourself around the fire that blazes in the centre of the longhouse. Guides dressed in Viking garb recount tales about Erik and Leifur that are delivered in an informative, humorous and fun way. Children are enthralled by the lively storytelling and are afterwards invited to try on Viking costumes and practice with the swords and shields. The longhouse is furnished with everyday items that a 10th century Viking family would have used, including a working loom, eating implements, and ornately carved wooden beds. Built primarily of turf, driftwood and stone, using period tools and techniques, the longhouse is an exact replica based on archaeological research which is fascinating in and of itself.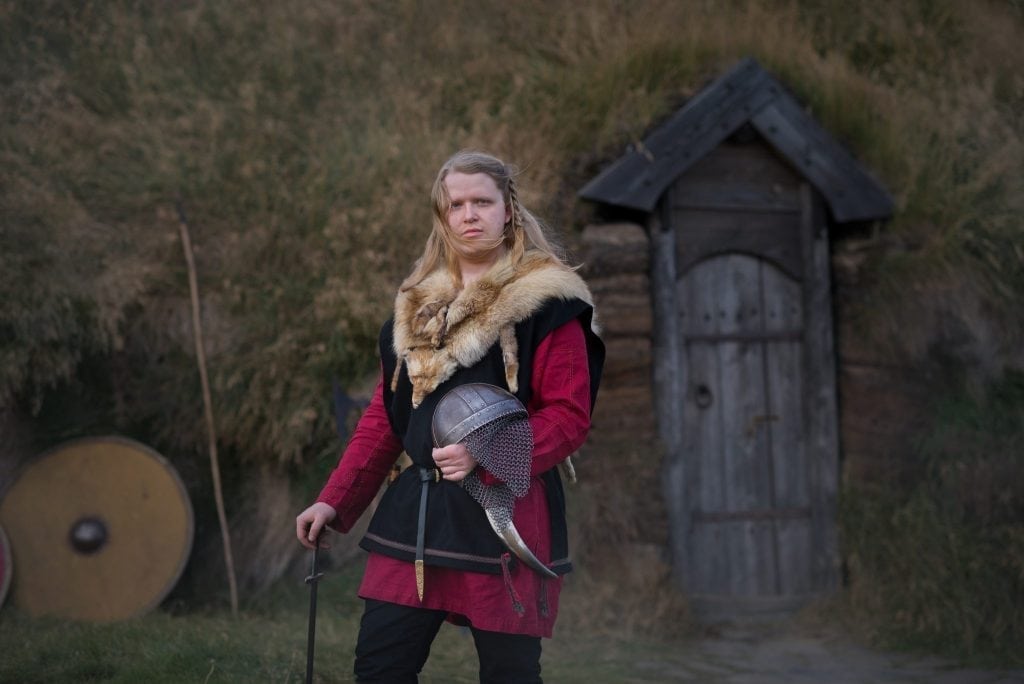 The museum is open every day from 9.00 to 18.00, from 1st June to 31st August or by appointment outside of those dates and hours. There are restrooms at the site, as well as a gift shop that carries hand knitted items, and a variety of interesting souvenirs.
Eiríksstaðir is located 150km north of Reykjavik, 1 hour from Borgarnes, 10 minutes from Buðardalur and a 10 minute drive from road 60 that leads to the Westfjords.
Eiríksstaðir
Haukadalur Valley by road 586
371 Budardalur
www.eiriksstadir.is
[email protected]
+354 8997111
-emv