Explore Art Up North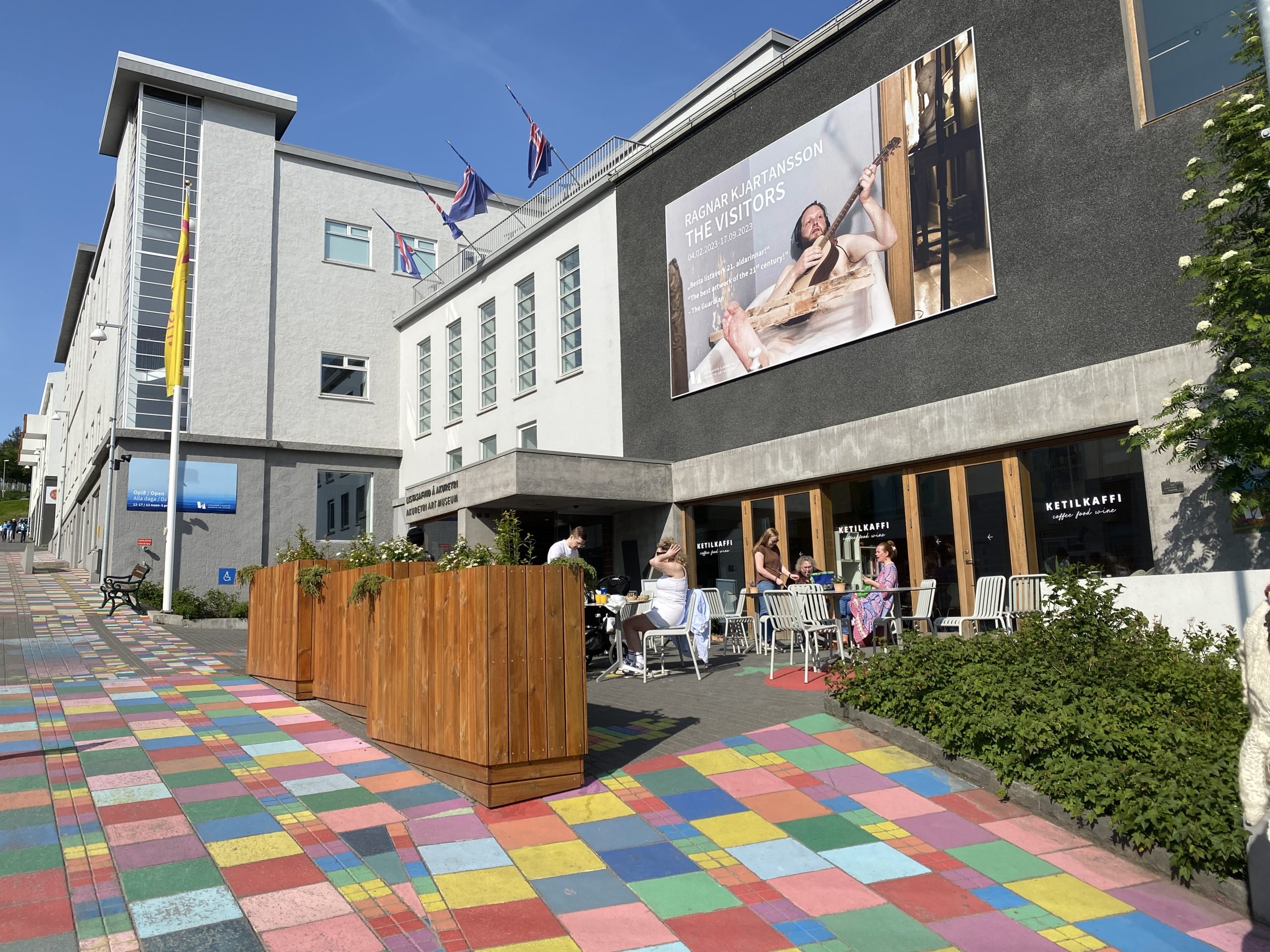 Akureyri Art Museum hosts exciting exhibitions throughout the year
Akureyri is commonly called Iceland's "second city," a moniker many of the town's 20,000 residents find amusing given its small size. Akureyri has its own personality, and it feels and looks quite different from Reykjavík, more low-key and relaxed than the capital city, with a booming art scene. Listasafnið Á Akureyri (Akureyri Art Museum) is at the centre of it all.
There's perhaps no better representation of Akureyri's art scene than the Akureyri Art Museum. The museum hosts numerous exhibitions during the year, including works from painters, sculptors, textile artists, and multimedia artists. Those featured range from well-known Icelandic artists to up-and-coming students attending art school in Iceland. The collections are fascinating and a must-see for art lovers.
The summer season is exquisite as currently on display until the middle of August is Ragnar Kjartansson's The Visitors, a film of friends and musicians gathered in the natural surroundings of a farm in Upstate New York. The location of the farm, mixed with the music, becomes a scene for what Kjartansson calls a feministic nihilistic gospel song. It's a multilayered portrait of the artist's friends and an exploration of film and music.
Meanwhile, Blood & Honor by Steinunn Gunnlaugsdóttir is also on display until mid-August. The work features four flags that flutter on flagpoles on the balcony of the Akureyri Art Museum. The flags are the result of an experiment where three factors were merged into one concept: the Icelandic national flag, the humorous font Comic Sans and the letters from the Icelandic alphabet that represent the sounds that people make when they feel pain: A, Á, Ó, Æ.
There are also works on display from the artists Ásmundur Ásmundsson, Inga Lísa Middleton, Sara Björg Bjarnadóttir, and Guðjón Gísli Kristinsson, among other artists.
Akureyri Art Museum has a rotating schedule of exhibitions carefully curated by the museum's staff. There is always something worthwhile to see at the museum, and this autumn/winter is no different. Locals and tourists can look forward to a primitive sculpture exhibition by Brynhildur Kristinsdóttir, opening in late August, paintings by Katrín Jósepsdóttir, intricate woodcuts by Dröfn Friðfinnsdóttir, work from Portuguese/Brazilian artist couple Hilda de Paulo / Tales Frey and a mesmerizing film and sound presentation by Sigurður Guðjonsson.
The museum is a lovely place to spend some time when visiting Akureyri. It's located in the heart of the town and is open 10:00-17:00 June to August and noon-17:00 September to May. For those looking for a more personal experience, there are guided tours every Thursday in English at 12:30.