Icelandic Times – Issue 16
The nights are long; the lights are bright and the snow is thick. Excited children gaze at Christmas lights and sing carols whilst mothers prepare for the biggest festival of the year. The smell of freshly-baked bread wafts down the street as the bakers bring out their special Christmas cakes and cookies. On the mountains, skiers of all ages thrill to the challenge of the slopes whilst whales jump alongside sightseeing boats as cameras click on board. All the signs of winter are here.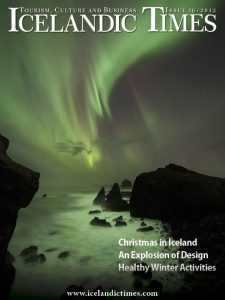 Since the Crash of 2008 which devastated many lives, there has been a strong resurgence of innovation, especially in the area of design. In one shop alone, 200 designers are displaying compared to only 30 just six years ago. The field of design is revealing both great talent and innovating use of a wide range of materials. In this issue we look at designers in all parts of the country.
The number of visitors to Iceland in winter is growing rapidly, as more people realise that it's as if they are seeing a new country.
Winter activities, from skiing to snowmobiling to cycling, from health spas to hiking to horse riding, from whale watching to glacier jeep tours to Northern Light coach tours provide visitors with a holiday packed with inspiration, energetic exercise and both spiritual relaxation and stress relief.
Iceland's winters are mild compared to much of Europe and North America making it more enjoyable—a pleasant break from home.
This winter brings the climax to the Northern Light cycle. Many tour operators offer special tours to see this fantastic phenomenon. There's not going to be a better time for years to come.
Christmas and New Year are celebrated with all the energy and gusto of a nation a hundred times its size.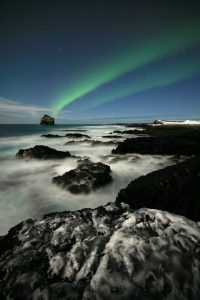 Christmas trees adorn squares, illuminating the surrounding area with their lights. The Advent period holds a tradition unlike any other nation. Iceland's own Yule lads come, one after another, on a daily basis. You can see them at the National Museum of Iceland and learn what each does. These are not your genial Father Christmases but the progeny of two ill-tempered trolls who failed to instil any discipline in their children.
Then there is their Christmas cat—bearing no likeness whatsoever to Rudolf the red-nosed reindeer in either character or demeanour.
Christmas is celebrated across the country in homes and churches with a lot of joy and happiness, as is fitting for the Saviour's birth.
New Year's eve is the biggest party of the year, which many come to enjoy from across the world, with massive fireworks displays.
Welcome to winter in Iceland and, on behalf of all the staff of Land & saga, may I wish you a very Happy Christmas and both a prosperous and inspiring New Year.
—Andrew Scott Fortune
Icelandic Times – Issue 16