ICELANDIC TIMES – ISSUE 39
Read all articles from Issue
Read PDF on Issuu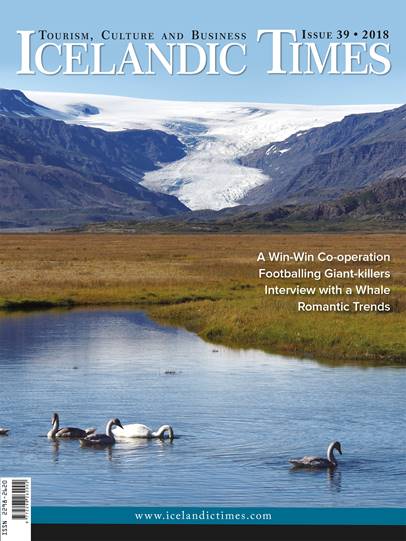 The birds are back—it must be summer! High up in the North Atlantic, this small island bursts into life. While a lot happens during the winter months, it's during the summer that Iceland blooms, roads to the Highlands are reopened and everything takes on a zest for life. As the warmth spreads north, you can almost see the grass growing, changing from brown to bright green, coating the land in its summer splendour. The sheep head for the mountains where the herbs they eat will give their meat a special flavour. They'll be there until September, when the Réttir, or sheep gathering festival takes place.
This is the season for outdoor festivals and fun above all. For some, trips to the glaciers—or even inside glacial ice caves are reminders of winter snows. Then sipping the unique local beers or cocktails and sampling the exquisite, internationally famous Icelandic cuisine, while sitting outside in the sun is an experience many look forward to after a day enjoying whale watching, horse riding, bathing in geothermal hot pools, visiting museums or sights around the country—or cosy cinema showings of Northern Lights in a converted fisherman's hut, to name a few.
Away from the capital, there are experiences to be kept in the memory for years to come, with sights unlike anything else in the world. Festivals are held in towns and villages around the country and are well worth the visit, joining the throngs of locals for high quality entertainment and great food.
This is the time that the sun barely sets and the sky is bright 24 hours a day. It's a time to be aware of Iceland's driving conditions for your safety. Camping in the nature in summer is very popular so, combining it with a festival, gives visitors the best of both worlds.
Visiting Iceland is so much easier now with Keflavik International Airport's expansion and streamlined flow—and you can shop both on arrival and departure! Wherever you are coming from, we welcome you to a wonderful experience in the Land of Fire and Ice!
Einar Th. Thorsteinsson
Managing Editor and Publisher