North Sailing: Whale and Puffin Watching Adventures on Traditional Icelandic Schooners
In Húsavík, North Sailing offers visitors to northern Iceland the chance to experience the rugged beauty of the Icelandic coast aboard authentic, traditional sailing ships. Owned and operated by brothers Hörður and Árni Sigurbjarnarson, North Sailing has been offering whale and puffin watching on sailing tours since 1995. Leaving the shore gives visitors a new perspective on the coastline and opportunity to see the marine life in and on the sea. These excursions are very popular with tourists and locals alike.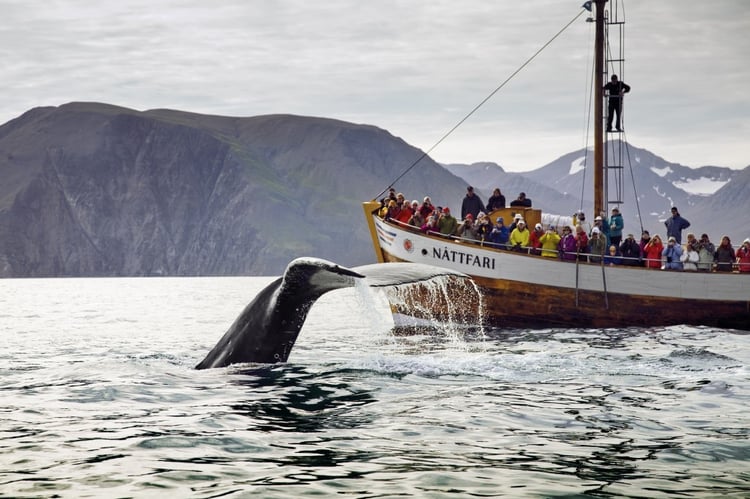 Combining a love of the sea with a passion for restoring old Icelandic oak boats, the Sigurbjarnarson brothers formed North Sailing. The company started out with one vessel, the Knörrinn, but as the popularity of the whale and puffin watching excursions grew, the brothers soon bought additional boats. In 2002, North Sailing introduced the Haukur, a wooden boat originally built in 1973 that the Sigurbjarnarson brothers had coverted into a schooner. The Haukur was renovated in the spirit of the old shark schooners that were fishing off the northern coast of Iceland in the 18th century and has been fitted with traditional schooner equipment. "We have the coastal culture as our guiding light and try to connect it to tourism in Iceland," says Birna Lind Björnsdóttir, Sales and Marketing Manager of North Sailing.
This year, North Sailing has been able to add two unique boats to the fleet: the Garðar, the oldest oak boat still sailing in Iceland and the schooner Hildur, which is being renovated in Denmark and will arrive in Iceland in late June. These are the only traditional Icelandic sailing ships still in operation today, according to Birna Lind and North Sailing is already looking to future restoration projects. Although the old sailing traditions of Iceland have been disappearing in recent decades, Iceland remains widely respected as a seafaring nation. With careful restoration of these beautiful vessels, North Sailing is contributing to the preservation of this important aspect of Icelandic cultural heritage and offering tourists the opportunity to experience it first hand.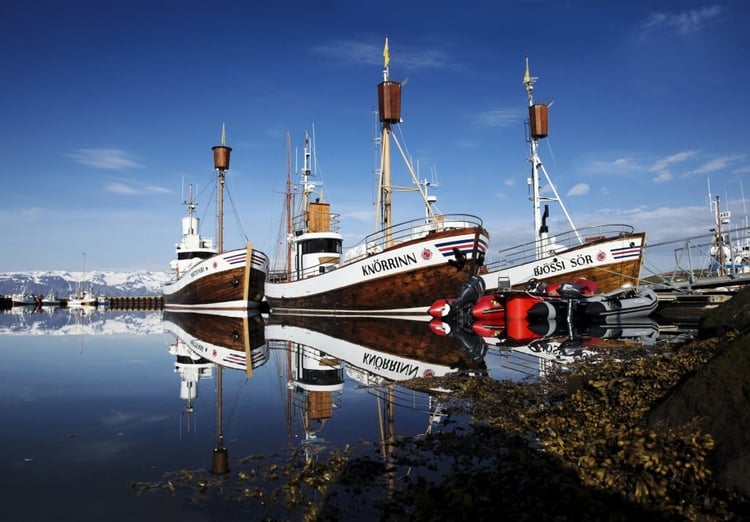 North Sailing offers guests 3- or 4-hour tours. For those whose time is limited, a three-hour tour provides ample opportunity to enjoy the lovely northern coastline and catch a glimpse of the wildlife of the sea. There are also longer day whale and puffin watching tours during which guests aboard one of North Sailing's schooners may even have a chance to participate in the actual sailing of the vessel. Visitors who are able to linger a while longer in northern Iceland should consider a North Sailing's tour to Grimsey island. During these two-day excursions, guests will enjoy warm hospitality and an opportunity to experience the seafaring culture that is such a part of Icelandic tradition. The meticulously restored ships of the North Sailing company are suitable for both small and large groups and are family friendly. A sailing tour aboard one of these fine craft is an experience not to be missed!
For more information, please visit www.northsailing.is