It's all about loving it, then it will be fine
Picture hunting with the photographer Rafn Sig
Picture hunting with the photographer Rafn Sig The soft light of a sunset and dawn's freshness are part of the magic that the island exerts on hunters of the moment. For photographers, Iceland is among the most magical places in the world. If you like to live your passion for taking stunning pictures under professional guidance, you should get in touch with 'Rabbi' Rafn Sig, one of the big names among Iceland's photographers.
Small groups, big chances
Being a professional tour operator, he knows that the best way to elicit secrets from the country is by travelling in small groups. "You have to be relaxed for landscape shooting," says Rafn, "everyone needs his time for a picture. And, after all, you want to enjoy the moment." He offers tours travelling in a comfortable four-wheel drive Mitsubishi, suitable for any highland trip. He doesn't conceal the fact that photo hunting is still a lot of fun for him, even after 30 years of professional work. When he was a boy, he found places of incredible beauty in the highlands. Their special magic had to be captured—and a lifelong passion was born. "It's all about loving it," says Rafn, "Then it will be fine."
Like-minded travelling companions
This professional photographer's pictures have been published all over the world. He likes to share his passion for travel with like-minded people. His offers of customized, all year round photo trips and workshops range from a day to a fortnight long. During the summer, he prefers the gentle midnight light of highland gems such as Landmannalaugar, the summit Hrafntinnusker, or the impressive Kerlingafjöll, with its colourful rhyolite mountains and geothermal valleys. Going south, he is fascinated by the black beaches of Vík, the incredible diversity of Skaftafell National Park, and of course, the goddess for all photographers: the famous Jökulsárlón glacial lagoon. When you join him in his car, he might have a few more secrets to share.
Fascination of the Westfjords
Rabbi likes to travel to the Westfjords—Iceland's forgotten paradise and one of the least visited areas of the island. Everything in the Westfjords is extreme—from the almost vertical cliffs to the terrible storms that have created the coastline's wrinkled face. Iceland's most famous cliff, Látrabjarg, offers an opportunity to experiment with your camera's exposure timing to capture flying puffins and other seabirds. A photo trip so far in the north is not for the timid, with temperatures rarely reaching 10 degrees, and frequent icebergs drifting past the coast.
Treasure Hunting
The winter, with only a few hours of daylight, is a particular challenge to any photographer. Long twilights, with sunny gold pouring over the hills, and nights when the sky is full of Northern Lights that appear to be closer than anywhere else, are a real treat and best to be enjoyed in a group.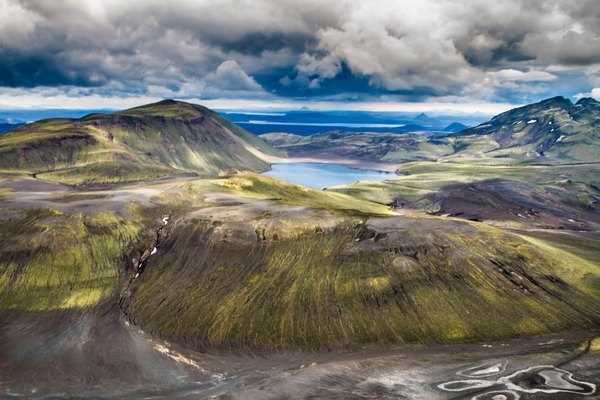 You can find a sampling of Rafn's photo art and his tour offers on his websites www.islandsmyndir.is and www.IceStockPhotos.com.
The highlands of Iceland