The Icelandic Handknitting Association sells Icelandic wool and products handmade by Icelandic Housewives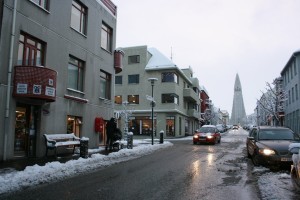 Sheep came to Iceland with the Viking settlers and quickly proved their value, not only for their meat but also their wool and skins. Living conditions were very basic and especially tough in the cold and dark winter months. Sheep helped keep the settlers alive. These Icelandic sheep have two types of fleece—an outer, weather and water repellent layer and a soft, warm fleece close to the skin. Combined, they have provided warm clothing for farmers and seamen, adults, children and babies for centuries. Making sweaters became a tradition in farmhouses, cottages and houses around the country. 

From home to market 
The Handknitting Association of Iceland was founded in 1977 to help knitters to get their handiwork marketed. A group of women formed the association, establishing standards and guidelines for the production that was—and still is, an important supplement to many family incomes. Shortly thereafter, they opened a shop to sell their members' woollen goods at Skólavörðustígur 19, the main shopping street that descends from Hallgrímskirkja, the cathedral overlooking the city.
Find the real thing
In today's globalised society, it is increasingly difficult to be sure you are getting a genuine article, rather than one made thousands of miles away, with wool that lacks the characteristics that has made Icelandic wool so special for hundreds of years. The Handknitting Assn.'s shop only stocks genuine Icelandic wool and clothing made by professional Icelandic knitters, so you can be certain you are getting the true, well-made product. Look for the logo to be sure. Their motto from the outset has been, 'Buydirectly from the people who make them'. Walking into the shop, one cannot help but be amazed at the skill and productivity of these ladies—and some men, too, from all walks of life, living in all parts of the country. Every item has that sense of individual uniqueness that only handmade items carry.
Traditional and modern styles
The world of knit t ing has changed dramatically since the association began. A few decades ago, the designs took the form of the 'lopapeysa' or sweater, with its distinctive scalloped pattern, which has become so popular worldwide, but numerous young Icelandic designers have also turned their attention to wool as a medium of choice for their fashion designs, resulting in newproducts, styles and colours. Today, there is a wide range of sweaters, gloves, hats, scarves, socks, bags and many other items in sizes to suit everyone from a Viking warrior (or farmer) to a pretty fashion model to a newborn baby. The store is a centre, not only for selling the finished products, but also for supplying the wool and all the accessories required to make woollen items. If knitting is your hobby, there is a world of warm designs just waiting for you. Icelandic wool wears very well and it is not uncommon for people to wear sweaters many years and for them to still look fresh. Visitors can have their purchases shipped to them and they can also order from the website. That includes the patterns, wool, needles and accessories, not just the clothing.
[table caption="Contact Information – Handknitting Association of Iceland" class="row-fluid"

border="5″

width="100%" colwidth="50% | 50% " colalign=" center | center"]
Skólavörðustíg 19 ◦ 101 Reykjavik,[email protected]


www.handknit.is/en

,tel: +354 552 1890
[/table]